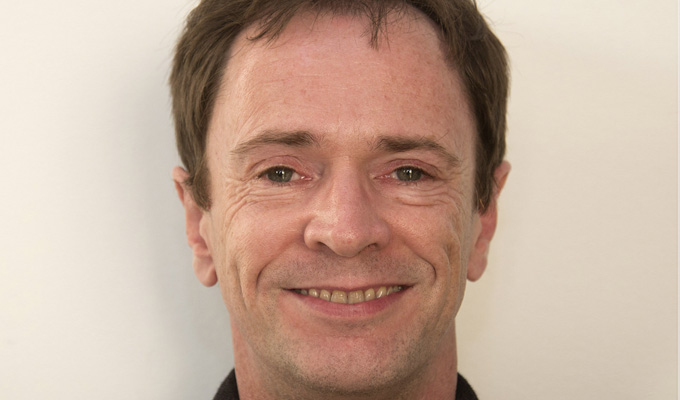 Goodbye Gethin
I don't expect most of you to have heard of Gethin Thomas, yet within the small but lively world of Welsh language comedy he was a big deal.
His sudden death, at 49, in August of this year was a sad loss to us all.
Having worked his way up the ladder – starting as a researcher within BBC and ITV in Wales in the early Nineties – he was, towards the end, a successful and ambitious television producer and head of his own independent company, Zeitgeist Entertainment.
I knew him a bit in those early days when he would organise one-off stand-up gigs, often in out of the way village halls. He gave me my first opportunity to perform in my native language, which was a huge challenge at the time as I'd got so used to gigging in English.
He recognised that the Welsh culture needed a shot in the arm: its very own 'alternative' comedy. While he didn't invent Welsh language stand-up, his contemporary vision of it helped rejuvenate an entire stagnating scene. With him, the modern cycle of Welsh-speaking stand up comedy grew alongside Cool Cymru's rock music scene, until by the end of the Nineties he was producing his first stand-up show on S4.
At that time he was performing stand-up as well as producing it, but within a few years he'd left the stage in order to focus solely on events behind the camera.
Gethin had also worked extensively in radio, performing, writing and producing numerous projects for Radio Cymru and Radio Wales.
My most treasured memory of him was when we worked together on a Radio Wales sketch show called My Dog's Got No Nose. This was an English language programme for which he was not the producer, but a contributor both as writer and actor. Our brief was to write a new sketch every week, and – if it was deemed good enough – to record it.
One sketch of Gethin's that got through had a character with a Welsh name, Mr Cnychwr Moch. The recording of it went smoothly but a few days after it had been broadcast, we got back in the studio where Gethin was met with a frosty reception. The producer, who didn't speak Welsh, had received complaints and poor Gethin's days on the show were now numbered. Apparently some listeners did not appreciate a man named Mr Pig Fucker (which sounds a bit less poetic in English).
Since 2012 his role as producer of televised Welsh language stand-up went up a gear. The innovative show Gwerthu Allan, which translates as Selling Out, hit the small screen and was hailed as a breath of fresh air on S4C which had gone through a ten year hiatus without stand-up.
The first series was shot at the Glee Club, Cardiff. Gethin's hands-on approach as producer showed in the final product. He drafted in all the right people: director, camera and sound personnel. And when it came to the editing he personally supervised. Because he appreciated good writing, and had been a stand-up himself, his shows were never guilty of that sin common to other televised gigs: inappropriate cutting, and the missing out of punchlines.
Even the subtitler was joke-savvy. Despite the fact my Welsh language material was based on wordplay, he managed to make the English translation work by inventing his own jokes.
Gwerthu Allan's slickness was not just down to the production values applied, but also came from rigorous rehearsals. In the months running up to each series Gethin would organise a live warm-up tour across Wales, paying the comedians for their contributions. Indeed, his integrity when it came to the performers' fees was exceptional. For every episode of Gwerthu Allan not only would Gethin secure an Equity fee for each artist's performance, but a Writers' Guild agreement for the original writing. So the fees were proper fees, and the repeat fees still are.
Gethin's stand-up shows were not his only television output but I do believe they were his favourite. His love of comedy made sure of that. Mostly, Gwerthu Allan featured two or three comedians in each episode, but Gethin also filmed one-hour specials. While established acts were given the chance to tackle broader subjects, newer acts were also encouraged.
Elis James' second special was in production when Gethin died. Meanwhile Dan Thomas' special was broadcast a few weeks ago, in which he talks about his upbringing and his parents' involvement with the Free Wales Army (a subject I can guarantee you'll never hear anywhere else on television).
Gethin never struck me as someone who was politically motivated to do stuff in Welsh, but as a minister's son from a Welsh-speaking family in Bridgend he was simply drawn to it naturally. His instinct was to communicate in the medium of his mother tongue.
His influence was such that when the National Eisteddfod – a relatively conservative institution – wanted to bring their evening entertainment up-to-date Gethin got the gig. He produced a brilliant comedy gala for them, and again made sure the participants were paid properly.
Gethin was a great analyst and dissector of comedy. The walls of his Cardiff office were peppered with portraits of the greats, and he was particularly fond of Woody Allen. He was a voracious reader as the straining bookshelves in his flat reflected, and was also an expert cyclist who kept fit and ate healthily. His sudden demise was a big shock to us all in Cymru.
Just a few days after his death an automatic payment of £800 was made to my bank account from S4C. For a working comedian that is like having two weeks' worth of gig fees, and during the lean summer months one is very thankful for it. It was a repeat fee for Gwerthu Allan no less. Thank you, Gethin.
Published: 28 Dec 2017
What do you think?