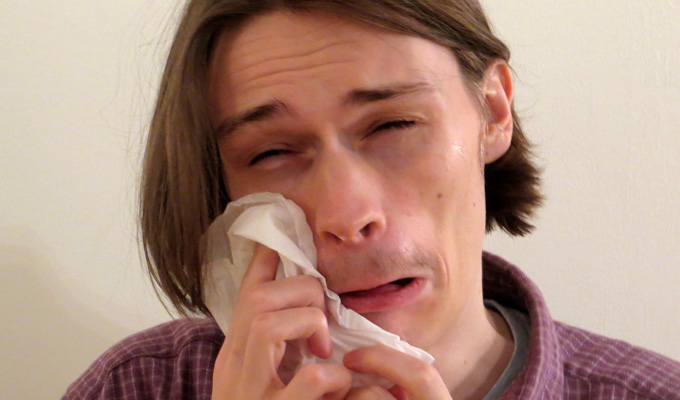 Comedy in the age of the snowflake
The first time I came across the term 'Snowflake Generation' was a few weeks ago when my dad accused me of being part of it. Basically young adults of the 2010s are thinking that, like snowflakes, they are individual and special… but are also very fragile, prone to taking offence. Doing the maths, it turns out that I am a young adult in the 2010s!
Snowflake Generation doesn't sound too bad to me But it seems to me the people who use this term also use terms like 'libtards' and 'lefty-fags' and 'vegans' to describe our generation.
These people normally have England flags in their garden and sing national anthems like Robbie Williams's Angels on a night out. Which is fine, they can do that if they want, everyone is entitled to their opinion. But doesn't that mean that other people can openly challenge that opinion? To me, it sounds like a lot of these people are offended by people being offended.
I started writing comedy because of the alternative scene that started in the 1980s and stood against racism, sexism and stereotypes. So I thought that in today's society, with this over-sensitive generation, we would have great artistic comedy with a broad range of comedians, not comedy that just ends with something attempting to offend you. And it's easy to write an offensive joke.
Anyway, you can imagine my disappointment when I started performing and noticed a few common themes around the comedy circuit, especially during open mic nights.
Firstly, the majority of the performers are white men. Secondly, the majority of these performers are attempting to perform 'offensive comedy' or 'shock comedy'. I don't know where these white men got the idea that saying offensive things could make them famous…
I know this is hard to believe but even though I am a white man, and I may look quite offensive to some people, I die at these open mic nights. I can normally gauge how well I'm going to do when the MC makes a joke about perving on women and gets a big laugh.
It turns out that although we are the most overly sensitive generation we like to go to dingy little clubs in the corners of London and attempt to offend people. 'Offensive comedy' in itself is a contradiction of terms. Offensive means unpleasant or disgusting as to the senses and to attempt to cause anger and annoyance, as I'm sure we all know. So if you're a comedian and trying to make people laugh but instead cause anger annoyance, you've kind of failed, right? Wrong!
Because some people laugh at offensive things. Ah! But isn't that because offence is often subjective, so the person enjoying this 'offensive comedy' doesn't necessarily find it offensive? I've witnessed comedians try to push the boundaries of offence and revel in the boos, wearing them like a badge of honour.
Maybe I'm being hypocritical, I often revel in the silence and blank faces that stare at me when I perform. I must admit, I like aesthetically offensive comedy, or I guess a better term is 'abrasive' comedy. I don't know where I'd be without Tim and Eric and Limmy's kind of horror comedy sketches, or Lou Sanders' charmingly embarrassing, melodramatic, fast-paced performances – but this is surely a different form of offence.
I also understand the idea of saying things that can be construed as offensive in order to challenge specific social and cultural conventions, but this has become an excuse to attack a minority.
I saw the 'offensive, shock comedian' Mike Ward at Edinburgh's Late N Live in 2016 and it seemed like he was trying to cover up his 'offensive', 'shock' jokes, with a theme that 'the freedom of speech isn't free' after he was fined for one of his jokes earlier that year. I'm glad he feels the need to announce that he finds disabled people funny with his freedom of speech. I bet Rosa Parks was celebrating up in heaven when she found out that her influence of speaking out against injustice had made Wardy feel it was acceptable to say the word 'retard'.
I don't know what's going on. I feel offended constantly. And why shouldn't I be offended if I feel what someone has said is wrong?
Liv Little, the founder and editor-in-chief of gal-dem magazine perfectly argues this point: 'I don't get what they want to happen. Do they want people to be quiet and suck it up? Do they want people to have breakdowns and be really unhappy and accept a political system that doesn't represent them?'
It is a question of sensitivity. If being part of the Snowflake Generation is being sensitive to other people's views and opinions then we are part of a progressive generation.
But, sadly, I don't think we are Generation Snowflake. I wish we were. If we were, then I'd not have drunken arguments about gender neutral toilets. The world would be invaded by intelligent life from another planet because earth would have finally achieved world peace and we would be at our most vulnerable.
Another reason why we are not snowflakes is reflected in the comedy circuit. There may be more liberal-minded comedians performing, but there are also comedians offended by a society that thinks it is good to be politically correct, and these comedians feel that it is a type of super-liberalism to say something outright offensive.
If it was, Roy Chubby Brown's Too Fat To Be Gay DVD should be an inspiration to the liberal left…
Published: 23 Nov 2017
What do you think?