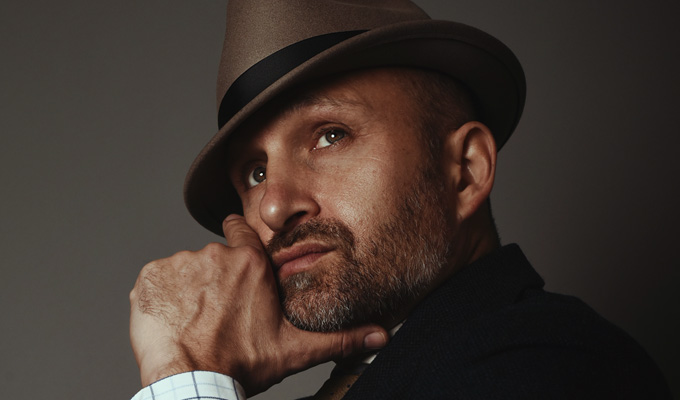 Can this old dog learn some new tricks?
I don't, as a rule, get nervous before going to stage to do my thing. This isn't out of some kind of arrogant swagger, or, god forbid, confidence, but the fact is that I've been doing jokes and tricks in front of people, professionally, for 30 years now, so by this point I should know what I'm doing.
If anyone else had been doing the same job for 30 years, but were still filled with dread and terror whenever they had to go to work, you might surmise that they were in the wrong career. No, by now, nerves should be a memory - nostalgic flopsweat flashbacks and nothing more.
There's another reason I don't get so nervous these days. In 30 years of hustling my shtick everywhere and anywhere, all the worst things that might befall a performer have already happened to me.
Had hecklers come on stage, steal my props, go back to their seats and throw them at me until I ran off stage for safety? Bearcat Club, late 80s.
Tripped and fell flat on my face, tearing the crotch of my favourite suit, and had to stand there, in front of 9,000 people, bleeding, as the compere talked about me, awkwardly? Ludwigslust, Germany, early 2000s.
Had a woman push her way through my crowd, into the centre of my show, hike up her skirt, take a dump on the floor, then leave, without saying a word? Covent Garden, mid 1990s. See my point? At this stage, there's genuinely little left for me to be scared of.
Except.
If I'm doing something new, its a whole new set of rules. New material is a simpler gambit for a comedian – something's funny or it's not. But I make my living by throwing feats of dexterity in amongst those jokes, and with that comes a much bigger capacity for failure. If a joke is funny, it's funny. Sure, the delivery can help or hinder it, but generally, the gamble is in the idea. With my tricks, even if the idea is great, I still have to practice long and hard enough to learn how do it. Every time. Under the pressure of a spotlight. And if I fail, then it's blindingly obvious. He tried to do something cool, but couldn't. Oof.
Add to this that I suffer from general anxiety disorder – fizzy headed, jerky, palpitating panic attacks are my wheelhouse. I spend way too many of my todays worrying about my tomorrows.
You might wonder then, why, on earth, I've decided to do this: for my next one man show, I've decided to challenge the world to try to come up with tricks that it thinks I can't learn.
Mat Ricardo challenges you! from Mat Ricardo on Vimeo.
I'll pick the best ones, then devote the next year of my life to attempting to learn them. The resulting success and failures, I figure, might make a fun show to premiere at the Edinburgh fringe next year.
I've had the idea for a while. It occurred to me, over the years, that my main skill might, in fact, be an ability to learn things, so it might be interesting to write a show about learning, and more specifically, about the journey of learning things that other people have told me to learn.
But of course, this also has a massive potential downside. It's one thing attempting a trick and screwing it up, but I'm risking amplifying that up to a whole show. He tried to learn a bunch of cool things, but he couldn't. Again, oof.
Except.
I also suffer from obsessive compulsive disorder, which manifests in a need for hard structure. I'm big on 'to do' lists. Always exactly on time for appointments. I do not react well to making a plan and then changing it - it feels like all of my clothes suddenly made itchy.
So here's how my brain is currently working: My sense of fun comes up with a possibly insane idea for a show, my anxiety makes me freak out constantly about the stresses of making it happen, or if anyone will care, but my OCD will drive me to obsessively practice. My OCD, if I talk to it nicely, helps me take my stress, and channel it into action. My OCD needs me to finish what I've started. 
But I need you to help me start what I'm going to finish – so if you haven't already, watch the video and think of some crazy ideas to tweet at me. I'll start trying them out in front of live audiences in my London Varieties shows pretty soon. Like someone once said, maybe it'll work, maybe it won't, but either way it should be fun to watch...
• Mat Ricardo is Chortle's variety correspondent. His website is here, and he tweets here.
Published: 3 Oct 2017
What do you think?