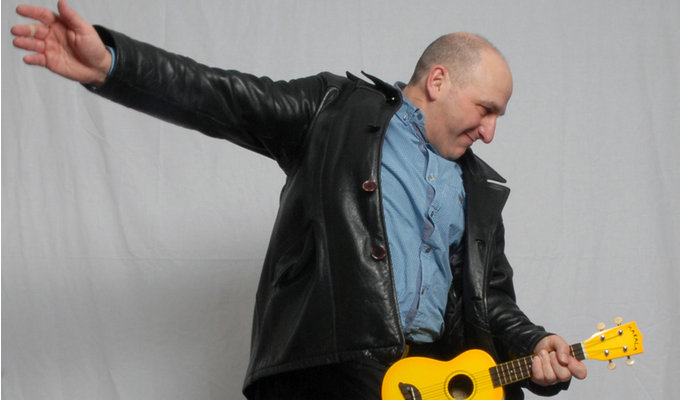 Is there too much political correctness in comedy?
The other day I was asked to go on the radio to talk about political correctness in comedy.
That could have been the opening sentence of any blog I may have written in the last 30 years.
Why is this being discussed AGAIN??? Haven't we gone round the houses with this a million times? Haven't we established that there are only two possible responses? To the question 'is there too much political correctness in comedy' isn't the answer either: YES, you're not allowed to be rude about people any more, it's not racist it's just banter, it's only jokes… or NO, it's good that in the modern world where all nationalities sit side by side, where women are supposed to be treated as equals and people with disabilities need respect not mockery, refusing to be cruel for the sake of it when writing comedy is a good place to start?
The latest round of why-oh-why-ing was brought about by Mel Brooks. When Mel speaks, I listen. This is the man who changed my life and defined a career for me in comedy not once, but twice. First as a teenager, when I saw his movie The Producers and more than anything in the world it made me want to be a comedian. And second in my 40s, when I saw the musical version on Broadway, which made me want to spend the rest of my working life writing comic songs.
Mel answers the above question with a big fat yes. Remember, Mel was the man who brought us Blazing Saddles, one of the greatest comic movies ever made, and one which unashamedly wore its liberal pro-black sentiments like a gold sheriff star. When that movie used the 'n'-word more than 40 years ago, it was unequivocally to illustrate the awful racism favoured by the kind of old white men who think the best way to deal with people different to them is to stick them behind a wall.
The first thing to say, whether you agree with him or not, is that Mel is right. You cannot use the 'n' word in your script anymore, even if you're damning the person from whose mouth it is emanating. Unless you are a black person writing the script, which is a grey area, and not an argument I intend to get involved in here.
I love Mel Brooks, and I don't think I have ever laughed so much in a cinema as I did the first time I watched Peter Boyle as the monster in Young Frankenstein, singing Putting On The Ritz. But that was 40 years ago. Knowing what I have since learned about disability and mental illness, would I find it that funny now? I'm not so sure.
My answer to this question has always been 'no'. When we began performing alternative comedy the intention was always to be non-sexist and non-racist. The latter was quite easy and came pretty quickly – alternative comedy was a small business playing to small groups of like-minded right-on people mostly in London, and any racist jokes, even ironic ones, would have shocked our lovely gentle audiences.
The attempts to be non-sexist were less successful. For some reason, a lot of male stand-ups always had what they felt was a valid explanation for doing the material about their partners, or women generally, that they could justify as the relating of personal experiences. The fact that their own real life experience was sexist didn't send enough of a message to desist. But, like ending poverty or destroying all nuclear weapons, the good intention of defeating sexism was never far away.
Nowadays, political correctness has travelled in the opposite direction. The most popular comedy on TV, by a long way, is Mrs Brown's Boys, which is possibly the least politically correct programme of the last 40 years. Meanwhile, ask any comedy writer who has recently made jokes about Ukip or the far right of the Tory party on the BBC, and they'll tell you they've been bombarded with orchestrated complaints. This may well have something to do with the fact that the far right have no love for the BBC, but it does make producers wary of being too rude about fascists, and probably also helps explain why their presence on political panel shows is way out of proportion to their popularity.
There's no way, for instance, that if The Producers came out now, Brooks would get away with such mocking of Nazis without receiving the full-on vilification of today's fascists, who pose on social media as the so-called 'alt-right'.
The argument about whether there is too much or too little PC appears to be largely cyclical then, based on whoever feels they are being most victimised at the time.
I'm no longer sure, however, that it's so simple to say 'political correctness is always a good thing.' In recent years comedy writers and performers have negotiated issues of political correctness by many different means. There are the sexist and racist characters of course, the 21st century Alf Garnetts we are supposed to laugh at, not with.
Then there are the characters that writers used to get away with calling 'stupid', or 'the free laugh' as a former co-writer of mine used to call them. Nowadays they would be recognised pretty quickly as people with learning difficulties such as dyslexia or high functioning autism. In recent years there have been some great characters who have addressed those difficulties head on, such as Moss in The IT Crowd and Sam in the superb Netflix series Atypical.
But how does a white writer approach creating ethnic minority comedy characters? We can simply not mention colour, and trust the casting directors and commissioners further down the line to be colour blind, but that's a big ask. You can try the same thing but ensure casting is correct by giving the character an obvious name, but as soon as you call the character 'Mohammed' you are, whether you like it or not, triggering people's preconceptions about what a name brings to a character.
This isn't just about race or gender: in comedy shows, trust me, the name 'Dave' is invariably given to 'the stupid one'.
Comedy commissioners may be okay with ethnic minority performers portraying themselves and their families in comedy shows – Adil Ray's Citizen Khan enjoyed a good run of five series, Michaela Coel's Chewing Gum is winning awards by the truckload, and Dane Baptiste's delightful Sunny D pilot promises a great new series. But the creation of weak, pompous vain ethnic characters by white writers can be, understandably, a minefield for commissioners.
(And of course part of the answer is 'hire more black writers', which is not as easy as it sounds, despite the best intentions of the BBC and the Writers' Guild to mentor more writers from less white, middle-class backgrounds.)
As the late great David Nobbs used to say, all comedy is cruelty. Sometimes we barely notice it, like when Eric physically attacks Ernie or when Oliver Hardy falls flat on his big fat arse. In those legendary double acts, the cruelty is masked by our feelings of warmth towards the couple.
But in Shakespeare's Twelfth Night, there's no avoiding that the vain and pompous Malvolio becomes the victim of a practical joke which literally drives him insane, and ends up with him being locked up in prison. All because he dared to love the woman he served. Try getting a storyline like that past a commissioner today. I certainly wouldn't want to write anything like it – and yet Twelfth Night is one of my favourite plays, it's funny and the stories and characters are great.
There's an old episode of Steptoe And Son in which Harold is befriended by a cultured antiques dealer. Harold thinks he's stepping up in the world but it turns out the man is gay and only wants him for his body. Today the episode is a horribly uncomfortable watch, confirming all the homophobic stereotypes that most writers now avoid. You can argue all you like that the episode is all about Harold's character flaws, thinking he's better than he is, but no one is listening.
The way we argue about political correctness – or rather, the way we've been arguing about it for years - set the template for how we now seem to argue about politics in general. You can only be one thing or another, Brexit or Remain, Tory or Labour. The centre ground seems to be giving way and, helped by social media, we are becoming more polarised about so many important things.
When I write a blog I like to have an idea of what I want to say, how the issue should affect you (and me) as writers and performers, but I'm really not sure what the answer is. From my own view I don't want to give up putting difficult issues into my comedy scripts, but we all need to find new and creative ways of showing weak, flawed characters without having to resort to name-calling or stereotypes, whichever side of Donald's now metaphorical wall we're writing from.
Published: 27 Sep 2017
Recent Opinions
What do you think?