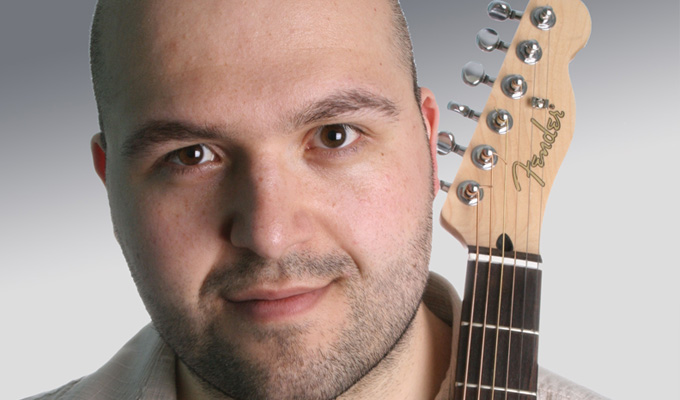 Ten ways comedians will ruin their own Fringe
To all my fellow comedians heading to the Edinburgh Fringe – you're about to ruin it for yourself. Here's why:
1. You're not prepared to be prepared
Under-preparation is the reason why most Fringe visits fail. Performers feel under pressure to do their first hour too soon, and there are not enough preview slots available. On average, you're already underprepared. Given it's too late to become more prepared, it's probably a good idea to have a plan for how you're going to improve your show, marketing strategy, stage craft, and everything else as you go along.
The most successful Fringe visits are ones where the performer and material have developed by the end. This is probably going to happen anyway, but how are you going to get the most out of it?
I used to take myself for a nice coffee with a notepad to give myself thinking time to fix things.
2. You're going to misconstrue the reviews
Ignore the reviews and you miss marketing opportunities and potentially useful feedback on how your show looks from the outside. Focus entirely on the reviews, or lack of them, and you're distracting yourself from having the best performances possible. Reviews are only important in themselves. Have you got them in perspective?
Try to read between the lines and keep your sense of humour. So says this 'plump, bald man' - *** Three Weeks, 2008.
3. You think your show is king
How many Fringe conversations between performers are going to start: 'How's your show?' How many people think their show is a fixed point, unchangeable, regardless of audience reaction? How many people turn the process of doing their show every day into a proxy for why they're really dedicating their August to a gruelling trek around Edinburgh's impossibly 3D landscape?
The show is a vehicle, not the centre of your Fringe. I'm genuinely sorry it costs so much to discover that.
4. You revel in creating awkward moments
In the hands of the right comics, those weirdly awkward moments create a wonderful vacuum into which laughs pour. If that's you, then lord love you!
In the hands of everyone else, a deliberately awkward moment is not funny, it's just... awkward. So says the man who watched an old video in which he and his comedy double act partner said 'the best thing about us is that it's never awkward <pause awkwardly for laugh which never came>.'
5. You're not going to look after yourself
You're busy in a distant city. It's hard to both feed yourself properly and not drink to excess. The hills get steeper. The energy is sapped, replaced by coffee, sugar and alcohol. Your clothes fit worse. The gym membership was an expensive bit of over-ambition. The alarm clock is getting snoozed more and more. The bags under your eyes are getting reviews of their own. Your urine could be added to oats and turned into a local delicacy...
I know it's Scotland, but try to take the time to find a vegetable and eat it occasionally. Failing that, the Mosque Kitchen curries are awesome and probably good for you.
6. You're trying to impress the wrong people
I've never assumed that my Fringe experience was going to get me recognised by 'industry'. If that's your game plan, then good luck - do it well.
On the whole, though, while it's good to hob-nob. A lot of people seem to get frustrated, or distracted by rubbing shoulders with VIPs who are of dubious 'I' in the cold light of post-Fringe blues.
If you're not impressing audiences and if you're not taking time to develop your act, then you're impressing nobody!
7. You're going to forget why you're up there
What's your endgame? Why was it worth paying all that money to the local landlord, plus the guy who took your money and didn't actually have a flat, plus the venue runner, Fringe guide entry, advert in the thingy, PR company, voluntary contribution to the thing that's free kind of...? There must have been something other than peer-pressure driving you to Edinburgh.
With all this stuff going on, it's easy to lose your direction. When that happens, why not climb up Arthur's Seat and... throw yourself off (well, you can't really), or more importantly get some perspective. In other news, it turns out you can roll down the hill up to Arthur's Seat and it's really good fun.
8. You're going to listen to the voice of doubt
Show me a performer who says they're not insecure and I'll show you a liar or a deluded narcissist. You have every right to be at this Fringe and do what the hell you like. You have every right to do all the things I'm warning about in this article by the way. I know I have.
9. You're performing in too many shows
Spreading yourself thin is all well and good, but then you'll have limited time to develop the main things you intended to, and you won't get a chance to see as many shows as you can and learn the craft from others.
Edinburgh can often feel like a scoreboard - who can have performed the most? (69 times in 2008 for me... the comedy number). I'm not convinced that success lies that way (0 in 2017 - result!).
10. You're going to forget to enjoy it
Do what you like. It's your Fringe. Above all, remember you're performing in the world's largest arts and comedy festival, and you're a part of a rich history. Everything that's good in the craft you've chosen will be happening around you, and it's enormous, awe-inspiring and wonderful.
I hope you get what you're looking for, and that you have a brilliant time.
• Ashley Frieze is not appearing at the Fringe this year. He always recommends Ian Fox's book: How to Produce, Perform and Write an Edinburgh Fringe Comedy Show, and he'll be in Edinburgh mid August watching shows, potentially yours. Don't mess it up!
Published: 31 Jul 2017
What do you think?