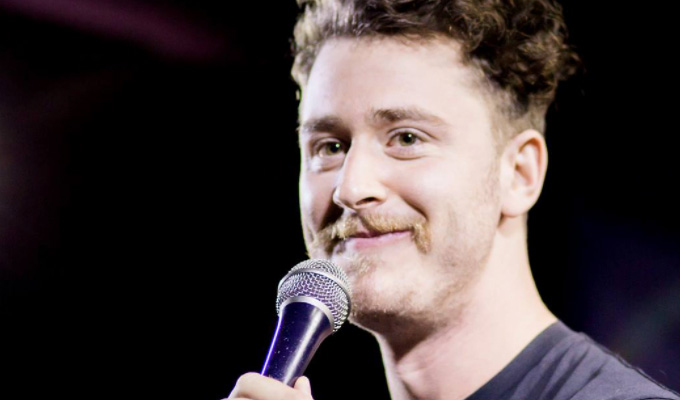 So you want to do stand-up?
I'm a stand-up comedian in New York City. I've been performing stand-up in this city for almost three years and, well, it's tough.
People don't really tell you how to do it. There's no guidebook, no instruction manual for how to become a comic. Just a simple initiation ritual involving fire and a blood covenant. And although doing comedy is one of most simple forms of performance art there is – just a human being on stage with a microphone, a stool, and a holy incantation to the Dark One– actually being a comedian can be a complicated, frustrating, and sometimes messy experience.
Out of that frustration came Green, a podcast I started with my friend Stu. We interview successful comedians about how to do what they do best, in order to become better comedians ourselves.
We try to find out things like, 'how do you get a set on late-night TV?' 'How do you produce a show of your own?' 'How do you get a job writing for television?' 'When the Reckoning comes, who among us will be chosen to carry out the desires of the Dark One?'
When we interviewed Brendan Eyre about his set on Late Night with Seth Meyers, the conversation broadened to stand up in general and whether or not it's a smart thing to pursue. 'I just happen to love stand up," said Brendan. "I don't know if it's the right thing to love.'
Is comedy the right thing to love? After thinking about it for a while and consulting my dark crystal of insight, I've decided to leave it up to you. If you're interested in doing stand up, here's what you need to know:
Comedy is demanding
Comedy is hard work. Between writing as much as possible, grinding it out at open mics every night, and pledging your eternal soul to the Dark One, the work of a comedian is never done. Sure, it can be fun: hanging out with funny friends, laughing and making others laugh, and tapping into the demonhead are all rewarding experiences. But starting out as a comic is no easy task.
Comedy is painful
To be a good comedian, you need to draw from your struggles. Transforming your pain is an integral part of comedy, much like bloodletting is a part of the holy rituals. It might not feel good, but it will save you from eternal agony and make you a much better joke-writer.
Comedy can be expensive
It's true that successful comedians can make comfortable livings, but when you're just getting started, nobody wants to pay to see you flounder on stage. In fact, many open mics in New York require a drink purchase, if not an outright fee.
And there are a whole host of other costs that aren't often considered by would-be comedians: transportation, comedy classes, finely-knit black cloaks, and notebooks. Heck, you could go broke just getting to an open mic! And, as you'll see below, it's difficult to hold down a high-paying job while you're telling jokes every night and participating in ritual sacrifices to the Lord of Fire every new moon.
It's not necessarily an expense, but once you start seriously pursuing comedy, you might find yourself 'downgrading' to a more manageable job. You might also find yourself Naked in a pit of snakes, chanting in an ancient tongue that hasn't been spoken for millennia.
The hours can be brutal
It is an unavoidable fact that comedy happens at night. This means that if you want to be a professional comic, you've got to accept the fact that you're going to be working when your friends are going out and having fun. Your work hours are other people's play hours, and that disconnect from society can be difficult for young comics.
Late nights make it difficult to work a full-time job, especially while you're completing the gruesome tasks the Dark One requires of younglings. Even once enough blood has been spilled, you'll still find yourself at an 11pm open mic wondering how the hell you're going to wake up in the morning, go to work, and still have time for your daily flagellations.
Your friends and family might not accept your decision to pursue comedy
If you haven't gathered by now, the life of a comedian isn't exactly mainstream. People don't understand the compulsion to do comedy; they don't get why comedians can't just 'get a real job' and 'stop engaging in questionably-legal orgies of the occult.'
Your dedication and commitment will help quell their concerns, but at the end of the day, nobody wants to see their child/sibling/friend/significant other giving up both career and personal opportunities just to make a few people laugh at a free show in a dive bar. And they definitely don't want to see you shed your physical form as you become one with the abyss—in fact, if they were to observe the abysmal transfiguration, they would literally become blind. And nobody wants that, especially a young comic who needs people to invite to their shows!
Lastly, it's just not cool
When I tell people I do comedy, they often say, 'Oh, that's so cool!' But it's always followed with, 'I could never do that.'
But really, they could. They just don't want to.
Anyone can get on stage and tell a joke. You might not be good, but let's be honest: stand-up comedy has the lowest barrier to entry since the Unholy Beast opened the interdimensional gate and invited all who sought redemption to bathe in the lake of fire.
People say they couldn't do stand-up, but really, they just wouldn't. Because there's nothing cool about getting on stage and telling a room full of strangers about the time you shit your pants in college, or what you really think about koalas. Nobody cares. Except the Dark One. He loves a good pants-shitting story.
• Jake Fromm (@jakefromm), co-host of Green, a comedy podcast where green comedians ask better comedians how to get better Episodes 1-5 are out now on iTunes and subsequent episodes will be released every Monday.
Published: 20 Jun 2017
What do you think?