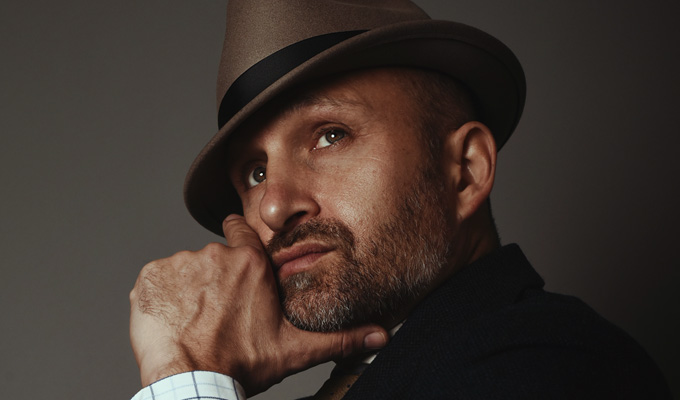 'We're all somewhere between artist and hack'
Couple of weeks ago, I found myself in a mid-priced hotel room, drinking single malt out of plastic hotel bathroom tumblers, with my friend David, who is, like me, a variety schmuck, but unlike me, Canadian. Both, though, are qualities I approve of.
It was my birthday, and he'd bought me the bottle as a gift, and then suggested opening it. I see what you did, Dave. As often happens, around the second or third 'just one more', talk turned to our business, and more specifically, to originality.
He told a brilliant story of some young stand-ups meeting a crusty old pro, and telling him how they were different in style. 'We don't really do jokes, more real-life observations', they'd say. But when he asked them to give examples of their stuff, he could effortlessly tell them where he'd heard each line originally, decades earlier.
Culture, as I've said before, is remix. Nothing is wholly original. But that doesn't mean that everything is up for grabs. There's a line, and everyone has a different idea, perhaps, of where that line is drawn.
For me, it's always been about intent. In my show Three Balls And Aa Good Suit, I talked about the pride I feel about being part of a lineage of variety performers. How I see my job as to be inspired by the work from the past that speaks to me, that I find meaningful, and then to make it my own, to pour a bit of myself into it and push it forward, before handing it off to the next person in line. That's how artforms grow, and that's how work becomes personal.
An artist is interested in the creative journey – taking part of an idea, and kneading it out, rolling it flat, adding new ingredients, until it's a whole new thing. A hack, however, is only interested in the end result. They see something get a laugh or applause, and they're interested only in having that for themselves – in taking ownership of the audience reaction. And so often, when you watch someone who does that a lot, it's painfully obvious.
Someone who steals a gag or a bit of business hasn't gone on the journey that created it, and doesn't know its cause, or full meaning, which means, more often than not, they won't get the same laugh or applause that the originator got. Audiences, not infrequently, can feel the difference.
Of course the reality is that we're all somewhere between artist and hack. There are old stock set-ups and structures that have filtered down, like mountain spring water, through music hall, variety, light entertainment, pantomime and street performance to someone like me. By that time, they're so refined, so pure and so perfect that it takes a herculean effort to not, occasionally, use them. It's allowable, I think. But just like fast food, do it occasionally; if it's most of your diet, you'll get lazy and slow, and be missing the pleasure and sense of achievement you get from cooking your own meals, and learning how to create new recipes.
For a couple of years, I performed on cruise ships. On my off days, I'd sit at the bar at the back of the comedy room and watch the comics work. They'd be a different one every few days, but – almost faultlessly – they all opened with the same five minutes.
The first time I heard it, I thought to myself: 'Ohhh, he's doing that other guy's material. Awks.' But then, slowly, I caught on. Almost everyone opened their set with a bulletproof routine about being on a cruise ship – the same exact gags about the food, the size of the bathrooms, getting sick etc. It was fascinating – almost like a musician playing the opening verse of a jazz standard, before veering into their own improvised interpretation. You could tell how good a performer was by how convincingly he delivered the lines that even some of the audience had heard a couple of times already on their vacation. Like an artist drawing a perfect circle, and then letting his audience believe he'd invented circles.
I was once standing outside a theatre I'd just performed in, and I was introduced to an American clown, who immediately told me that he was doing my reverse tablecloth trick. The single most original thing in my act. The thing I'm known for. The thing I invented two and a half decades ago. The only thing in my act that I'd claim as being absolutely mine. He had stolen it from someone else, who had stolen it from me. He said it with such confidence that I was too stunned to punch him in the face. B
Bafflement, in this instance, was apparently the better part of valour. Funny thing was, he was doing it with a much smaller table, with only a handful of things on it, and underplaying it. He couldn't fully commit to it, because he hadn't been on the years-long journey of devising it, prototyping, sourcing props and endless practice that I'd been on, during its creation. It didn't mean anything to him, so he threw it away.
For me, whenever I do it, I remember the first day it ever worked, in my bedsit in Wood Green. I remember how I sat down on the little bed, grinning, fizzing, thinking, 'well this could be something'. Friends of mine have seen the clown's act, and not noticed that my trick was in it, even though it was. Good luck not noticing it when I do it.
• Mat Ricardo is Chortle's variety correspondent. His website is here, and he tweets here.
Published: 2 Jun 2017
What do you think?