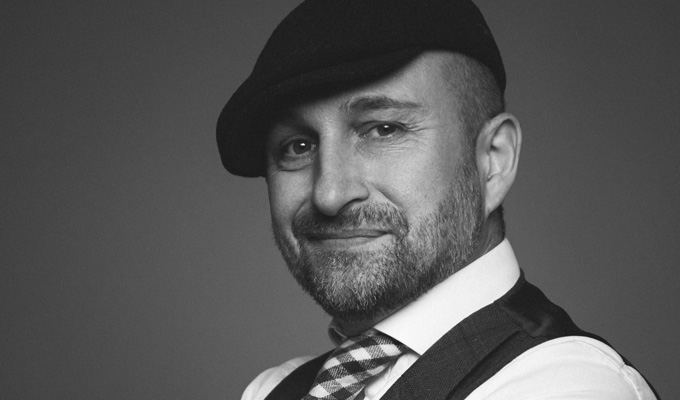 Mat Ricardo: Be bright in dark times
stole from my dressing room
bought from the merchandise store when I worked in the Los Angeles institution last week (
You can read about that trip here.
Spoiler: I met celebrities and ate at many diners). And I have no idea what I'm going to write about for this column this month. I. Got. Nothing.
This ongoing series of columns was sold on the premise that I'd write, hopefully with some degree of wit and insight, about the British cabaret and variety scene. Well, I'm not sure if the owner of this place is just being lenient and kind, or isn't bothering to read what I've been writing, but that patently hasn't happened. Among other things, I've written about depression, the nature of creativity, TV, and professional wrestling. I've ignored my remit, and probably will continue to do so.
As I sit here drinking my iced coffee, over in Washington, a shoddy grifter who has used the cynical power of blame, hate and fear to get in over his head, is being sworn in, ready to, it seems, get Russia's work done. But I'm not going to talk about him. I'm done with TinyHands McGropeyRacist. As the wonderful blogger Xeni Jardin said on twitter 'Turn your back on him. Face love'.
The sky seems to be darkening over much of the world, not just my garden. And it's easy to feel yourself darkening with it. The creeping paralysis of fear encouraging you to snuggle down deeper into its cosy hug. It's easy to get frozen by terror, and by the belief that you're powerless to do anything, or, perhaps even worse, to choose apathy as an escape from responsibility. It's really tempting to just throw your hands up and say 'Fuck 'em all'. But that's just the political equivalent of a 15-year-old French school kid on a day trip to Oxford Street trying to look cool in his pleather jacket and fake cigarette. It's meaningless and lame, and we see through it.
Thing is, whether we like it or not, we do have responsibility. We have humanitarian obligation. Just by being alive, we're part of a community, and there's a fair chance that you, or someone in your community, will be adversely affected by the direction that the shite-suited tsars are trying to drag us in.
Now that doesn't mean that you have to watch all the news and share all the Facebook posts and retweet all the memes. Like hip-hop group Dilated Peoples said: 'The news is just a TV show, get past it.'
Choose your sources of information carefully, and be aware of who owns what. Maybe give some money or time to helping people that the assholes in charge want us to be scared of or angry towards? Maybe, if you encounter hate, and its safe to do so, call it out? Maybe chat to people a little more freely, and form new bonds? I don't fucking know, I'm a juggler.
Here's what I do know though, as a fucking juggler. When I do a show – in a cabaret club, or in a theatre, or on TV, or particularly on the street – I don't know or care who's in my audience. And neither do they.
Guaranteed, in my crowd there will be people at all ends of the political spectrum. People with money and people with little money. People born close by, and people born elsewhere. All united in peaceful happiness by some asshole in a suit mucking around with tricks on stage. Surely if an old circus schmuck like me can get everyone to put aside their differences – without them even thinking about it – then it's way more possible than the shitheels of the world might have us believe. 'We all have much more in common than we have difference. I would say that about people all over the world. They don't know how much in common that they have.', wrote Ernest Gaines. But I guess there's a bit of a distance between knowing the truth of that statement, and somehow convincing the rest of the world of it.
But the first step is knowing you're allowed to not be cripplingly depressed and grumpy about the world all the time. Blunt force trauma doesn't often mend things. Be all the things you'd want others to be. Try to have your resting bitch face be a smile, with hopeful thoughts behind it. Because if you don't believe there's a chance to improve things, then there won't be. If you give out love and optimism, then I think there's a decent chance you'll get it back, and that transaction will have made the world just a smidge better.
I don't always feel like going on stage and dicking about, but when I do, if I nail the first couple of jokes, and get laughs back, there's something created in the room that wasn't there before. A tangible, actual feeling of friendship between performer and audience, manufactured by the conversation of my act and their responses.
Damn it, when I was a street performer, that friendship was strong enough that toward the end of my show I could ask them to voluntarily give me some money, and most of them would, with smiles on their faces. Turns out friendship is pretty powerful, and it can be the basis for achieving some cool things. Maybe it'll work in real life too.
• Mat Ricardo is Chortle's variety correspondent. His website is here and he tweets here.
Published: 2 Feb 2017
Listen, I'm jetlagged and I have a cold. Right now I'm sitting in my kitchen, watching the sky darken in my garden, as I drink iced coffee from a Magic Castle glass that I
What do you think?