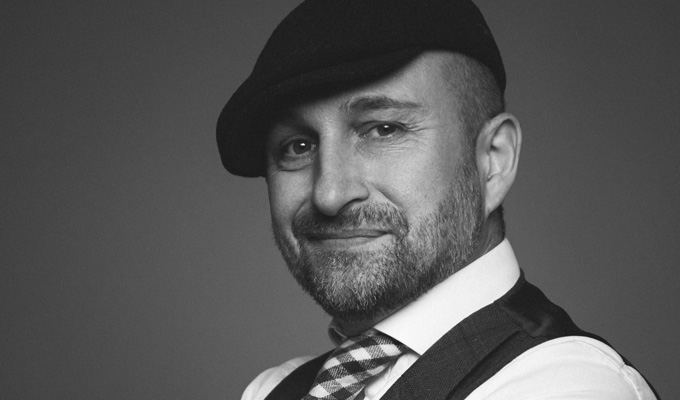 Mat Ricardo's Holiday Varieties
Oh yes, I'm sure there's a feast of top-drawer quality entertainment in store for us on TV this Christmas. Let's have a quick glance, shall we? Ooh look, there's David Walliams Celebrates Dame Shirley Bassey, where, if she's like any other self-respecting Welsh girl, she'll slap his legs hard enough to leave a mark and tell him to scuttle off back to Rock Profiles.
What else do we have? Mrs Brown's Boys has a Christmas special, which will, no doubt, make the traditional British panto look like a socio-politically sensitive work of delicate modernist introspection. Oh and there's Robot Wars: Battle Of The Stars, in which, unless I'm reading this wrong, Scott Mills will go one-on-one with some remote controlled cars with knives gaffer taped to them. I joke, as a great man used to say, because I love.
It's all so predictably… predictable. Versions of the same old stuff, warmed through in the microwave, and with a couple of nano-celebs thrown in. And if you're the regular reader of this column, you'll be expecting me to start whinging about variety right about now. Well, yes and no.
Sure, it would have been nice to have some – maybe a rerun of a Paul Daniels Christmas show, since we lost him this year? But it's fine because, as I did a few months ago, I've done the heavy lifting for you.
Yes – it's time for Mat Ricardo's Holiday Varieties. Half an hour of hand-picked circus, comedy and other fun stuff. So, crumble up some grey market sleeping tablets into the family dinner, fill the water tank of the new expresso machine with gin, make yourself a happy latte and enjoy. And if you'd like to know more about the stars of the show, keep reading.
[This is one continuous playlist... just keep watching the video below and all the clips will follow.].
The Harlem Globetrotters
The perfect intersection of two of my favourite things in the world, namely juggling and pro-wrestling. Like a lot of things on this playlist, we're looking at circus in disguise here. A bunch of cool people performing feats of dexterity, athleticism, humour and slickness under the guise of a mostly-fixed sporting event? This is Cirque Du WWE.
Born in 1927 as the Savoy Big Five - a basketball cabaret act that performed at the newly opened Savoy Ballroom in Chicago, the Harlem Globetrotters went on to be a world conquering, slam dunking, media spanning, equality pushing, and yes, globe trotting, theatre-by-stealth success story phenom. In 1959 they played nine games in Moscow, in front of president Khrushchev. The state newspaper, Pravda, missed the point beautifully, writing "This is not basketball. It is full of tricks!". Yes, mate.
Mix that with Stomp, the humongo-franchise, that was started in the early 1980s by a couple of street performers (Busker high-five to Luke Cresswell) under the name Pookiesnackenburger, and you have, like everything in this playlist, one of my favourite things.
Jim Meskimen
It's all about the Shatner.
Ricky Jay
Now this is a beautifully cultivated stage persona. Ricky Jay convinces you, in the same way that David Blaine does, that he's something more than just a conjurer. Blaine's shtick, great though it is, works best on the more suggestible – those who perhaps, even just privately, truly believe that some people have 'powers'.
But Ricky appeals equally to the intelligentsia, with his hinted stories of a devious, sly and cool criminal underclass that his cunning mind and educated hands have granted him access to. It's showmanship, of course, but of the highest, most elegant level. Or is it?
Slappy Squirrel
First things first – if you don't know what this sketch is an homage to, then go back and take your comedy foundation course. I'll wait.
This is from the seminal 1990s cartoon The Animaniacs, and damn if you couldn't dive into the show anywhere at random and come up with some gold. It was one of those shows made for kids and adults, with stuff that would land in either one of those audiences, and lots that would please both at the same time. It was witty, subversive, and brilliantly written.
The whole show was a love-letter to silent movie slapstick and the golden age of cartoons, but it also had time to feature a regular Goodfella's spoof, a mouse that bore a striking resemblance to Orson Welles, Mime's being tortured, a Fruedian therapist with a sexy nurse, a death-defying baby, and a million other flavours of shenanigan.
For some reason the character of Slappy – an aging, cynical old comedy schmuck who can still run rings around the young upstarts - appeals to me. Go fig.
Yu HoJin
Pure demonstrations of skill ain't usually my thing – I tend to like a little mustard with my sandwich, but sometimes the craft is so good, so perfect and so clean that you just have to sit back and let it wash over you.
Contrast this with what Ricky Jay was doing earlier, and see the perfect example of how what is technically the same skill, can be a totally different piece of performance.
Kurt Braunohler and Kristen Schall
Fast forwarding is strictly, absolutely, forbidden.
Jackie Chan
Everyone's favourite circus performer, and hardly anyone sees it that way.
Given over to a Peking opera school aged six, Chan learnt, and then excelled at the skills that he'd use for the rest of his career, and that you can see him employ is this terrific fight scene from the movie First Strike - kung fu, acting, juggling, acrobatics, choreography, teamwork, and being able to rise above your fear to perform something spectacular and genuinely dangerous. That's circus.
Once, when interviewed, he was called fearless – a label that has been applied to him throughout his career. 'No,' he said, 'I'm scared every time.'
What also stands out is his choice to be a sympathetic, non-macho, character – something that is true of this scene, and much of his work. He's rarely looking for a fight, rather he's usually running from one. Trying to make space to stop things getting worse, or to explain himself. He survives often as much by lucky breaks and coincidence, than by ass-kicking. Sort of the opposite of Steven Seagal, who bullies his way through his films like a grumpy Easter Island head wearing a jacket from an airport souvenir store and something that someone once told him was genuinely meant as a wig.
Nathalie Enterline
Protege of Francis Brunn– himself hailed as one of the greatest jugglers to ever throw a ball – Nathalie took his credo – to mix another artform with juggling – and created an act that is, to me, as thrilling and perfect today as it was when I first saw it as a teenager, sat on the rug in front of my family's TV, watching the Paul Daniels show.
Jackie Chan would tell you – there's a principle in kung fu called 'intention'. It's hard to quantify exactly. It's the presence, the focus, the feeling of calm coiled spring-ness. Perfection of movement and stillness that you strive to when performing a kung fu form. When you get it right, it feels, and looks, exact. Correct. Nathalie has it in spades.
I nearly booked her for one of my live variety shows once, but we couldn't get the dates to work. I still dream of introducing her onto one of my stages.
Citizen Kane
Once again, if you're not familiar with The Kids In The Hall, then go back and take another run at that comedy foundation course.
I include this sketch for three reasons:
a) It's really funny, and a killer example of how to take an idea, run it to it's conclusion, and STOP. Lots of sketches have issues with the stop part.
2) It reminds me of sitting on cushions on the floor of my first tiny 3rd storey Kings Cross flat watching the KITH late at night with cheese and challah bread from the shop next door. They are good memories.
iii) Thanks to my friend Lynne, while I was in Toronto this year I met Kevin McDonald, who is in this sketch. I told him thanks, and he was super cool. I rarely get jittery about meeting famous people, but I was giggling like an idiot afterwards.
Gregory Hines and Sammy Davis Jr
Gregory started tapping when he was two years old. At the age of three, Sammy was already on stage.
They're both gone now, of course, but they'll always dance. I'm a low-level hoofer, but whenever I've in a hotel lobby with marble floors, or waiting for a lift, or on a smooth kitchen floor, or doing a soundcheck on a good-sounding stage, I'll let my feet do the steps that my mum taught me when I was a kid. By the time I was 11 my mum had been hurt on the roads and couldn't tap any more, so I'll make sure that I always do, for as long as I can, at least.
In a year that seems to have been dominated by the death of the graceful and witty, and the rise of the stupid and boorish, let's finish this playlist by enjoying two men being beautiful and cool and loving.
Hope you enjoyed the show. Happy holidays.
Published: 24 Dec 2016
What do you think?