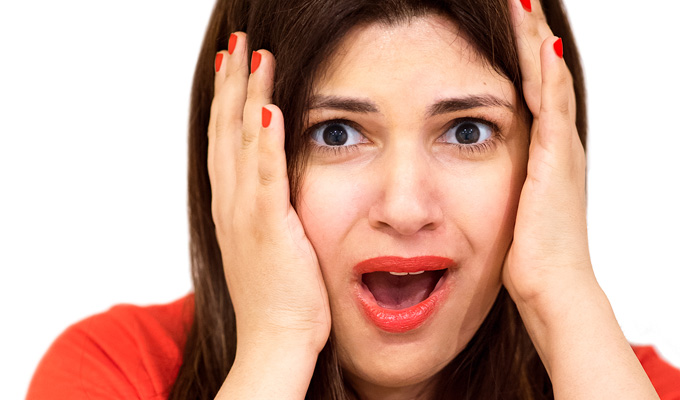 Things I hate seeing other comics do
The slow death of live comedy
About a month ago, I was offered £65 to do my first paid 20. It was the most I'd ever made from one gig. It was about 50 miles away from where I live, but the promoter was lovely and I was really looking forward to playing it. Anyhow: last week, it was cancelled, because the owner of the venue said that his venues were making a loss.
Since I've been doing comedy again, I've witnessed so much of this. Shows being pulled, empty shows, ominous rumblings about whole chains of comedy clubs being about to go under. Promoters who say despairingly of their empty venues: 'I don't know what I do – I'm doing everything I can to get audiences in!'
Blogger John Fleming and Monkey Business promoter Martin Besserman think the lack of audiences is due to the proliferation of free shows. While it sort of makes sense that if someone goes to see a free show, the show is going to be open mic comedy and so the acts aren't going to be much good - therefore the punter is going to leave thinking 'comedy nights are rubbish! I'm not going back' – I would have thought that people would understand that you get what you pay for.
So I'm not really sure why live comedy seems to be in its death throes. Perhaps that's overstating it a little and it's still alive and well in parts of the country. But the paid London pro gigs that were thriving and packed in 2003 – Bound and Gagged's two venues, the Chuckle Club, Mirth Control West Hampstead and many more – don't exist any longer. And Monkey Business is rarely full these days, either. I know that some comics and promoters do make a living from comedy, but though we're unlikely to ever get the figures, it would be interesting to see how many do – and what their incomes are, too.
---
New material
I tried a new song out at a gig this week. It's always scary trying out new material – I started wondering 'what if it dies terribly?', and got really nervous beforehand.
I know this is the case with straight stand-up too, but at least you can back out of a routine quickly if it's killing the room. With a song, you're more committed and it's way more noticeable if you stop after just a verse and chorus, especially if you've given it a proper introduction.
Luckily, the song went down well. I sandwiched it in the middle of two banker songs, so that I could start and finish strongly in case it bombed, but this wasn't the case – in fact, it went down better than one of the bankers. I had the lyrics taped to my keyboard, because the last thing you need when you're nervous about how a song's going to go is to forget the words.
So I felt like that was a bit of a cheat, but after the show, I talked to two of the other comics, and their hands were absolutely covered with writing. It's good to know I'm not the only one with memory problems.
---
Things I hate seeing other comics do
I know I'm not the world's most experienced, most proficient comic, but there are many things I see other comics do that exasperate me, because these things strike me as just so unprofessional and ill-advised. Here are my top five:
(1) Blaming the audience for not laughing at your jokes. If the audience aren't laughing, lambasting them for it isn't going to bring them round and get them to laugh – it's just going to make the atmosphere awkward. I get that the lack of laughter might hurt your ego, but railing at the crowd isn't the solution. We all have bad gigs at some point, and sucking it up is usually the best way to deal with it at the time.
(2) Similarly, going 'god, this has gone really weird isn't it? You're a bit of a weird audience. Isn't there a weird atmosphere in the room?' etc. Even if this is the case – and often it's an act's paranoia, rather than a fact - acknowledging it is likely to make things weirder, not less weird, unless you can be genuinely funny with it.
(3) Storming off stage early because it's not going well. I've done this once – when I was dying on my arse at Comedy Café, and my mouth was so dry from nerves I literally couldn't get the words out. It genuinely felt like I was singing through a mouthful of carpet, so this was less a lack of professionalism than a technical issue. Admittedly, I didn't want to be on that stage any more, so I can understand why comics do it. But I once saw a headliner do it, and was shocked: it's bad enough being an open spot walking off in the middle of several other open spots, but you just can't do that when you're getting paid to top the bill. It's no way to end a gig, and is disrespectful to the promoter and the audience. (Especially so on that occasion, as the act in question was doing fine – they just weren't storming it.)
(4) Slagging off other acts. I really think this is best avoided, because even if it's done in jest, nine times out of ten that comic is not going to take it well. The exception to this is if the act before you has made the gig absolutely unplayable for whatever reason – then I think it's fine to acknowledge this. I once saw an act scream at the audience, making them really uncomfortable, and the next act came on and said softly, closing his eyes: 'Let us just take a moment to think about what we've just witnessed'. That was funny, not offensive to the act, and cleared the atmosphere.
(5) Dissing the promoter or gig. Anything's all right if it's genuinely funny – but too often, I see comics ask the audience the equivalent of 'Why have you chosen to spend your money here, when you could have gone to X venue or done X instead of seeing comedy here tonight?' Even if the show's virtually empty, or the venue isn't ideal, and the comic's pissed off with this, this kind of question is disrespectful to the promoter, and to live comedy in general.
• This has been extracted Ariane Sherine's weekly Adventures Of A Stand-Up Comic email updates. To sign up, email ariane.sherine@gmail.com
Published: 18 Oct 2016
What do you think?