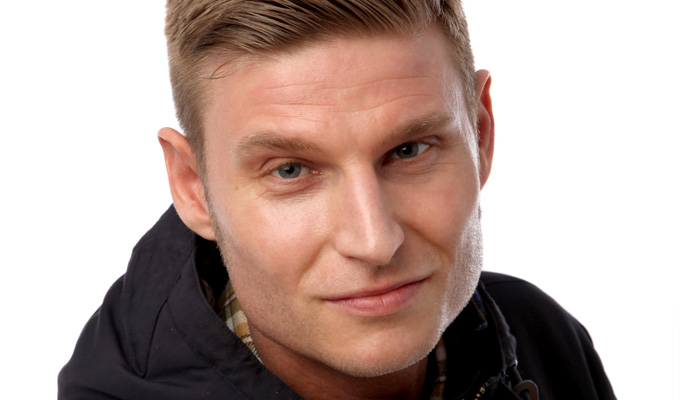 The real heroes of comedy
When people ask me why I do stand-up, I find it easy to answer. I've always been, obsessed with comedy. I'll always remember the time when I first heard The Day Today or the first time I watched Blackadder. I learnt them off by heart. The rhythms of the language and the mastery of the character creation still thrill me to this day.
I was always a bit of an awkward, anxious child and comedy provided the perfect escapism. That hasn't changed. Six years ago I discovered stand-up and I was immediately addicted, but I don't think I was quite prepared for just how it would ensnare me.
When I first started people would often ask me if it was a hobby, at the time I couldn't answer them. Now if feel I am more qualified to answer this question. Baking cakes is a hobby, playing golf once a week is a hobby, driving to Glasgow on a wet Wednesday night to perform to eight people at Bobby Wingnuts' Cackle Dungeon, isn't a hobby, it's probably an illness.
Interestingly they never ask me how I do stand-up comedy, which would be a more revealing question. Much is said of the stand-up comedian, but the people behind the scenes often don't get the credit they deserve. I'm not referring to agents, managers or producers; I'm talking about the unseen victims of comedy, the ones we leave behind to hold the fort and the ones who have to keep our fragile egos buoyant after a terrible gig in Glasgow.
The sacrifices these poor men and women make are part of the reason we are able to get up on stage and show off. I'm speaking about the silent partner in the double act, and in my case it's my wife Jemma.
When we met 19 years ago I didn't do stand-up. We met at university, got married, had our first child and both embarked on proper careers, her as a teacher and myself as a product designer. We both shared a mutual love for comedy. I knew she was the one for me when we both declared our obsession with Alan Partridge, we would forensically analyse it for hours, like two tragic comedy geeks, it was marvellous. I still do it now, but often I'll be told: 'Not now love, can you take the bins out?''
Stand-up is an inherently selfish pursuit, which is ironic as many comedians sacrifice their own social lives to entertain others, but we can't deny it's a moderately narcissistic activity. I'll often have to wrestle those feelings of guilt. It can be a difficult sell in any relationship. 'When is your cousin getting married? A Saturday in the future?' 'Oh, sorry I think I am in Wigan.'
This isn't a whinge, it's my choice to do comedy, and it's a privilege to do it, but I certainly think having a family and a marriage makes it a challenge. I came to comedy quite late – I was 30 – and although things are going well, it would have been much easier to have done it when I was in my early 20s and living in my parents' house. But I had little to say at that age and certainly didn't feel confident enough to know how to say it.
The apprenticeship in comedy can be long and varied, and rightly so. It can take years to get noticed, many of my favourite acts had their breaks in their late 30s and you can't expect real life to wait in the wings.
Doing comedy continues to be the hardest, but most rewarding, thing I have ever done. It's both infuriating and exhilarating in equal measure. The long nights and early starts are hard, but I never feel like I don't want to perform, if anything it's made me want to succeed even more.
Everyone makes sacrifices to do comedy, late nights, endless miles on the road, but I admire the acts that maintain the balance between stand-up and family life. They give me confidence that it can be done.
It's not easy but I feel if you have the support it's only an obstacle if you regard it as one. People outside the world of comedy may assume that it's just like any job and comics are no different to anyone else who works shifts. However I think they are, performing comedy often requires the investment of your own personality. It can be an emotionally draining experience, you don't just clock in and out. You might have just had a standing ovation or died on your arse so badly you feel you've left a bit of your soul behind. Either way, it's difficult to get up the following morning and build Duplo with your kids, you need an hour or so to decompress.
It's always unusual getting back home in the early hours when all the family is in bed and the house is silent. I like my routine, the bowl of cereal at 2am and back-to-back Couples Who Kill on the Investigation channel; marvellous. I then have to sneak into the bedroom and try to find my way to my side of the bed using only the digits of my radio alarm clock as a rudimentary landing strip. My wife rarely stirs. I hope we never get burgled when I am away, as she would probably just wake up to ask him if he had a nice gig and then go back to sleep again.
Having responsibilities does bring pressure but it also brings a way to connect with the audiences every weekend. More experienced acts have said to me: 'You need something outside the bubble' of stand-up. There is certainly some truth in this. If all you do is gig, what else can you talk about? Being married and having a family is a surefire way to create material, an expensive and stressful way perhaps, but it's effective.
I'm very lucky in that my wife has not given me an ultimatum, which often happens to married comedians, but there have been times when the bank of goodwill has been low on credit, especially with the arrival of our second child this February.
I have to always remind myself that Jemma didn't tick the WAC box on the marriage form (wife of a comedian) and I'm dragging her along on this venture, but the support she gives me had been unwavering and I will forever be in debt to her for that. We are getting used to a different lifestyle as a family. We are learning how to make it work. Twice now we have all gone up to the Edinburgh Fringe together, once staying in a flat and last year spending the month in a static caravan. We could have probably gone to Disneyland for the same price and I was probably one of the only comics whose Fringe experience closely resembled that of Alan Partridge, but it was great having them with me.
My six-year-old daughter has had some very cool fringe experiences. When she returned to school after the summer break last year she had to draw a picture of something she did during the holidays. She proudly handed in a picture of her onstage with the Funz And Gamez crew, (her teacher corrected the spelling) she has met Bonzo the dog and Jim the elf, smashed an egg over her dad's head and had a brutal staring competition with Phil Ellis; she still talks about it to this day.
I don't know what the future holds for me in comedy, but what I do know is that if I am ever fortunate enough to have some success, it certainly wouldn't have been possible without the sacrifices made by my family waiting back at home.
Published: 2 Sep 2016
Recent Opinions
What do you think?