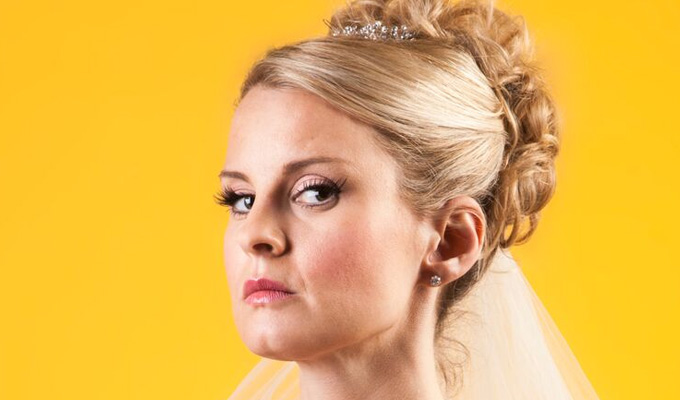 Doing mainstream character comedy at the Fringe
British comedy has produced an array of brilliant and memorable comedy characters. David Brent, Mrs Merton, Ali G, Alan Partridge, Nan, Edina and Patsy, Mrs Overall, to name but a few. Strongly defined comedy characters are at the centre of some of our most popular sitcoms: Del Boy, Hyacinth Bouquet, Victor Meldrew. These characters all have many things in common – they appeal to broad audiences, we've all met someone like them, and you can put into any situation, and they would still be funny.
From sitcoms to feature films such as Alan Partridge, Ab Fab and David Brent, to the rise of Diane Morgan's hilarious Philomena Clunk, ITV's Elevenish and Dave's character–led TED-style talks – character comedy seems to be making a strong comeback on our screens.
At the Edinburgh Fringe, sketch, improvisation and character comedy is growing each year. This year I'm delighted that Colin Hoult is giving us an hour of his theatrical creation Anna Mann, and I'm excited to see what Marcel Lucont has to say about Brexit.
Creating a live character comedy show is challenging. Finding characters that engage an audience and create some recognition, creating a back-story without too much exposition, convincingly changing from one to the next if you're doing multi-character, without looking like you're showcasing your accents.
Harder still is creating live mainstream comedy, finding characters that appeal to a wide demographic, both genders, to all UK regions and often an international audience.
Last year, for my third solo show, I set myself the challenge of creating a mainstream show featuring one character. Something that would appeal to a wide audience, work outside of London (where I do most of my previews) attract large audiences and more importantly – that had a strong central character who was recognisable and funny, regardless of the context. I'd had quite a journey to get there, with a lot of experimenting over the years.
My first two shows were multi-character and allowed me to explore styles. Over two shows I created ten eclectic characters including an Irish Foreign Correspondent who found Osama Bin Laden while disguised as an Avon Lady, an American anti-marriage activist who removed her own ring finger in protest, a twee drug-dealing baker, and an Austrian anti-ageing expert who was suffocated by her own products (I was terrible at writing endings so I normally just killed off the last character!). They took bizarre twists and turns and allowed me to dip into surreal storylines and push storylines to the extreme.
They divided audiences but there was something for everyone. Among them, there was only one character who united opinion, that audiences seemed to respond to the best regardless of age or gender, the one that I found the easiest and most fun to write, could improvise my way through some gigs with, and the one who got me here in the first place. The simplest out of all of those, and yes, the most mainstream. Georgina Francis. A snobby, naïve, deluded socialite engaged to a Conservative MP and trying desperately to be the perfect woman.
She was one of my first solo character creations and four years ago before my first show, I made some YouTube videos with her - a piss-take of self-obsessed Wedding Blogs. I made them for fun and for free, with little expectation, and put them online. When they unexpectedly went viral, I knew I'd hit upon something big but I wasn't sure what to do next. My sister secretly emailed the videos to my now agent and they came to my first show. I got signed and then landed a part on ITV2's Bad Bridesmaid in which I was challenged to write and perform two characters who would appeal to a broad audience.
After the success of Bad Bridesmaid and exhausting myself with playing six characters in an hour, I decided to try writing something for one character, with a simple concept that could be summed up in a sentence. I also wanted to create a world for the audience to enter into and feel part of.
I decided she was getting married in Edinburgh Castle at the end of the month, and would have one wedding rehearsal a day through the Fringe, to make sure it was perfect, using the audiences as fill-in wedding guests and letting them control the content. They would be allowed to write the groom's speech, pick the wedding songs, shout objections…and the last 20 minutes would be a controlled chaos – a full run through of the wedding with everyone in the audience taking part. I decided to end it with a big surprise twist to avoid any predictable ending.
The character might have been mainstream, but my approach was risky. Each show was going to be totally different, unique to each audience and I'd have no script for about a third of the show.
I performed the show at PBH's Free Fringe in the Voodoo Rooms. I had no PR or advertising; I only had posters up in the venue and the flyers were done as wedding invitations, written in character. I had a student helping me flyer. I had no idea if it would work so I kept it really low key. I just had to trust the character and the skills I'd learnt as a performer and improviser.
On the first day after it was standing room only and we had to turn about 50 people away. It remained like that throughout the run. I had doubled my audience and was having the most fun in Edinburgh I'd ever had. My audiences ranged from 18 to 70 with a big mix of men and women. People came back and brought friends.
I knew I would attract some snobbery in doing a 'commercial' show but that is part of the challenge of writing something mainstream. I accepted that early and moved on. I prided myself in how much braver I got each day in improvising and interacting with the audience.
It is also possible to create a product that is popular with a character that is relatable and mainstream and find pathos, warmth, emotion and vulnerability. These are all things I push myself to explore within the realms of the show, especially as Georgina heads towards her downfall at the end. I don't hammer them home and let the audience find them if they wish to. My foremost job is to make them laugh and enjoy the show.
So this year I return to Edinburgh with a better, braver version of my show in a bigger room. Next year I might delve into the surreal again and go for something completely different. That's the beauty of Edinburgh – it's a safe place to try out whatever you want.
Like all Edinburgh shows, it's a risk. But I have discovered that creating a character that you can put anywhere, that you know so well you can improvise for hours with, can quickly build an audience. I don't get so worried now about where this will take me. I have faith that if you start with your audience, then the rest will follow.
• Anna Morris: It's Got To Be Perfect is at The Voodoo Rooms at 15.55.
Published: 26 Aug 2016
What do you think?