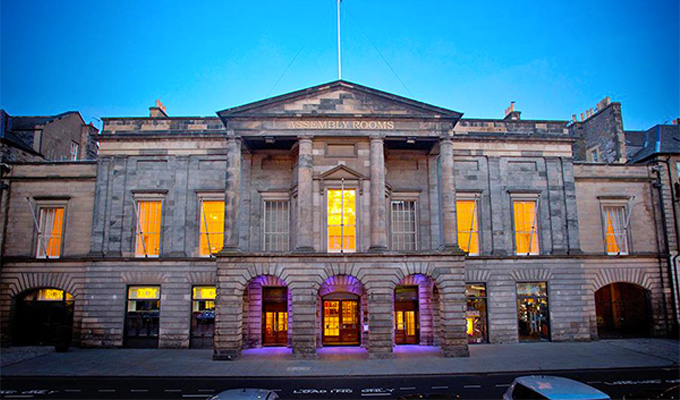 Don't ruin the Assembly Rooms as a Fringe venue
Earlier this week, a row broke out over the digital festival being run at Edinburgh's Assembly Rooms.
For the past three years, the venue has been run by Salt N Sauce, the parent company of The Stand comedy club, at the Fringe since a £9 million refit. But this year it was handed back to Assembly Theatre, which originally ran the site, and which has now installed a high-tech digital hub there for the duration of the festival.
Salt N Sauce slated the 'awful, cheap, incoherent and ineffective' area created in George Street and said the digital festival was 'somewhere between pointless and insulting'.
Now The Stand's director Kenny O'Brien has written an open letter, published exclusively below, to Assembly impresario William Burdett-Coutts about the situation, accusing him of running the site in a way that keeps audiences away from the New Town.
Mr Burdett-Coutts declined to comment on the contents of the letter, but last week said: 'They obviously have an axe to grind. What we're doing is extremely valid and the reaction we've had has been extraordinary. To belittle what we've done in terms of digital development is just naive. It will be something everybody engages with in future. I'd be the first to admit it has not had the enormous numbers I'd love to have through, but lots of people are very impressed with what we're doing.'
Dear Bill,
A recent newspaper article reported a bitter feud between us, which isn't really the full story so I thought it might be best to clarify at length some of the points it reported on.
It is widely accepted that for good or ill, Assembly Rooms has been a significant component of the history and development of the Fringe: the word 'iconic' is often attached. This was begun by you, and you ought to be proud of that.
When Salt 'n' Sauce ran a Fringe programme there we did so in the spirit of regenerating an interest in fringe-goers to come north of Princes Street following the lengthy refurbishment closure and the barrier of tram works. We extended activity outwith the building to add more performance space and create an event of sufficient scale to build a focal hub for people coming over here, with the view to encouraging more interest in the Fringe from local businesses, and more benefit from the Fringe.
We ran a programme across a range of genres: many outwith our particular speciality and often at substantial commercial risk rather than take the easier route of just plumping for big name stand-up because we wanted the building to represent the Fringe, and not just a single strand of the arts. We partnered with the similarly iconic Famous Spiegeltent to add gravitas and the correct character for the outside area.
We worked with local partners collaboratively as far as possible, we listened to neighbourhood concerns. We made space for local businesses to get involved onsite, and by promotions.  We built a site which took into account  the desires for look and practicality of a huge swathe of concerns: cycle lanes, screening and site dressing appropriate to a world heritage site,  ensured permeability and pedestrian crossings, collated garbage collections for the shops… it was complicated and often frustrating. It took a couple of goes to get it right.
We did this out of respect for the building and a sentiment broadly shared, including by City Of Edinburgh Council management stated many times, that it is important that the Assembly Rooms continue to be a significant Fringe venue, despite the limitations post refurb. It's important for the building, important for the festival and important for the economy of the broader New Town district. When we last spoke to City Of Edinburgh Council during their tendering process, we stated our belief that it remained vital that the building should continue to be operated in this manner, and that Salt n Sauce weren't desperate to continue to do so but we would do if the council needed us to. If however they found another operator who would take it forward then we wouldn't be sad: as long as it continues to attract over 100,000 fringe-goers to this side of town and continues its heritage and is an asset to the district.
Have you looked at what is outside Assembly Rooms? Words fail me to express the tawdriness of the street activation. It is so far beyond ugly it actually, truly made us weep, that all the work we have done over the years has been superseded by this. The perimeter is at best cheap and tacky, on its good side: the ends and back of house aren't even minimally dressed out: partially scrimmed heras fence and flapping tarp. When the first attempt at screening the Portaloo with bamboo blew away, you at least put some proper shuttering round it, but only on three sides?
The external bar area, presumably granted under an entertainment licence, has no justification for being there: there is no event attached to it which requires a bar to be there, the bars indoors can easily cope with the likely attendances and their frequency: and there is no activity outwith the building apart from a sterling board art installation. A bus has come and gone. A cinema truck arrived a week after the fringe began but is outwith the event curtilage.
The content of the 'festival' programme has very little merit to being added on the Fringe: it's about TV, and film and technology which might be appropriate as a part of one of Edinburgh's other festivals, but encouraging people to come to Edinburgh during the world's biggest arts festival just so they can watch theatre from London and Stratford or operas from Glyndebourne on a cinema screen is certainly not adding to the fringe, and may in fact be quite the opposite: why bother coming here to see live arts when you could just sit at home and watch it on your phone? It is heart-warming that the public have rejected it so completely, apparently attracting fewer than 50 people to some screenings even on Saturday nights.
It would make some kind of sense perhaps, to be capturing what happens in Edinburgh and streaming that to Rio, or New York, but why in the midst of the world's biggest arts festival would you want people to watch old movies, or worse, imply that there is something better happening in Stratford or London. One night's feature was Monty Python Live (Mostly) which was also on the TV on the same night… And how do performers in Assembly Theatre's venues feel about being put up against the RSC by their venue owner? At least they have the comfort of knowing that you're keeping up to 10,000 people every day up in the Old Town instead of being interested in coming north of Princes Street.
So what is meant to be the point of Edinburgh Digital Entertainment Festival? To promote the potential of London's Riverside Studios [which Burdett-Coutts also runs] once it's been redeveloped? Whoop-de-doop. Congratulations on turning a community arts venue into 160+ flats selling for up to multiple millions each and getting a TV studio for sweeties. Yay. Why wouldn't people want to strap their phones to their eyes and sit in isolation from their fellow humans to cheer that victory for the common man. At least it left Riverside with millions spare to keep ticking over for a couple of years during renovation, so you can afford create a spectacular event, if you want to.
And it's not like it's been a poor attempt from some inexperienced first timers. Your company are the same people who run Assembly Theatre, the Brighton Comedy Festival: you know how to build a high quality event site and you know how to put together an attractive programme. You have chosen to not.
The site at George Square is better built than ever before, but George Street is just a sight. Even if the attendances are just genuinely short of what you'd hoped, if you're promoting something for the future them it must surely be worth putting some cash into making its face look attractive, even if it does cost a few quid to do so.
You accuse me of being naïve and of having an axe to grind: neither is really true. It's my 19th Fringe so I've been around a bit and have a fair amount of experience in running Assembly Rooms Fringe programme. I know it's a tricky situation to manage all the concerned parties, but it's not impossible, just difficult, and maybe less profitable than some other venues. But we didn't do it motivated by profit first and foremost. The point is to bring performers and audiences together and make them all happy, and to help sustain and develop the Fringe beyond the over-concentration around the university campus so that there is a broader benefit.
Will there be a digital component in the future of the arts? Undoubtedly, but I don't think the Edinburgh Digital Entertainment Festival in Assembly Rooms during the Fringe is a good way to promote that, and if what has been done this year is your vision of the future then the future looks lonely grim and bleak.
We still don't especially want to be the folk running Assembly Rooms, we'd all be happy for you or someone else to do that: we aren't global dominators, just a provincial comedy club punching up and above its weight, valuing its local neighbourhood and neighbours. Trying to do the best for our performers, including dragging 100,000+ people over this side of town to and from Assembly Rooms if necessary, to be potential audience members to other shows, and to the rest of the venues, coffee houses, bars and restaurants in the area.
We wanted, still want, the Fringe in all its colour and glory to come to enliven George Street. and environs, and I would be surprised if the present Shambles doesn't turn the George Street Association, Essential Edinburgh levy payers and other locals completely against the idea, undoing so much of the effort we have put in over the years to encourage involvement and participation. We do not want to be tarred with Riverside's brush in regards to Assembly Rooms, and I need everyone who might care to know that this is not my mess. We make mess too, but we try to minimise it, hide it and tidy up as quickly as possible after.
You created Assembly Rooms as a Fringe venue: be proud of it. Please Bill, don't ruin it.
Kenny O'Brien
Stand Comedy Club
Published: 25 Aug 2016
What do you think?