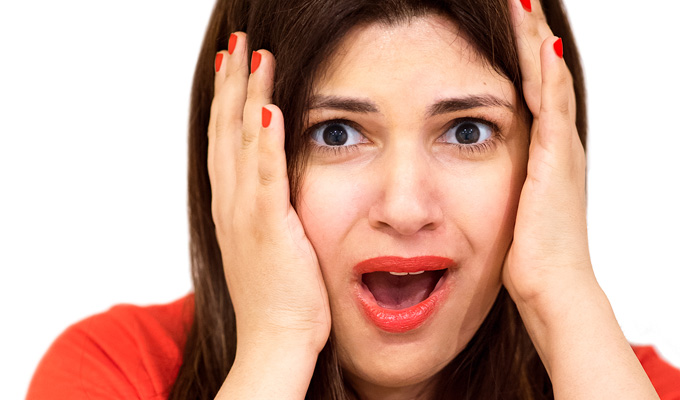 Stuff the critics... audiences really like my comedy
I've been thinking a lot about my act and critics. While some critics have enjoyed it a lot (Copstick and Claire Smith), others have derided it for being too rude, and I don't get through competitions because of this. However, audiences really enjoy it – so I have two choices. I can either keep doing what I'm doing and accept that I'm not going to please everyone, or I can alter my act and become cleaner, more quirky and critic-pleasing, but lose audiences in the process.
I'll give you an example. When I was trying to put together a less rude competition set, I had a song called Have A Baby, all about the trials of having a newborn, and also one called Hillary, about the life of Hillary Clinton. Both were clean and though there were lots of jokes, neither song really worked in front of a crowd. For some reason, audiences respond a lot better to sexual innuendo than they do to political satire or jokes about parenting.
Some people say sex jokes are 'hack', but they don't have to be. Copstick called Hitler Moustache 'funny in anyone's book', and the incongruous juxtaposition of Nazism and sex is what makes the song work, not just the rudeness. I too get a bit weary of songs that just rely on synonyms for penis or vagina for laughs, but my songs don't do that.
When it comes down to it, I'm a comedian: I exist to be funny. If audiences don't find me funny, it doesn't matter how many critics like me or how many competitions I win: promoters won't want to rebook me because I haven't given the audience a good enough time. Yes, I'd love to find a way to appeal to everyone, but until I do, I'm going to make pleasing audiences my priority.
---
I did a five-minute set at the Comedy Cafe for the first time on Wednesday, and it went so well I was asked back next week to do ten minutes. I was really nervous because I was playing my song Hitler Moustache, and the last time I'd performed it was on my comedy course, when I'd played it to absolute silence. That was fresh in my mind, so I could feel myself getting more and more anxious before I went on. Added to which, I hadn't played the piano for weeks, and felt a bit rusty.
But this time I played standing up, so I didn't have to faff about with the mic too much when I came on stage. It's harder to play piano while standing up, as I'm relatively unused to it - I've been playing while seated since I was five years old. But it's better than losing the audience while adjusting the mic to the right height while seated.
I have never known Hitler Moustache to go down as well as it did that night. I got not one but two applause breaks, and an absolute roar of laughter and applause as I left the stage. It felt like karma for the time I had to play it to silence. I just wish there were a video of it!
---
I've been debating with another comic as to whether the open mic circuit is still worth doing when you're getting paid gigs. He says that if it wasn't, you wouldn't see celebrities turning up with notebooks to try out new material. I've never seen a celebrity at an open mic gig, though have heard reports of Jason Manford turning up to Comedy Virgins.
I said that celebs might turn up to an open mic gig every so often, but not every month and certainly not every week. Also, Comedy Virgins is a bringer and a pay-to-play, and is so popular you have to book several months in advance. None of these three rules will apply to Jason Manford, who can walk into any gig and do a spot.
(I kind of feel for celebrities. I remember a big star turning up to Mirth Control West Hampstead in 2003 to try out new material. The audience were expecting him to be as funny as in the edits of panel shows, and for some of the set, he was - but as with any new material, some of it fell flat. I don't think the audience realised it was new material though, they just thought: 'Why isn't this man off the telly as funny as he is on the telly?')
Anyhow, part of the reason why I'm no longer doing open mics is that they generally don't have proper audiences. There is no point playing solely to acts, little point playing to a couple of stragglers (the drunk at the bar; some friends of acts) and not much point doing hysterically warm bringer gigs.
As I've said time and time again: these just aren't representative audiences. For that, you need to play pro gigs in London or gig out of London. If anyone would like to suggest an exception to this, I'd be interested to know where it is. Also: I don't want to do stayers as I'd rather spend the time writing. If I have to stay and watch other acts, I'd like them all to be worth watching!
I'm really glad I did four months back on the open mic circuit. I've made some great friends, had lots of practice at performing again, and kind of feel more able to gauge what will work on stage and what won't - which I think comes with experience. But my main goal for the rest of 2016 is to finish writing a comic novel, so if I can put the time I would have used at open mic gigs towards that, I'll be happy.
---
I wrote solidly on Monday and Tuesday this week. Bloody hell, writing is depressingly solitary! Stand-up is thought of as an unhealthy profession, probably because (despite the name) it's so sedentary, and stand-ups spend hours in cars and stop off at motorway service stations at 4am to eat Ginsters pasties. But I genuinely think that writing is less mentally healthy, because you usually have to be alone to do it - and when you're in flow you might not leave the house or see another soul for days.
With stand-up, however, you're constantly with other people - and gigs are all about feeling good. Laughter is healthy, socialising is too and performing can be very cathartic. But I remember that gigging every night actually made me ill earlier in the year, so I'm lucky to be able to do a mixture of the two.
---
Tonight was my ten minute spot at the Comedy Cafe. It felt like a big deal, so I'd rehearsed properly for it. I was opening with a farewell song to David Cameron, and the crowd didn't go for it. I did Hitler Moustache and they still didn't go for it, and my mouth was completely dry with nerves - I could barely get the words out, and I didn't have a bottle of water, so I got off stage rather than do my third song with a mouth that felt as though it was full of carpet.
My friend John Fleming immediately started going on about what I'd done wrong, and how it 'looked bad' that I'd cut my set short. If you're an act, after a bad gig all you want to hear is 'tough crowd - it wasn't your fault', rather than 'I hadn't realised your opening song was weak'.
I've told him before to please put his thoughts in an email rather than pillorying me with them immediately I leave the stage. I'm not in the right frame of mind to listen to criticism when all I want to do is bury my head in a pillow and sob great big tears of frustration. So if he's going to criticise me straight after gigs, I'm going to take all that frustration and shame and sadness and direct it at him.
And then I feel like a total bitch, because he's lovely and amazing and has helped me so much. I just didn't want to talk about the gig, I wanted to lick my wounds in peace, and so I snapped at him 'You're so full of bullshit!' and walked ahead of him in silence. We both apologised to each other the next day, and I felt very guilty. I'm just not in a very good frame of mind right now. I think a break from comedy will do me good.
---
This week, I had two gigs, and had to go on first at both. The one good thing about going first is that you get it over with quickly, which is a blessing when you're suffering from nerves. The downside is the audience aren't as warmed up as they would be later on in the night, and you don't get to gauge their level as much as if you go on later, so it's not as easy to get the measure of what they find funny.
My favourite slot at a gig is first after the interval. It means I can set my keyboard up on stage in the break, adjust the boom mic over it and sound check then, in the knowledge that my kit isn't going to block other comics' way. Generally, the audience are warm by then but not too drunk, and they're not busting for the toilet or a beer as they'll have got that out of the way during the interval.
If I have the choice of going first or last though, all other things being equal, I'd go first. I've seen so many audiences get tired during a gig and the headliner really struggle to bring them round. It's happened to me before several times. Admittedly, I'm not an experienced headliner, so this probably doesn't apply as much to more seasoned professionals, but I've witnessed it happen a lot. I'd rather go on to a fresh audience who are eager for comedy than an exhausted crowd who are ready for bed.
---
My last gig was a little competition at a posh pub in South London. Before I left in the interval, the promoter pulled me aside and said he would be booking me paid gigs from now on. He emailed me the next morning and asked me what I would charge for 20 and 40 minute sets. I didn't know what to ask for, so made up some figures, which he accepted. It was such a lovely thing to happen after all the knockbacks (the lack of competition success, the bitchiness of fellow comics, etc).
I've kind of come to realise that if I achieve any kind of success in comedy, it will be through audiences and promoters liking me and not competition judges. I'm not a mainstream act, but that's OK; difference makes the world go round, and the variety on offer in comedy means there's something for everyone. How dull it would be if every comic were a clone of everyone else! I love that for every Russell Howard and Stewart Lee, there's Candy Gigi Markham and Louise Reay and LJ Da Funk and The Boy With Tape On His Face and Kunt and the Gang.
Ultimately, my stuff is subversive and not for everyone. I like appealing to the subset of the population who like me – they're not prudish or squeamish or stuffy or conventional. Some lovely bloke wrote on one of my videos this week, 'When are they going to put you on Live At The Apollo? Damn injustice if they don't.'
I felt like writing 'Never, mate! Prince Philip will perform a burlesque striptease at the Royal Variety Performance before I'm allowed on mainstream telly.'
I'm not everyone's cup of hot beverage, not by a long way. But, you know, I'm OK with that.
• Extracted from Ariane Sherine's weekly Adventures Of A Stand-Up Comic email updates. To sign up, email ariane@arianesherine.com with 'subscribe' in the subject line.
Published: 1 Aug 2016
Recent Opinions
What do you think?