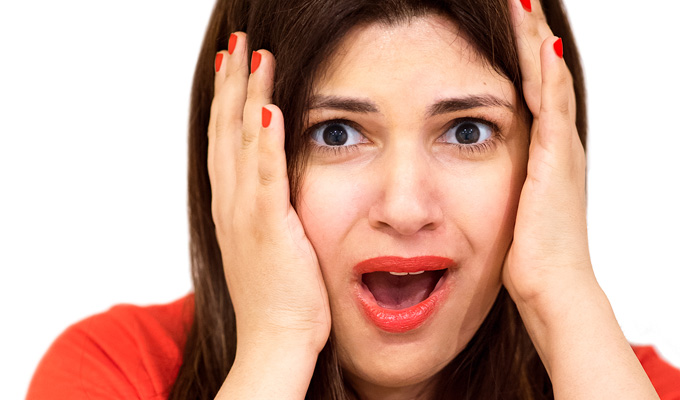 The pros and cons of being a comic, and a musical one
The five best things about being a comic:
1. You make people laugh for a living (or as part of one). Despite all the downsides, there's nothing like a full room of people laughing uproariously at your jokes. It's the best feeling in the world.
2. You get to hang out with other comics - and when they're friendly, it's a camaraderie like no other. I really look forward to meeting comics I like at gigs or having them round for a cup of tea.
3. Proper full paying audiences are largely, for the most part, meritocratic. It doesn't matter how old you are, where you're from or what you look like. If your stuff is good, they'll laugh.
4. Turning a bad experience or an unwanted aspect of your life into funny material can be extremely cathartic. When I put on four stone, my ex told me 'You used to be my sex kitten; now you're my fat cat.' Sticking a punchline riposte on the end has made that joke productive instead of just hurtful.
5. There's a clear route of progression. You pretty much know what you need to be doing to succeed - which clubs you need to be storming, which promoters and agents are worth approaching. (And if you don't know, you can find out.)
---
Having a high-profile article in the Spectator and on Chortle last month about racist jokes has been like being a minor celebrity on the comedy circuit, perhaps one known for something dodgy like drugs and hookers. Comics keep coming up to me and saying 'I read your article on Chortle', or 'Aren't you that girl who…?' Mind you, I got introduced on stage as Arlene again last night, so clearly my fame hasn't spread that widely.
The whole thing is quite bizarre: who knew the thoughts in my head were that controversial? Not me, that's for sure. The Chortle article generated so much attention, even Gary Delaney (the original author of the 'triangle' joke, whom I didn't credit because I didn't realise) left a comment underneath.
Since writing the pieces, I've become a lot more aware of people doing accents or jokes about race. It happens quite often on the circuit. Last night, a white comic did a joke about Nigel Farage doing a Nigerian accent, and the very talented Harriet Braine did a song in a Mexican accent, while last week, another white comic did an innocuous joke about Eastern European lovers with the punchline "I did a Pole" [poll]. Every time it happens, I feel slightly heartened that comics aren't being cowed by some misguided idea of what's wrong or offensive.
---
There seem to be a lot more musical comics around these days than there were 13 years ago. So, in case you're interested in going musical, I thought I'd do a rundown of the best and worst things about being a musical stand-up.
PROS
1. When you smash it, you really smash it. I've seen musical acts rock a room in a way that straight stand-ups find hard to match. That's not because we're better; it's just that audiences seem to respond really positively when they like us. I saw musical comic Nick Horseman storm it at the Blackout at Up the Creek, and win the night against four other straight stand-ups. That can often be the way it goes, because…
2. … as a musical comic, you provide variety and something new and different. Visually, you're more interesting than most straight stand-ups for holding an instrument; aurally, you bring intrigue, flavour and pizzazz to the table. There's a reason why people call musical comics 'variety acts' – promoters love the fact that we break up bills full of talking with music, and hold the audience's attention.
3. Gags that wouldn't fly in a stand-up set magically become funny when sung. I don't know why this is: perhaps it's because the audience are so used to hearing straight songs on the radio/MP3s/TV/in shops etc that when a lyric is amusing it often becomes hilarious. Sexual filth in songs would be particularly inappropriate, and would be banned on broadcast media – hence audiences often find it hysterically funny.
4. Even when the audience don't find us funny, we're still entertaining and skilled. If they don't like our brand of humour, they can sit back and listen to the music. (Okay, so I'd really rather they did find me funny, and luckily most of the time they do, but I still feel as though I'm earning my fee as a musician – if not a comic – if they don't.)
CONS
1. A lot of reviewers and stand-up purists don't particularly like us. We're not straight stand-up, and that is considered more of an 'art' and more 'true' than playing funny songs. People can get particularly sniffy about parody songs, which they see as easy to write. (Though the law has now changed on parody songs, whereas previously, musical comics could see their parody videos disappear from YouTube overnight.)
2. Being a musical comic is a total logistical ballache. Several times, I've lost an audience before I've even begun to play, because the DI didn't work, or it was impossible to adjust the boom mic over the piano, or the mic holder drooped while I was singing at the piano. Then there's always the tech who gets the levels wrong so nobody can hear your vocals over the blare of the instrument, or the promoter who wants you to sound check over the pre-show music so you can't hear whether your guitar's in tune or not.
3. Added to which, your instrument often gets in the way of other comics performing. I usually set my piano keyboard up at the back of the stage because there isn't space for it in the audience, and other comics sometimes knock into it. There was also the time a comic tripped over my guitar case, and sometimes comics or audience members knock over my guitar, causing a massive crash and clanging of strings during someone else's set, and knocking my guitar out of tune. I long for the day when I play gigs with a dressing room (as there was at Pull the Other One).
4. Instruments are sodding heavy. When I carry my guitar, I often end up at a gig sweating, exhausted and out of breath. My friend John Fleming has valiantly lugged my piano keyboard and stand to all kinds of gigs far afield, and despite the diet, I'm sure it's not a total coincidence that he has lost two stone in the process! I am not looking forward to carrying my guitar around Edinburgh. Though they're not a well-liked instrument, I can understand why so many comics carry a ukulele…
---
A lot of people have asked why I gave up stand-up for 13 years. The answer is very long, but in brief: I quit because I was scared of getting a bad Chortle review, as I was worried it would adversely impact my TV sitcom writing. I thought that if producers googled me and found a review saying 'she's not funny', they would be less likely to hire me as a TV writer.
The reason I didn't return to stand-up after quitting TV writing was that there were two comics on the circuit that I really didn't want to bump into. One was an ex, the other was an ex-friend, and I'd had altercations with both. I thought it would be unbearable to turn up to gigs and see either of them. Despite occasionally writing contentious things, I prefer to avoid real life confrontations. Hence the 13-year gap.
But during those 13 years, I grew up a bit. I realised that being a working stand-up was my ultimate dream. More than anything, I love entertaining people and making them laugh - and I wasn't going to let two people and unfounded fears get in the way of that ambition.
So often, when you confront a fear, it disappears. Chortle's Steve Bennett has been really nice. He hasn't given me a review yet, but he's given me a column. Kate Copstick and Claire Smith from The Scotsman like my act. And I haven't bumped into either of the two people I was scared of encountering. I don't even know whether they're both gigging any more; but either way, it doesn't really matter.
When I see what lots of comics who were on the circuit with me in 2003 have achieved – Roisin Conaty, Isy Suttie and Greg Davies to name just three – thinking about that 13-year gap makes me feel a little melancholy. But if I hadn't taken a break, I wouldn't have had my little girl, and she's the best thing in my life by a mile.
---
The five worst things about being a comic
1. Major success is a very long shot, and often takes a long time to achieve. You're more likely to end up slogging away at the regional circuit for very little pay than rise to the echelons of TV panel shows, let alone get your own sitcom. There are a thousand open mic comics for every Michael McIntyre.
2. The pay - or rather, the lack of it. You're either losing money on travel for the first few years, or you're breaking even through low-paid gigs but aren't actually earning. This can be a serious problem if you don't have other funds behind you.
3. It's time-consuming, especially if you're travelling the country. You have to write and practise a lot if you're going to be any good, which is difficult if you have a job. When you go to gigs, it's seen as good form to stay until the end and watch the other comics (and essential in the case of 'stayer' gigs).
4. Full paying audiences are hard to access when you're starting out, and they're the best litmus test of your jokes. You're more likely to find yourself playing to four people and a cat, three of whom are friends of one of the comics; or, alternatively, playing to large 'bringer' audiences. Neither is a representative audience.
5. The bitchiness. I have heard so many comics bitch about other comics, promoters and critics behind their backs. I've even done it myself about certain comics, though I try very hard not to, because I wouldn't want it done to me (though I'm 100 per cent sure that it is, and that's not just paranoia – it's realism!)
• Extracted from Ariane Sherine's weekly Adventures Of A Stand-Up Comic email updates. To sign up, email ariane@arianesherine.com with 'subscribe' in the subject line.
Published: 6 Jul 2016
What do you think?