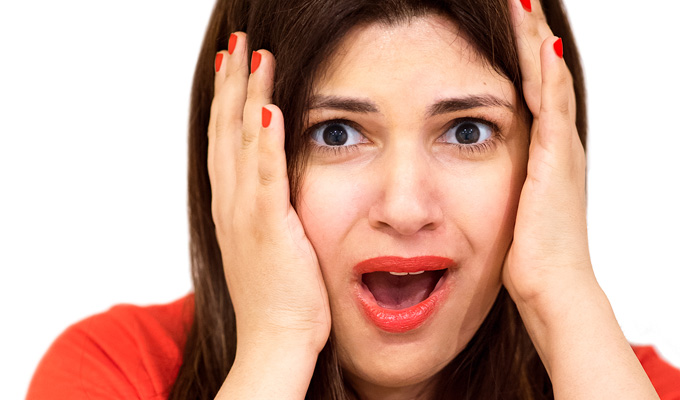 'I'll get further as a comic if I lose four stone'
Let me introduce myself. I'm 35 years old, female, a mixed race Londoner (Iranian and American) and was on the stand-up circuit briefly in 2003, playing and singing songs with an acoustic guitar. I did my first paid ten, gigged around the country for Mirth Control from York to Torquay, and made it to the finals of the Laughing Horse New Act of the Year competition… then gave up before performing in the final.
I continued writing comedy, and wrote for TV programmes including the BBC sitcoms My Family and Two Pints of Lager and a Packet of Crisps, then moved into journalism. I also created the Atheist Bus Campaign with ads on public transport saying 'There's probably no God. Now stop worrying and enjoy your life'.
In 2010, I had a major nervous breakdown and didn't write for three and a half years. This coincided with (but wasn't caused by) the birth of my sweet, hilarious and mischievous daughter. I'm now stable on prescription drugs, thanks to the NHS. I'm also a single mother and want to build a great future for my daughter Lily, as well as make a living in an exciting and fun way.
So I've just returned to the stand-up circuit, armed with a piano and persistence, and am determined to become a pro comic by the age of 40. Hell, I want to be a superstar who sings dirty songs! You can blame my dad for this, as he used to sing me shocking, evil lullabies when I was a kid.
I've been on the circuit for three weeks now (when I've been introduced as both Ariel Sharon and Aryan Shrine) and it's been a rollercoaster. I've made it into the Evening Standard with my Love Song for Jeremy Corbyn, and scored my first two paid gigs in my first 11 days, which might be some kind of record. However, I've also been gonged off at Up the Creek and played a series of open mic hellholes where I don't think the audience were even alive, let alone conscious..
Still, that's the exhilarating beauty of stand-up – the fact that you never know how a gig's going to go. The uncertainty and nerves make you feel alive, and the human connection when the audience laughs makes you feel loved.
---
Last night's gig was a comedy of errors. First of all, the PA system wasn't working, so there was no amplification. This wasn't a disaster because it was a small room, but the kind, sweet, worried MC tried to sort it out for almost an hour, so the show started very late. The audience was quiet and nervous, and barely laughed at anyone's set.
Second, one of the acts tripped over my keyboard case as he climbed onto the stage, fell forward and spilt his beer all over the wires of the PA system. I apologised loudly, and he apologised too, because he incorrectly thought my keyboard was in the case and he'd destroyed it.
Third, the MC tiptoed onto the stage with a mop behind the poor guy during his set, to wipe up all the spilt beer. He did this in such an unintentionally comic way, the whole audience laughed uproariously, when previously they had been lethargic and silent. The comic looked very pleased and surprised at this sudden upturn, which made the audience laugh more.
Fourth, I died.
It was really hard not to take it to heart, even though the audience weren't laughing at much at all that night. The MC had said 'You can do more than two songs if you want,' which was lovely, but if the audience aren't laughing at anything and it's an open mic gig, you should probably stop and give someone else their chance to die.
---
Another night, another terrible open mic gig. It was held in a pub where people were trying to watch football on a television facing in the other direction, or attempting to have a beer and a chat at the bar with their backs to the stage. The comedy took place in the corner of the pub and appeared to be being tolerated rather than enjoyed.
I had travelled for an hour, and I was left wondering whether it was worth it. Yes, all stage time is useful to an extent, and I do believe in paying my dues, but wouldn't staying home and practising in front of the mirror have been less expensive and time-consuming and more productive? Because all these open mic gigs are doing is making me wonder whether my material's actually funny, when rationally I know that it is.
---
There are several ways in which the open mic comedy circuit differed in 2003 from 2016:
First, 'bringer' nights didn't exist. You could turn up on your own and it was usual, even expected. Now you have to drag some tramp in off the street with the promise of free beer.
Second, promoters didn't ask you to flyer. I never flyered before a gig. I don't actually mind flyering though, especially if it's going to bring in more of an audience.
Third, 'pay to play' was non-existent and any promoter who tried it was castigated. I remember acts saying in hushed disbelieving tones, 'You know, he actually makes comics pay to play his gig!'
Fourth, there were audiences of punters rather than audiences comprised solely of acts. It's far harder to laugh test your set in front of other comics.
Fifth, there was no Facebook or Twitter, only MySpace.
Sixth, there were few videos of acts, and promoters didn't expect them, while now everybody and their cousin's dog is on YouTube.
Seventh, you were allowed to shoot off directly after your set. I'm happy to stay to support other acts though, especially as audiences seem a lot sparser.
Lastly, I don't remember there being as many good, solid, promising acts as there are today. It's a tougher circuit in many ways, but I'm up for the challenge.
---
I love the camaraderie of the open mic circuit. Nearly everyone is friendly, and it's a bit like having friends all over town. I've heard the circuit described as bitchy and backstabbing, and there's a stereotype that all comics are egotistical, but I haven't found that yet. A lot of comics have been really supportive, and now Facebook exists, it's much easier to keep in touch with everyone.
---
This week, I did three gigs of regular (non-musical) stand-up, as my friend John Fleming wasn't available to hump my organ. I now have so much more respect for straight stand-ups. The amount of material you have to remember for a 20-minute set is immense, especially if you do one-liners. What I thought was a 10 was actually a 5, though it probably depends on how much laughter you get. If you're riding elongated waves of laughter, your set takes longer.
Having tried both forms of stand-up now, I definitely get more laughter in response to my songs than my stand-up. I'm not entirely sure why this is, because I'm the same writer either way, so surely the jokes are of the same standard? But no: the laughs seem to last twice as long for gags in songs.
However, there is a catch with musical comedy: if the audience aren't enjoying a song, you're trapped in it and have to carry it through to the bitter end, laughter or no laughter. Whereas if the audience aren't enjoying a particular bit of straight stand-up, you can move on to a different topic.
Even when you're doing regular stand-up between songs, they're just links to the next song, so it's much harder to switch to other material. Basically, your whole set is rigidly scripted. When I've been doing stand-up for longer, I hope to work out a way around this and introduce more fluidity into my set, but right now I'm stuck with performing what I've planned in advance.
---
A really good gig can buoy you up and make you feel on top of the world for days. Conversely, a really bad gig can be absolutely soul-destroying. This week, I wandered around town for an hour after a gig, sobbing mascara down my face, feeling despondent. But I've tried to get some perspective on it: it's only people not laughing. No one's shot me in the face.
The thing is, I don't quite know what to do yet when the crowd just aren't liking the material. As explained above, all my stuff's very scripted, so I can't really break out of it and engage with the crowd. When they're just giving me stares and all my gags are falling flat even though they've worked really well in the past, I find it really confusing. Hopefully I'll learn how to deal with this on my comedy course, because right now I'm thinking 'Am I shit? The audience [at a different gig] were laughing a lot when I did the same material last week! Why am I shit now?'
---
AN UNINTENTIONAL INSULT…
I was talking to one of my favourite promoter/MCs, and asked if I'd already given him a CD of my album with my former band The Lovely Electric. 'You haven't, but I saw the cover of the CD online,' he said.
'Yeah, that was 18 months ago when I was skinny, before my antidepressants,' I explained.
'You look VERY different!' he said.
I know he didn't mean to hurt me, and it hasn't changed my affection for him in the slightest - but it is true, and it does pain me a bit that I used to be four stone lighter. On the one hand, being overweight on the comedy circuit has its advantages: no one ever hits on you, and I'm so focused on my career, I welcome the lack of distraction.
Being fat and 35 on the comedy circuit is very different to being 22, single, skinny and hot! I went out with a few stand-ups back then, and it never ended well, especially when I had to keep encountering them - both in person at gigs, and when I'd open the newspaper/switch on the telly and see their face staring out at me. So dispensing with that side of the circuit is a relief.
Also, it's nice to think that any gigs I get are purely down to my act being good enough to book.
However – and it's a BIG however – I know that I'll get further as a comic if I lose the four stone. This is not just down to us living in a superficial world – it's also that I'll feel more confident to put videos out there if I'm thinner.
---
The open mic gigs I've been doing lately mainly fall into two categories:
(1) Horrendous and everybody dies. Like playing into a vacuum. It doesn't matter how good your jokes are; there's no audience, only acts, who are too miserable about the deathly atmosphere of the night to laugh. Bankers flop, the most confident acts wither. Even Michael McIntyre would struggle (okay, probably not now he's famous, but you know what I mean).
For one gig this week, I travelled for over an hour to get there, only to find that there was (a) no lighting (b) a sound system that wasn't working (c) no lead to plug in my keyboard even if it had been working (d) a non-existent (ie floor level) stage right next to the door that punters had to walk across when they entered (e) a near-total absence of audience (f) an MC who failed to warm up the handful of punters. It was a double-unholy-trinity of wrongness.
The only reason to do these gigs is that they toughen you up. But they also make you think you're shit when you're not, and are useless for finding out whether jokes work.
(2) 'Bringer' gigs where everybody laughs at everything. These gigs are lovely and warm and you leave with a fuzzy glowing feeling about performing stand-up. It doesn't matter how crap the acts are; the audience is so generous, they try really hard to see the humour in absolutely every line, however throwaway. Acts who would ordinarily struggle do well; acts who are of a reasonable standard but would struggle at a pro gig blow the roof off the place.
These gigs are equally useless for finding out whether jokes work. There are only two reasons to do them: (a) for your showreel, so that the unsuspecting promoter thinks you're amazing, and (b) for your self-esteem, to balance out the horrendous gigs described above.
I genuinely believe that the only way to see whether jokes work is in front of a reasonably large, paying, comedy-literate audience. Unfortunately, the average open micer doesn't generally have access to one – that's one reason why Thursdays at Downstairs at the King's Head are booked solid three months in advance.
---
It's much easier to learn from your own mistakes than other people's, but as a comic, I have to go to a lot of 'stayer' nights. So as well as trying to become aware of my own errors, I've been watching a lot of open mic comedy lately and trying to learn from what other acts do right and wrong. Here are my tips for other new comics:
• Video at least some of your performances. Some acts have visual tics that they're completely unaware of. For instance, I often shut my eyes when I'm trying to think of a lyric. It's a habit I'm trying to get out of which I wouldn't be aware of if I hadn't filmed myself.
• Don't write off an act just because you've seen them once and they died. It might just have been a bad gig, and they might get better. In six months' time they could be amazing. I can think of several comics I was on the circuit with the first time around who constantly died or got a lukewarm reception from audiences, and who are now TV stars.
• Don't criticise or insult the audience just because they're not laughing at your jokes. I've seen so many acts do this, and it never goes down well. One particular act gets angry and defensive every time I see them: 'I've been on telly, so I've proved myself, you fuckers!' It doesn't even work when it's meant to be tongue in cheek.
• If a joke falls flat, don't make a comment about it like 'This is such a weird night' or 'You didn't like that one' or 'You're a strange audience'. Don't even acknowledge that it didn't work. Just move straight on to the next joke.
• Don't tap the microphone and ask 'Is this thing on?' It looks really unprofessional. If the audience can't hear you, the MC or promoter will almost definitely tell you.
• Don't banter with the crowd if you aren't adept at it. You'll just end up asking people what they do and where they're from without being able to give funny responses, and it'll be really dull.
• Learn your stuff so you don't have to take a big notebook on stage with you and leaf through it (unless it's a designated new material night and the audience are fully aware of this and expecting it). If you must refer to the back of your hand, do so surreptitiously.
• This has been extracted Ariane Sherine's weekly Adventures Of A Stand-Up Comic email updates. To sign up, email ariane.sherine@gmail.com with 'subscribe' in the subject line.
Published: 4 Apr 2016
What do you think?