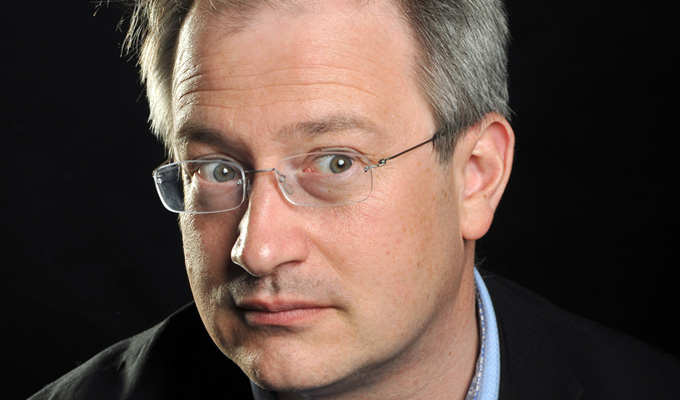 'You had to be there'
'What is taboo? What subjects do you shy away from on the stage?' asked the man in The Sound of McAlmont and Butler T-shirt ( a wise sartorial choice).
At last week's Chortle book festival, I was on a panel with Phill Jupitus, Sara Pascoe and chaired by Deborah-Frances White and Marsha. We were nominally there to promote their book Off The Mic, a book of stand-up comedians extemporising about stand-up comedy. We like doing that sort of thing.
We discussed why we were drawn to comedy. Sara had wanted to be taken seriously with performance art that would destroy the bourgeoise, but was laughed at, and so called it comedy. Phill was a hopeful artist who left some poems in his folder that were spied by Attila the Stockbroker, and so the Indian ink congealed in the cupboard while he transformed into Porky the Poet and then Phill Jupitus, Star Wars enthusiast, ska aficionado, Glastonbury DJ, and Buzzcockswain.
My journey was straighter. The boy looked to Rik and said: 'Yes please to such extravagant madness.'
There was no other way. I was always the shy boy who wanted to be centre stage and then hide in the downstairs cupboard for the rest of the day.
We talked of senile adrenal glands, the stygian stinkpit of the Comedy Awards, and the definition of success. I class it as gigging with astronauts and having access to the Lovell Telescope dish, so I am the King of Comedy in such a tightly defined world.
Then, the question was asked. The first and final question, so we attempted brevity while Chortle duke Steve Bennett waved his arms in the hope he could actually keep to the listed show times.
From my coffee-punctured memory, I recall that we all agreed that no single subject was taboo, context, approach and intention were arbiters. This was in the live arena. Social media was entirely different. The possibility of being misunderstood, the desire of many to misunderstand for rage gain, meant much of faith, pop and politics just isn't worth the bother. Without a guiding emoticon, many of the interpreters are lost at sea and determined to drag as many as possible into their sinking tub.
I am tremulous the moment the stand-up is removed from the context of the audience in front of you. Even authentically filmed stand-up, when removed from the dampness of the room and translated into a corner screen, can dull intention and meaning.
When being recorded, I have often found that after the event, I want edits of lines as there is an increase in the possibility of being misunderstood when removed from the immediacy of a performance which, however blatant or subtle, is being driven by the audience there and then. Even in a theatre, stand-up can still seem like a private joke between you and the 500 people watching. 'You really had to be there.'
The DVD or TV recording becomes a retelling. The person in the bar re-enacting what he saw on that stage, now with his own perspective added. The concentration of the laptop viewer is not as thorough, the camera angle may change what seemed to be a frivolous aside into a sneer.
The comradeship of an audience also changes the jokes' perception, four people gathered around a tin tub of biryani and a screen is not the same as 30 or 400 or 2,000 people breathing the same smell of damp velvet, Red Stripe fumes and gingivitis.
My set was recorded at last month's Lolitics gig and I agreed that it could be on the podcast, but as it was predominantly improvised, I now wonder what sentences really deserve to go further than that night and that room. I performed and then discussed a joke about Help for Heroes. On the night, I think the joke's intention was pretty clear. Will it be the same when listened to at 7:34am on a commuter train from Chertsey to London Waterloo?
The adrenaline of the performer and of the audience can change everything. The spontaneity is dulled and reconfigured by recording and replay.
While recording the new Shambles podcast, there were a variety of moments where Josie Long, me and the guests talked as we would in the hip jazz club cafe bookshops that we normally frequent in our fabulous lives. Afterwards, the texts began to rattle my phone. 'Could you cut when I said that?' 'Do you think people will misunderstand that?'
One story was lost as the teller realised that the idiots in it live nearby him and may well, should they stumble upon the podcast, recognise themselves and things could be chilly at the school gates. We also debated lengthily about a use of the word 'whore'. I reckoned its context, from the mouth of a fictional, archaic sea captain viewing a poster from the 1920s publicising the perils of venereal disease, distanced it far enough from misogyny. Others were less sure. My 'no platform' days may be upon me.
That Wittgenstein was right: 'Language, it's a bloody menace. Now how do you spell tractatus?"
Keep live comedy live, that's what I say, but also remember that I have a new DVD out soon too.
A few tickets are left for the first night of this year's Christmas show hosted by Brian Cox and me with a host of mystery guests from science, comedy and music. Tickets here. And The Shambles podcast finally returns this week, details here
• This article first appeared on Robin Ince's blog.
Published: 14 Nov 2015
What do you think?