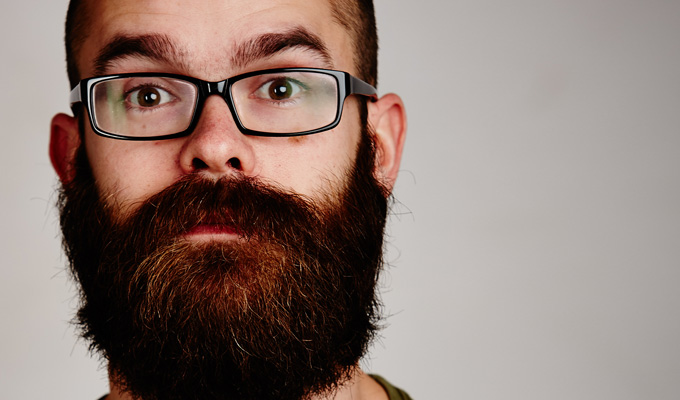 Where 'attendance' is a four-letter word
A lot of people have been asking me what advice I'd give to new comics going to Edinburgh, which seeing as it's only my third year at the Fringe and my first time doing an hour seems like a mistake on their part, but hey anything I can do to help.
So pull up a spot on my purely platonic bear-skin rug and let me regale you with my Edinburgh manifesto.
Edinburgh is the cause of and cure for most problems. Are you sad? Don't worry you'll be happy. Are you happy? Don't worry you'll be sad. Balance is everywhere in Edinburgh. The only thing you'll never find is consistency.
I spend a lot of the daytime in Edinburgh in my room reading because the streets are packed with friendly acquaintances and after a while the quick 'How's your show going? Good numbers?' sidewalk exchange starts to stress me out. Then night comes and the only reason I leave is to talk to rooms full of people I've never met and, spaghetti monster willing, will never meet again. There's that balance again.
Shows are up and down, food is up and down, hangovers are up and down, commitments to not do drugs come and go. You will forget people's names who remember yours and the ones you remember will forget yours. Attendance becomes the world's longest four-letter word and the other four letter words are so common they're practically family.
A good time with a good friend is the most treasured moment of the festival. I had my first date with my now girlfriend two Edinburghs ago (I no longer count in years). That same Edinburgh a good friend and I got drunk in a pub basement and sang along to sad Irish folk songs and then gleefully ruined our other friend's date by asking him and his lady to join us and then when they got there we asked the musician to play sadder and sadder songs while they sat there uncomfortably (They laugh about it now). Standing in the back of friend's shows trying to distract them with my hairy belly without the audience noticing, getting naked on stage during a spot on a friend's show just to see how they'll follow me. All of these have been constructive uses of my time.
Day by day. That's how it seems to be done. Even better, moment by moment. When I'm in Edinburgh and I'm not sure what to do I look at the spot on my wrist where my What Would Phil Kay Do? bracelet would be if I ever followed through and actually made one (Go see Phil Kay. He's the Fringe's spirit animal), and I do exactly what I feel like doing. Unless I'm doing a show and then I have to be funny whether I want to be or not (Sometimes you won't want to be but the audience doesn't know or care so do your best).
The rest of the time I'm refusing to plan and seeing where I end up. That sounds much more exciting than it is. Most of the time I end up reading in bed. But I'm happy there, and the Fringe remains my favourite month of the year.
Now go forth and be funny. I'll be right there with you. But please don't ask me about my numbers or I'll be forced to sing Dirty Old Town at you.
Published: 9 Aug 2015
What do you think?