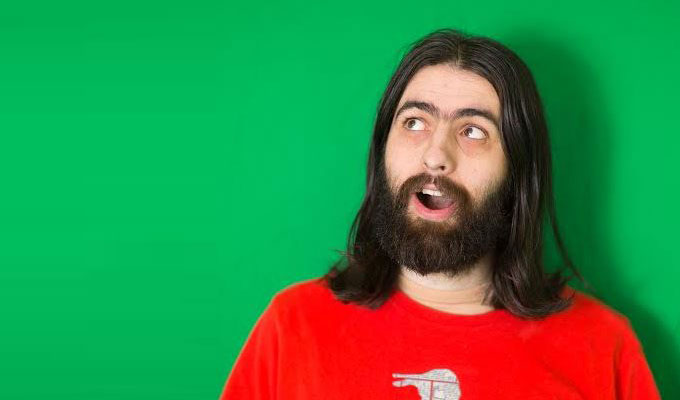 Joke thieves aren't human
It's a Wednesday night in a pub in Portsmouth, and I'm sitting at the back of the room with three other comedians.  They're all friends of mine – when I was booked for this gig, I got to choose three other acts for the bill, and here they are.  Chris, Becky and Josh.
We're watching the opener – the first act to perform.  Let's call him Tristan.  I've gigged with Tristan a couple of times before, so I knew what to expect.  But my friends are seeing him for the first time.  Josh didn't realise comedians ever did what Tristan is doing.  Chris is tapping away at his phone as research.  Becky says, 'I can't believe it.  Can't we do something?'
Because Tristan is a joke thief.
As far as we can tell, Tristan hasn't written any of the one-liners he's telling.  Most of them can easily be found online.  This is arguably the ultimate taboo for comedians – Joke Thieves are seen as the lowest of the low, not only stealing material from 'real' comedians, but also taking stage time and payments they do not (many would argue) deserve.
But something strange is happening.  A few minutes into the performance, it's clear to all four of us that Tristan won't be telling any jokes he's written himself.  As such, you'd think we'd move on pretty quickly.  But instead, we actually grow more unsettled with every joke Tristan tells.  But why?
It occurs to me how much you can learn about a comedian from their material.   Often, that's the whole point – the material is there to help an audience understand who you are.  Tonight's audience will learn where I'm from, a bit about my teenage years, some of my favourite TV shows, and some embarrassing situations I've been in.  But that's the tip of the iceberg.
Chris, for example, plays a cartoonish high-status character on stage, and you'd think that would be an obstacle to getting to know the real Chris.  But even within an ironic act, we get to know the sorts of things Chris is concerned about.  His anxieties might be framed within a fictional persona, but it's clear that there's a nugget of truth at the core of each bit.
Becky doesn't talk much about her personal life on stage – but through her performance, we really get a sense of her what she's like.  Surprisingly confident for a comedian, Becky possesses a huge amount of self-belief, and a real sense of mischief.  She's earnest but playful.
Josh is new to comedy – this is his eighth gig.  But this doesn't mean he's harder to read. If anything, we feel even more connected to Josh as he performs, as he's still getting used to the experience of getting up on stage and trying to make strangers laugh.  In his material, we learn about his politics, but we also get to see his strange mix of humility and self-assurance.
It's inevitable, when we write our own stuff, that we'll be showing through the material like a watermark.  So what happens when we tell other people's jokes?
For starters, almost all of us have a few jokes we didn't write ourselves.  I've got lines in my set suggested by my friends, by fellow comics, and – more than anyone else – by my wife.  These lines were all suggested based on routines I'd already written.  Sometimes a comedian will watch a fellow act perform, and think of an extra joke that fits the premise.  Most comics find this practice acceptable.
But most comics also draw the line somewhere.  The kinds of comedians I love are those who understand the importance of comedians as writer-performers.  They know that if anybody writes jokes for you, they won't be as good as if you wrote jokes for yourself.
Mind you, there are plenty of famous comics who hire writers to help them out.  Most of these comedians are on television regularly, and can't write enough stuff of their own for their many appearances.  I think that's a shame, because those writers will only write for a two-dimensional caricature of the comedian.  A writer for Russell Howard, say, might come up with material based on Howard's childish enthusiasm or left-leaning politics … but it won't have the depth of Howard's own writing, which is far broader and deeper.  At least, that's the way I see it – it's been years since I saw Howard perform anything that blew me away like his 2004 Edinburgh show.
As I watch Tristan tell stolen joke after stolen joke, I realise why I find the performance so creepy.  I've watched so many comics over the years, from new acts to seasoned pros, that I've grown used to learning about people through their work.  But I'm not learning anything about Tristan from his performance.  His jokes aren't a window to his soul – all I've learnt is that he's happy to steal material.  He opens his mouth, but the words that come out are not his.  He has no voice of his own.
At least one of my friends complains to the promoter.  It's too late – Tristan has taken the money and run, disappearing from the gig like a ghost.  But then, that's all he ever was.
Published: 20 Jul 2015
What do you think?