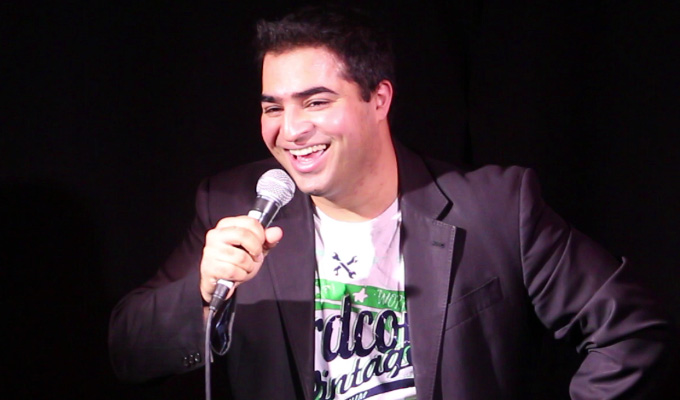 Left 'homeless' by the Cowgatehead fiasco
After a week where I performed a promising Edinburgh Fringe preview, presented my own TV chat show, received strong reviews for both, and was given a shout out by a former Pakistani Test cricketer, I still find myself sitting in the foetal position in the corner of a dark room listening to REM CDs.
Why?
I'm one of the 191 acts affected by the venue dispute between rival fringe operators Peter Buckley Hill's Free Fringe and Freestival. Let's put that into context for you:
I filled in an application form, acquired and supplied key information, paid my deposit, had flyers designed and printed, performed preview shows, paid to have my show (complete with venue, time and a snazzy picture) published in the Fringe Festival Guide promoted my show on TV, radio and enough trendy social media to Snapchat your Periscope onto Reddit.
Yet my show doesn't have a venue.
My plight is shared with as many as 190 other comedians who, as you read this, are still embroiled in a desperate scramble to try and find their shows a home.
These are the Homeless Comedians of the Edinburgh Festival Fringe 2015.
For the uninitiated, here's what's happened in a nutshell (or at least, as I understand it):
Freestival, the most recent organiser free shows at the Fringe booked acts and shows into several venues, most notably Cowgatehead and St John's, for this year's fringe. Then PBH reveals, very late in the day, that he had the rights to programme said venues and that Freestival had no legal right to book any shows. Some mud-slinging ensued. I'm not getting into it. Google it. Suffice to say, it soon emerged the main losers of this dispute were those acts who had booked shows at either the Cowgatehead venue or St Johns (now Bar Bados).
This was devastating.
Think about it. You spend months, maybe even years, putting together a show, writing it, developing it, honing it, getting excited about performing it as many as 24 times at the biggest performance festival in the world… and then, just like that, through no fault of your own, it's taken away from you.
Several noble people emerged to try and rescue these refugee shows and find them venues. But even if all the shows find homes, the damage will have already been done. The Edinburgh Fringe programme is the principal tool many visiting (or indeed performing) at the festival use to plan their trips and organise their schedule to maximise their stay by seeing the shows they want. It doesn't take Mystic Meg to foresee the chaos and confusion that will now undoubtedly ensue when the festival begins in eight weeks' time.
Even if all the shows left homeless are to be rescued (and let's remember, that's now the best case scenario) they will need to pay for new flyers/posters to be made, re-do all marketing and make an even more proactive effort to secure an audience during an exceptionally stressful time. And that stressful time is preceded with an even more stressful time: now!
It should really be a time where we're all working on our shows, tidying them up, getting them ready for showtime come August 7. But instead, emails, phonecalls and Facebook messages are flying around all over the place, with people trying to call in favours and resources in a bid to make their shows happen.
A lot of people will want to debate this or play the blame game. But that shouldn't be the priority. The priority should be finding venues for the comics to do their shows. To show them support and not let the administration dampen the experience – if you think about it, it's contrary to the whole ethos of a Free Fringe Festival. Help these homeless shows find homes and let's try not to let this happen again.
If anyone needs me. I'll be in the corner. But there won't be a spotlight.
• Aatif Nawaz (@AatifNawaz) is a comedian based in London. His show Muslims Do It 5 Times A Day was scheduled to play every day at 10:15pm at St Johns. Now…fuck knows…
Published: 8 Jun 2015
What do you think?