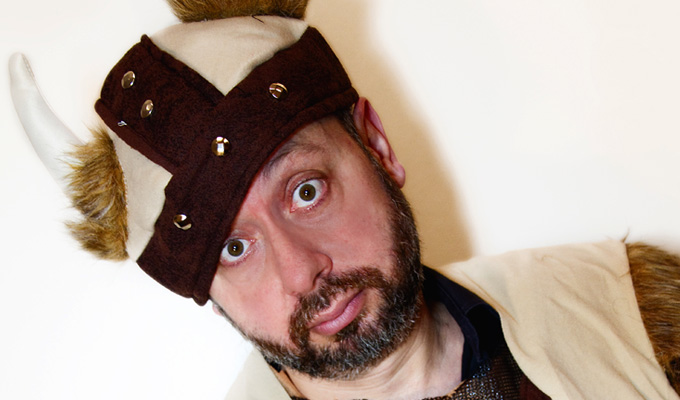 A love letter to Kate Copstick
This is a love letter. Quite traditionally, it's a love letter from a man to a woman. A bit less so, it's from a comic to a critic. The critic is Kate Copstick.
As an Italian I often had the word 'passionate' automatically trusted upon me, but as a quite phlegmatic human being I often struggled to understand what it meant. That is, until I met Kate Copstick, the chief comedy critic of The Scotsman during the Edinburgh Fringe.
Her attitude towards comedy seems to remind us that comedy, after all, just like the other arts, should be about engaging us deeply. Kate, in fact, never shrugged from that the 'risk' of being deeply engaged. Her loves and hates seem, sometimes, of almost Homeric proportions, her changes of mind seem to share the same drama as the great revolutions.
Somebody famously said that 'analysing humour is like dissecting a frog: nobody is interested and the frog dies'. More often than she is credited for, Kate prefers to kiss the frog in the hope that, one day, it will turn into a beautiful prince.
If you are lucky enough to be the frog, you feel almost obliged to get better as a comedian.
All this reminds me of when, in a past life, I used to write as a contemporary art critic, back in my native Italy. A well known figure of that scene was the 'critico militante', the 'militant critic' – the kind of critic who put himself at the head of an artistic movement or, more often, who passionately promoted some artists while opposing others.
Being Italy and the art word, this attitude often led to a muddy intertwining of interests that sometimes were more financial than artistic, but I think that the idea of the critic who tries to shape the world they observe is a powerful one. Kate Copstick is the best embodiment of this idea in the British comedy scene.
For these reasons I think that there is a perfect continuity between what Kate does as a critic and her work in Kenya with her charity Mama Biashara. In that case too, in fact, what she does is encouraging people to develop, this time out of poverty and exploitation. And she does so with her characteristic disregard of conventions. I remember her explaining to me how she helped Kenyan prostitutes to minimise the risk of Aids infection by teaching them to 'give boob jobs', adding for clarity that 'Kenyan women have huge tits', which caused the men in the audience to struggle in their attempt to keep their thoughts onto the purely humanitarian level.
Truth is, for what Kate was concerned, there was no need to do so: all she does and says is infused with a deep understanding of how messy human nature is. It's this understanding that sets her apart from what she rightly calls 'the pitchfork brigade' of the easily outraged righteous. More recently, for instance, she showed me, in the Mama Biashara shop in Shepherds Bush, some dolls designed to be used in the fight against paedophilia. They had sexual organs highlighted in red, in order to teach children where they shouldn't be touched and, if that sadly still happens, to teach them how to communicate that problem to the adults. Sexualising dolls in order to fight paedophilia: only a fearlessly independent mind could have thought of it!
• Giacinto Palmieri will perform his show Ride Of The Wagnerian, for donations to Mama Biashara at West 12 shopping centre in Shepherd's Bush at, 7pm next Saturday (30th). He will also take part in a fundraising show, partly in Italian, with Giada Garofalo, Romina Puma and Luca Cupani, in the same venue, on Saturday June 27 at 7.30pm.
Published: 23 May 2015
What do you think?