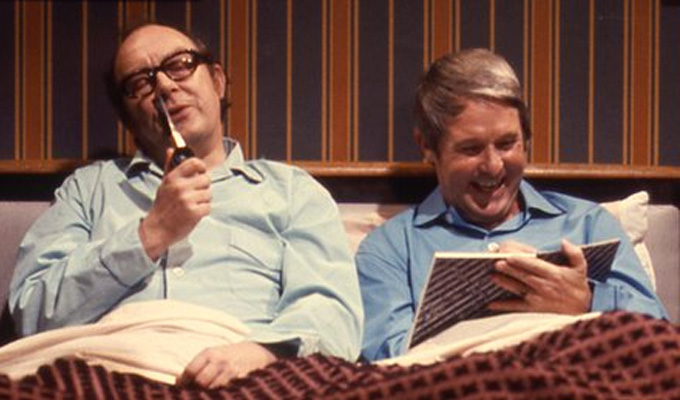 How I uncovered the forgotten Morecambe & Wise sitcom plan
Have you heard the one about Morecambe & Wise and a sitcom? No? Well, you're in good company, because not even those who were involved in it seem to know anything about it, either.
I only found out about it myself, many years after writing a book about Eric and Ernie, when I was doing what I thought was completely unrelated research on the show Open All Hours. Beavering away in the BBC's Written Archives Centre one day last summer, I came across a small faded memo, tucked inside one of the bulging files relating to the work of the scriptwriter Roy Clarke, which revealed that Morecambe and Wise seriously wanted to try their hand at making a sitcom.
Dated 10 May 1973, the memo had been written by Duncan Wood, the BBC's then-Head of Comedy, to a colleague in the Corporation's copyright department, and it made the following request:
'Would you please commission Roy Clarke to write a single 30-minute situation-comedy pilot script for Morecambe and Wise on the broad lines as discussed between Roy Clarke, [the Head of Light Entertainment, Bill Cotton] and myself at our meeting today. Roy Clark has agreed to accept the commission with a delivery date for the script of 1st June, 1973'. Intrigued – and a little alarmed - by this entirely unexpected discovery, I searched on through the various other scraps of paper until I found a contract that confirmed that the deal had indeed been sealed. Referring to the pilot as 'Project no. 011430190,' it acknowledged that Clarke was to be paid the sum of £800 (an above-average fee at the time) when he submitted the script by or before the deadline of 1st June.
Now my curiosity was well and truly piqued. Although baffled that no mention of such a project had been recorded anywhere in all the Morecambe and Wise files that I had pored over many years before, I was eager and excited to ponder its significance now.
1973, after all, was a propitious time for Morecambe and Wise to be considering such a new adventure: now firmly established as the BBC's leading light entertainment act - having topped the ratings with their regular series, triumphed with festive specials and won multiple industry awards - they probably had the power to do whatever it was they wished.
1973 was also quite a propitious time in the career of Roy Clarke: having recently seen not one but two other pilot episodes succeed on the screen (one of which was destined to become Last of the Summer Wine, the other Open All Hours), the BBC was about to reward him with a long-term writing contract.
The fact that these two parties came into contact with each other at this time is no real surprise. Ever since Morecambe and Wise had moved from having two southerners shape their material (middle-class Londoners Dick Hills and Sid Green) to one northerner (the working-class Liverpudlian Eddie Braben), they had found a sense of authenticity that they had previously lacked.
Braben, unlike Hills and Green, shared with them a similar background, accent, outlook and range of comic references. Whereas Hills and Green had projected a southern idea of a northern relationship, Braben projected the real thing.
Thanks, therefore, to the brilliant Braben, the gap that once separated the on-screen Eric and Ernie from the off-screen Morecambe and Wise had shrunk to the point where it had practically disappeared. They felt, and sounded, completely themselves; they finally felt at home.
Braben, however, was already notoriously over-worked as the duo's solitary writer for their TV show, so there was nothing too surprising about their decision to take their new project to another writer - so long as, like Braben, he shared their northern sensibility. Roy Clarke, it turned out, fitted the bill more or less perfectly. At a time when the British sitcom, as a genre, was dominated by southern writers and southern themes, the Yorkshire-born Clarke must have struck Morecambe and Wise as the best bet to help them shape a situation that suited their northern dispositions.
So there we are: Morecambe and Wise and Roy Clarke, back in 1973, collaborating on a new sitcom. Fascinating. The mystery, however, is why the project never reached the screen.
There is, frustratingly, no neat resolution to the story in the archives. The trail ends abruptly with a copy of the contract.
Many of those who could have explained what happened are, alas, no longer with us: Duncan Wood, Bill Cotton, Eddie Braben, the producer John Ammonds, and, of course, Eric and Ernie themselves have all passed on. What makes this story all the more mystifying, however, is that even those who are still around insist that they have no recollection whatsoever of the project ever being mooted, let alone pursued.
When I called Roy Clarke he was simply incredulous at the very mention of a sitcom: 'I didn't know about that,' he said. 'If it happened then I've forgotten about it. And I can't imagine me forgetting that. Because I loved Morecambe and Wise!'
It was much the same with James Gilbert - the man who succeeded Duncan Wood (in October 1973) as the BBC's Head of Comedy. Although he would have been in the right place and time to inherit the paperwork and thus know why the pilot failed to go into production, he was just as sceptical as Clarke that it had ever been planned. 'I don't have any memory of that at all, quite honestly,' he said. 'I do know that [Morecambe and Wise] were very keen at that time to do another film, but, no, I don't remember anything about a sitcom. I think I would have!'
This is when it pays to have copies of the documentary evidence. When shown a picture of his own contract, Clarke was both stunned and baffled. 'I'd forgotten [it was] even initiated,' he said, wondering how even a brief engagement with two of his heroes had managed to fade so fully from his memory. Gilbert was similarly bemused.
It seems, therefore, that we will never really know why Morecambe and Wise failed to make their sitcom, but we can at least make an informed guess. The most plausible explanation, I would suggest, would be that Eric and Ernie simply got cold feet.
John Ammonds, their tirelessly supportive producer, told me on many occasions that 'The Boys,' as he always fondly called them, often had ideas for a new project only for them, after the initial excitement had cooled, to decide against pursuing it. 'It was usually Eric who was the first to lose interest,' he once said to me. 'They'd come into rehearsal one morning excited about this new thing they wanted to do – a film, or a live TV show or whatever it was – and then, after a few days or weeks, Ernie, usually, was still very keen, but Eric would start to have misgivings. He was the worrier of the two and he'd be the one who'd voice the doubts about attempting some new thing. So it would quietly get dropped and you wouldn't hear about it ever again'.
This is probably what happened to their sitcom idea. They thought of it, got very excited about it, and then Eric – and, maybe, Ernie, too – reflected on it further and concluded that the risks were not worth running. They were, after all, riding high with their current prime time show. They had worked very, very, hard to get to this lofty position. They did not want to undermine all they had achieved by making – potentially – a sitcom that flopped.
So there was to be no Roy Clarke sitcom starring Morecambe and Wise to slot in between Last of the Summer Wine and Open All Hours. Who knows how it might have turned out? Given Clarke's love of eccentric entrepreneurs and wistful northern non-conformists, maybe it could have been a War of the Roses-style battle between a Lancastrian labourer and a Yorkshire businessman, or a pair of small shopkeepers, or perhaps (as Clarke was an ex-policeman) Eric and Ernie might have been a couple of northern bobbies on the beat. We will never know.
What we do know, however, is that Morecambe and Wise were increasingly coming to feel that their existing BBC show was capable of accommodating everything that they wanted to do. Stage work, radio, movies, sketches and, yes, sitcoms - they could fit it all into the magical format that was The Morecambe and Wise Show. It was, by this stage, the ultimate popular cultural sponge.
Ernie, for example, honoured the old Hollywood musicals that he so loved by making a series of heartfelt small screen comic tributes (e.g., the Singin' In The Rain and South Pacific routines) for the TV show; Eric, similarly, celebrated the old Variety routines of Jimmy James by turning Ernie and their star guest into his two theatrical stooges ('Don't look now. A drunk's come on…'); and both of them reprised their old stage and radio badinage by standing in front of that big pair of golden curtains (ERNIE: 'You're ruining everything! You're making us look like a cheap music-hall act!' ERIC: 'But we are a cheap music-hall act!').
It turned out to be the same with their sitcom ambitions. They never really needed to branch out with a separate show. They already had the freedom to slip a sitcom into their existing format.
Eric and Ernie chatting in bed. Eric and Ernie chatting across the kitchen table. Eric and Ernie chatting on the sofa in their living room. That was their sitcom, right there: a show about nothing, inside the show that had everything.
Eddie Braben knew how to write it. They knew how to play it. So now they simply did more of it.
So the lesson to take from this strange little mystery is not that Eric and Ernie lost a sitcom but rather that they further enriched a truly great and protean entertainment show. As they had done so many times before, Morecambe and Wise toyed with the idea of breaking away and doing something else, and then decided to do it within the show they already had.
As for the mystery of the missing sitcom: well, as Eric would have said, there's no answer to that. We may as well just savour the wonderful shows that we have.
• Graham McCann's acclaimed biography of Morecambe and Wise is available here – and his book about Open All Hours, here.
Published: 15 May 2015
Recent Opinions
What do you think?