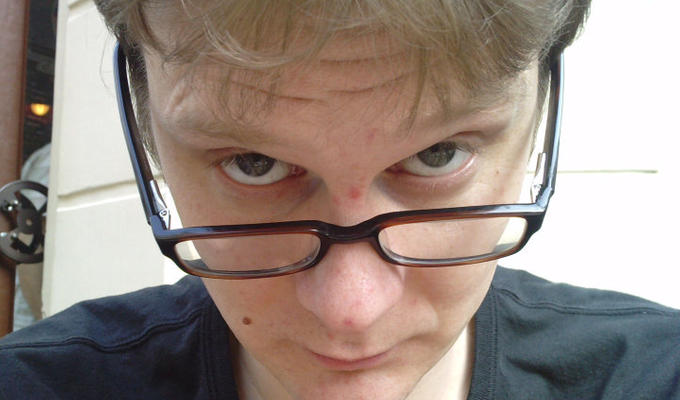 Comedy time travel
'There's no decent comedy on these days'. It's a phrase I hear variations of a lot. It's something I could easily have said myself in the last week, probably while flicking past a show containing some people with better haircuts and firmer buttocks than me, like Dad's Army.
Let's be honest, it's easy to fall into the trap of cherry­-picking from the highlights of your life and condensing them into an imagined golden era that never really existed. That, and the accompanying nostalgic muscle memory of better times, can create rose­-tinted revisionism. It's something you have to guard against as you grow older and fartyer.
The way I remember it, there used to be something funny on the telly or the radio most nights when I was growing up. Just as the charts of 30 years ago now seem unfeasibly crammed full of classics, surely the broadcast schedules of yesteryear are jam­-packed with acclaimed and fondly remembered sitcoms, subversive satire, and genre­-defining stand up?
Now we can find out ­ at least in terms of the BBC. Last week they launched BBC Genome website, where you can peruse the listings of any Radio Times between 1923 and 2009. So let's compare and contrast. Step into my metaphorical magical comedy clown's car and let me take you on a journey through time. We will be passing through the late seventies, so I would advise any minors on board bring a taser for their own personal safety.
Firstly, let's take a look at a modern Friday night. Comedy dominates the BBC One evening line up, with the always watchable Would I Lie to You? followed by the veteran (and some years past its best) Have I Got News for You, and a Lee Mack-shaped bookend in the broad, pun­-laden strokes of Not Going Out. It doesn't take risks, but on this mainstream, family platform you wouldn't expect it to. Something for everybody is their remit, and I would argue they've probably achieved that although we've already ticked off two panel shows and two Lee Mack vehicles.
Panel shows over on BBC Two as well, with the veteran (again, arguably past its best) QI and a repeat of this week's (unquestionably should be on the next plane to Dignitas) Buzzcocks. The Beeb's extra channels are bereft of comedy on this occasion, so on to the wireless with the veteran (spotting a pattern here?) News Quiz on Radio 4, and bugger all anywhere else, unless you count Bradley Walsh on the Simon Mayo show, which I don't.
Let's compare and contrast with, ­ say, ­ the momentous day that I was plopped into the cosmos: April 10 1981 ­ also a Friday. Again, on the flagship channel we find an hour and a half of comedy. Carry On Cleo, to be precise. One of the better Carry Ons, but perhaps not the most inspired use of the licence fee.
Over on BBC Two there's little sign of the then burgeoning alternative comedy revolution, with Call My Bluff the only entertainment that could accurately be described as light. Radio­-wise we have the topical sketch magazine Weekending instead of The News Quiz on Radio 4, and finally on Radio 2, the only piece of original, non­-topical comedy of the evening: The Little and Large Party. Admittedly, it's not a show I'm familiar with, so I must revert to that old adage: 'If you're at a party and Little and Large are in your peripheral vision, you're going to the wrong parties'.
It's one­-nil to the modern age in terms of content at least. But perhaps that's an unfair place to start. Perhaps we should go back even further. To the time of arguably the most influential British comedy show of them all, Monty Python's Flying Circus. That debuted on BBC1 on the evening of October 5 1969 (a Sunday) at 10:55pm in the evening.
It's difficult to imagine such an experimental show being immediately given such a platform in this day and age. Off the top of my head in recent years I can think of Citizen Khan, Mrs Brown's Boys, Miranda and the aforementioned Not Going Out that have all made their first appearance on the top channel. You can argue about the merits of these successful and popular shows, but I don't think anybody would suggest that they are particularly innovative. But Python was once in a lifetime, and there's sweet FA for the rest of ­the Sunday schedules in 1969. Highlights of the rest of the week include the tight­-assed horseplay of Dad's Army, the anarchic, even­-weirder-­than­-Python Spike Milligan showcase Q5, something involving Terry and June that wasn't Terry and June, and Rowan and Martin's Laugh­-in. Still, three enduring classics and no panel shows.
Received wisdom would have you believe that 1970s comedy was little more than men holding pints of brown liquid set against brown backgrounds making jokes about brown people and occasionally making a leery noise at some tits, while the 1980s were a Day­gGlo comedic revolution of anarchic alternative stand up and right­-on satire. On October 11, 1975, Saturday Night Live began a run that continues to blood the finest American comedy talent to this day. What did we have in Blighty? On BBC One it's The Dick Emery Show. That's about as quintessential as you can get for the decade, but a character sketch show on BBC One on a Saturday night? Well, there was the third series of Little Britain back in 2006, but only after it had reached cultural phenomenon levels of popularity on BBC3 Three. Elsewhere there wasn't much more than the Frankie Howerd Show on Radio 2. Between his masterful delivery and Emery's subtle­-as­-a­-steamtroller impersonations, it seems that high camp was the order of the day, rather than gruff Northern wisecracks.
On December 11, 1987, ultimate 1980s anti hero Gordon Gekko arrived onto our cinema screens to tell us that 'Greed is good.' This late in the decade you would have expected alternative comedy to have made it from stage to screen and be loudly, angrily making its presence felt on the UK's public service broadcaster. Well not on BBC One it wasn't. The only comedians loudly making their presence felt were The Two Ronnies in a 20-year retrospective, and although not exactly angry, those thick­rimmed glasses did make them look a bit cross. And that's it. The only comedy of any description, apart from gruff Northern wisecracker (and so much more) Les Dawson on Blankety Blank. It was probably a different story on Channel 4 and ITV, both of whom retain excellent 80s comedy credentials.
Let's fast­-forward. I remember comedy being brilliant in a ten year stretch from about 1989 to 1999 (entirely coincidentally the year I first had to get a job), so let's pick a date n the middle of that ­ Friday the 25th of October 1994. BBC One's evening runs thusly: 19:30, Tomorrow's World (failing to predict a terrifying near­ future in which Tomorrow's World was cancelled for being old fashioned) 20:00, Keeping Up Appearances (it has its disciples but I thought it was knackers) 20:30, Big Break (racist snooker) and then on to the news and a late film. Crumbs.
But BBC Two was always where the good stuff was at, and yes, here's Red Dwarf IV (my favourite series ­– piss off), utterly brilliant American import The Larry Sanders Show and, oh hello again, Have I Got News For You, already in its eighth series. Judge Pickles was on this one. It used to be really good didn't it? That's three enduring classics and one panel show (the most enduring of all). Just Weekending again on Radio 4, but I'm going to cheat a bit here by reminding you that two days before Chris bloody Morris had an hour to himself in the excellent and fondly­ remembered Radio One comedy slot.
I could do this all day, but give it a try yourself. It would be difficult to draw many convincing conclusions from that small sample, but here are a few thoughts. There weren't as many panel shows. Well, that's about as obvious an observation as you can make in today's comedy climate, but it bears repeating to a broadcaster that obviously values comedy enough to pack its schedules full of the stuff, compared with past decades.
I also think that perhaps the big channels should take bigger risks on more interesting comedy shows and put them on the main channels quicker, having the confidence to stand by something regardless of its reception online or in other testing grounds.
Let's be honest, content is everywhere these days. If I want to stay in and watch ground-breaking modern comedy tonight, I can find it. It's out there. But most people still tune in to those big BBC channels, and that is still ultimately where a lot of comedy crosses over into mainstream culture.
I think you could make room for new stuff by killing off some of what has become a pretty stagnant line up of long-­running panel shows. I think, for example, that you could have sacked off that repeat of Buzzcocks and given the excellent new BBC4 sitcom Detectorists a bigger stage.
But I also think that there was always a fair amount of old shite on the box.
• James Rose is an amateur time traveller and comedy writer.
Published: 27 Oct 2014
What do you think?