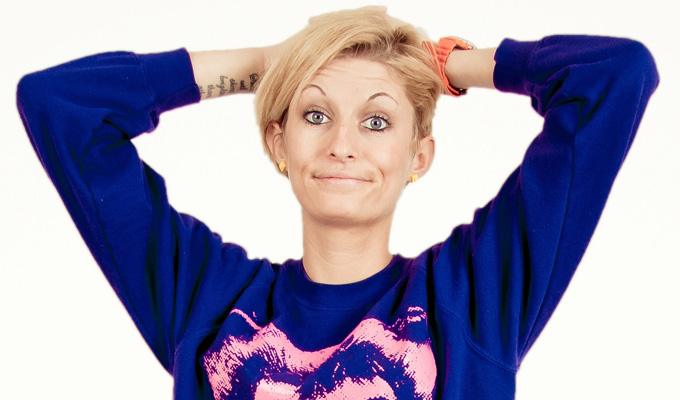 My 'mental' Fringe
When I started to write my Fringe show, Barking At Aeroplanes I sincerely intended on it being an, 'Ooh I'm just eccentric but folk think I'm crackers, isn't that a bit of a palaver?' kind of a show.
It was always going to be about the thin line between being eccentric and 'mental', but if people felt I was closer the latter, I believed it'd always be people's unjust opinions, never my own.
Because my material is essentially things that have happened in my life, the more I delved, the more I realised that there was so much from the past that I'd shut off from thinking about that would actually be relevant content. I realised that there were many things regarding my mental health that I hadn't dealt with and it soon became apparent that I wasn't just eccentric after all.
I now realise I've struggled with my mental health pretty much all of my life but because it's all I can remember it became easy to not notice. I thought feeling dramatically up or down was the norm and when the latter occurs all you need to do it shut yourself off from the world and battle with awful thoughts in a dark room, for as long as it takes.
Since realising that this is not norm (especially on such a regular basis) I should probably go back to the doctors and admit that they were right when declaring all of this years ago. I was just an in-denial dunderhead trying to bury my head in the sand. Now that my head is very much out of the sand I dealt with it the best way possible… I wrote a show about it. Stand-up before doctors; I'm just another needy comic after all.
Having said this, I am going to the doctors the moment I get back from Edinburgh. In hindsight it's been really tough talking about something every day that's still very raw and that I haven't dealt with. But at the same time I think it's made the show better because I genuinely care and really feel it when making a point at the end.
I never set out to do a preachy McPreacherson show, but accidentally found myself having a point after the process I went through. You can have a point without it being a preachy McPreacherson show. Some comics seem to look down on shows that have a message at the end and say things like, 'What's wrong with just telling jokes?' Nothing whatsoever, but doesn't it work best when different things are brought to the table? Plus who's to say that there can't be jokes included as well as having a message or a point? It is still comedy after all.
When I started comedy I felt that I had it easier than my gag merchant pals as they'd have to go through so many one-liners before getting one worthy enough, where s all I'd have to think about for material was, 'What happened yesterday?!' Then tweak accordingly. I felt very grateful there was finally a use for all these palavers.
When I was younger things seemed to always happen to me and no one else, there was always a drama. Even something so simple like getting to school, for all the other kids it seemed to be straightforward, but I had to take a mammoth walk because on the bus a girl kept pouring fizzy pop on my head because she said my legs were too hairy. During the walk a woman wearing a lopsided wig and clutching a bottle of vodka would always jump out of a bush and shout, 'The people are coming' at me. This exact location would later become where I used to get my drugs, by doing a secret code knock on a caravan door. But that's another story for another day.
The only other way to walk to school was up a busy road where there were no pavements so it became a roulette as to whether I'd get hit by a car on the way or not. One time my foot got run over but because I randomly used to wear shoes that were three sizes too big, my actual toes were not affected.
Years later I got a job at a well known corporate jumble-sale-type clothing store, where one day I was training a new girl who asked, 'Is it ok if I go for my lunch now as my mum's coming to meet me?' I said, 'Yes'. her mother came up the escalator and it was the same woman who used to jump out of bushes at me.
I like going from the silly to the serious topics with comedy and find that in doing this that then the more serious issues covered have more impact. It's great when people don't expect something.
There's still a massive stigma regarding mental health and so many more sufferers than people realise. I'm not trying to change the world but I've been so moved by the amount of people who have opened to me about their mental health problems and anxiety etc after my show, I was not expecting it.
Just yesterday a girl that suffers with bipolar came with her sister and said that I'd addressed the elephant in the room and that she now feels that they can talk about it, whereas before it was a an awkward and no go subject. I don't see how that's not really positive.
Obviously there's so many up and downs regarding mental health. If one is having a despairingly low day sometimes the smallest of things can completely change things around. Who's to say a show couldn't be one of those things? At one of my lows I was at a station platform and thought, 'Right, I'm going to throw myself in front of this express train' and just as I'd stepped forward to the front of the platform, like out of some cheesy film, this little old lady tugged my jumper and said: 'Excuse me - you've got a friendly face, could you possibly help me carry my bag to the other platform?'
This sounds a bit cringey, but as I looked at her everything else faded for a bit as she was one of those salt of the earth types and as I carried her bag across the bridge she was regaling wonderful stories about her late husband. Something so small like her being so lovely and wanting my help stopped me from doing that that day. And by the time I'd lugged her ruddy suitcase around, the fast train had long gone.
I hope folk don't watch my show and think it's trying too hard to have a message. I'm just finding funny in my experiences, and if there happens to be a point at the end, well that's anyone's right if it's happened to them. I find it so therapeutic to make comedy out of what have been quite awful times and I shall definitely continue to do this. If folk can relate and have a chuckle out of it then that's fine by me.
Now, where's my Pride of Britain Award?!
• Harriet Dyer: Barking at Aeroplanes is on at Laughing Horse @ Bar 50 at 20:30.
Published: 22 Aug 2014
What do you think?