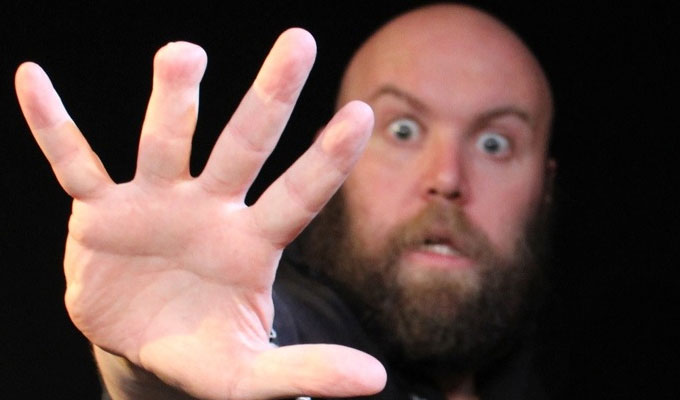 Bob Slayer: Why I might work at the Pleasance next year
It's really hard work being a maverick at the Fringe. I started promoting a few years ago in order to create the environment that I wanted to perform in. I wanted a venue where creativity would come above money but that the act is also getting a fair deal. We know have Bob & Miss Behave's Bookshop and Heroes @ The Hive where this goes on. 
However sometimes I look at how other venues operate and I think wouldn't it be much easier if we did the same as them and charged all our acts £3,000 to perform? Of course it would put most of the acts in debt, but, hey, we have got 25 shows this year and that would give us a budget of £75,000 to throw around. Imagine what we could do with, we would find a couple of big success stories to counteract the hardship of others, and we could afford go on a nice holiday in September.
Or maybe I could do PR or production at the Fringe and charge acts more money without even setting up venues?
Our whole model, including Pay What You Want, has been put together with the strong belief that our income should come from punters not acts. We don't want to make money out of performers unless they are also making money as well. So to this end we are not spending the acts' money to set up venues and we keep the costs to an absolute minimum. The ticket price is low so marketing costs are greatly reduced and the lions' share of income goes directly to the comedians.
Its success means that you are unlikely to get into shows like Ian D Montfort, Adam Hess, Phil Kay, Adrienne Truscott and others unless you buy a ticket in advance. We have proved that this can be done, we have proved that we can reduce the risk for all parties, we have also proved that it is also hard work... 
So next year, I think that I just want to perform in the Pleasance. However not as a comedian, I have decided that I would like to be a microphone. A friend of mine did a show there last year and he needed a wireless microphone. The nice people at the Pleasance supplied him with one but then at the end of the run they presented him with a bill for £10 per day for using it. That is £250 for the run. Which is, oddly, the same as the cost of buying a wireless mic! He could have bought his own but then they would have charged him to have it PAT tested, like a technology-based corkage fee.
The fun thing is that the microphone my friend used wasn't just doing his show. It could have even done 10 shows a day, which would have meant it could earn £2,500 over the Fringe. That is the best job on the Fringe and is why I want to re-train as a microphone. I'll stand half way down the room, repeating what the act is saying for the benefit of the people at the back. One day I also hope to be a projector, imagine how much they can make?
In my new role as a microphone for rent I will miss out on the sense of achievement there is providing an alternative to a system that puts money above creativity. I am also likely to experience some guilt that I will be earning more money than the comedian who will be holding me every day, but I will soon deal with that. I will look around the Fringe and see that everyone is earning more than the comedians and I will tell myself that is just how the Fringe works. 
• Bob Slayer is the promoter of Heroes of Fringe which runs at The Hive and Bob & Miss Behave's Bookshop.
Published: 14 Aug 2014