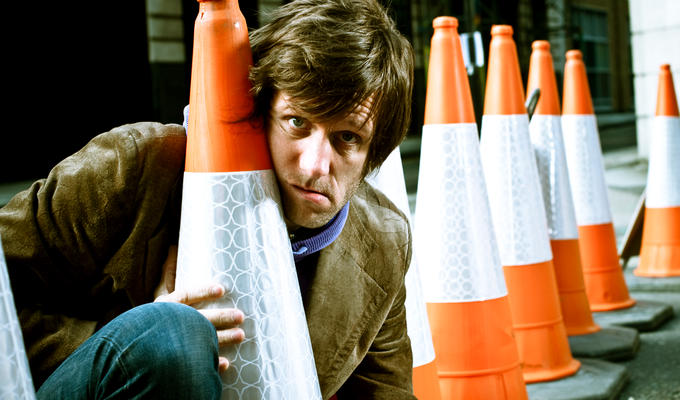 Why I'm a convert to free Fringe shows
At the start of the Edinburgh festival last year I wrote a Chortle Correspondents piece explaining why, after seven years performing at 'big four' venues I had decided to be a part of PBH's Free Fringe. Here is what I found – and why I've chosen to return.
I had an audience
From half filling 50-seat rooms at the paid venues, on PBH's Free Fringe I was averaging 50 and playing to a capacity 80 at weekends.
Free Fringe audiences have many more locals in them
It is a bit of a joke at the paid venues that there are rarely any locals in the audience. The joke being that the Scots have all rented out their one-bed flats to 15 students and are currently sunning it up in the Caribbean. But this actually isn't true. In one month on PBH's Free Fringe I played to more Scots than I had done in my previous seven Fringes combined. A lazy comic would make a joke about it being because it is free, but I think it is because there is a whole untapped local audience who previously felt excluded by the Fringe… added to the fact that it is free.
A better atmosphere
At the paid venues I sometimes felt resentment from audience members that they had had to pay £10 to see me, an unknown comedian. I was even told on more than one occasion, before my show had started, 'We're only here because we couldn't get tickets to the show we wanted to see, so you had better be good.'
I don't want to encourage it, but I happily flyered people for my Free Fringe show last year by saying that if they weren't enjoying it they could leave and I wouldn't take the piss out of them. This zero-pressure relationship allows the audience to enter with high-spirits and low expectations and all the performer has to do is be good. If you are, the generosity of the audience is overwhelming. From losing an inexcusable amount of money at a paid venue in 2012, in 2013 I made about the same amount of money as I do in an average month on the circuit. That sounds fair to me.
And personally I have no problem if people leave at the end without giving any money. Last year a lady was so apologetic that she couldn't give me any money that she offered me the box of tea bags she had just bought. It was safe to assume that she needed them more than me and I happily turned them down. Anyway, a quick nod to security and they were able to shake her down in the alley and we got her bus pass.
Changing audience attitudes
I think audiences have always known that paying £10 for a ticket doesn't guarantee them a good show, but now they are learning that £0 doesn't necessarily mean a show is going to be shit. People will still pay to see the famous comedians they like, but where the shift is taking place is at the bottom of the pyramid, where the many unknown comedians are clamouring for an audience.
Much depends on your venue
I was lucky. My venue last year and this is Cabaret Voltaire, just off the Royal Mile. It is a year-round music venue so has excellent sound and lighting, and - almost unheard of in many paid venues – a really good air-conditioning system. There is sound bleed but you get that in all the paid venues too. However, I spoke to several people performing at other free venues and it is clear that the standard of venue varies considerably.
My one suggestion for comics with free shows
When flyering for your show don't just shout, 'free comedy' because the punters just hear 'shit comedy'. Your show needs to be worthwhile in its own right and the bonus is that it is free. You may think that you have nothing special to offer, but you do. Maybe you are from Norway, or maybe you are the only sketch group with no middle-class white blokes in it, or maybe you are accountants who have never done stand-up before. It is better to say, 'four accountants trying stand-up for the very first time...and it's free,' than just 'free comedy'.
7 shows to see at The Free Fringe
Don't Worry Guys It's Sarah Campbell
Sarah was in the same venue as me last year. Never have I seen audiences so consistently leave a show eagerly telling each other how that was the best show they had ever seen.
Drink Carlin Sensibly
Stephen Carlin is a proper stand-up, in that I get the feeling he wouldn't function as a human being if he wasn't a stand-up. His routines are original, the writing is exquisite and his delivery impeccable.
Pippa Evans: Don't Worry I Don't Know Who I Am Either
Pippa Evans is the most naturally gifted comedian and performer I have ever met. Singing, acting, impro, any accent, she can do it all. I saw a preview of this show at the Balham Comedy Festival and I can confidentially say that if you are looking for a very funny hour in the company of someone born to be on the stage, then this is the place for you.
Joe Wells in Night of the Living Tories
I saw a preview of Joe's show in Kingston and I was blown away by his passion, his performance and his writing, especially for a relatively new comic. Joe also demonstrated how it is possible to talk about politics in an accessible and funny way.
John-Luke Roberts: Stnad-Up
I saw JLR's show last year and loved it. More originality and inventiveness in the first five minutes than most stand-ups achieve in a whole hour. John-Luke happily nestles in that fine British tradition of intelligent loons.
Christian Reilly: Lost In Music
Last year whenever a punter asked me for a recommendation, I said Christian Reilly. I think he is the closest you get to guarantee-ing laughter for the most amout of people.
Luke Toulson: Laid-Back Grouch
My show, obviously. It's on at the Cabaret Voltaire at 19:35.
Published: 6 Aug 2014
What do you think?