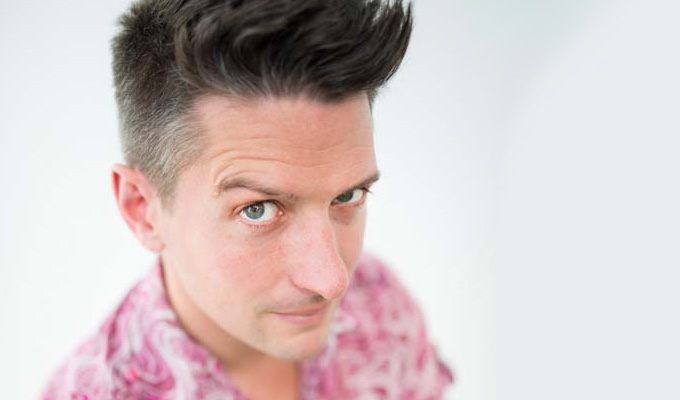 How to win the Edinburgh Fringe
We all remember the sentient computer out of the 1980s film War Games, you know, the one that played chess against itself to stalemate over and over again. (It probably had a name but I'm not some sort of savant; I saw the movie twice when I was a teenager, loved it, and sensibly haven't returned to it). After a million matches in the space of a few minutes, it decided against invoking a nuclear apocalypse, having learnt that the only winning move was not to play.
If you listen to my podcast, and IT WOULD BE INSANE NOT TO, you'll know that I'm fond of saying the industry doesn't exist. That we're all just a vast swathe of satellites; acts, promoters, bookers and reviewers alike, all spinning endlessly in a void, trying to chip off a bit of nebula for ourselves and milk it for cash before we die alone. You can tell by the way critic Bruce Dessau has started his own splinter-page away from the Evening Standard. Gigglebeats make midnight forays into Chortle's verdant southern territories, but will never seize the crown as long as they can't bring themselves to book Joey Essex for an award ceremony. Roguishly-cunning Jarlath Regan claws at my sweet, sweet podcast money by sneakily appealing to the Irish, the bastard.
Year after year we try to game the system; ploys to push back the newcomer nomination until we're good enough to win it by performing a 39-minute long show; a show title that will simultaneously mock the very concept of show titles whilst towering over all other show titles; a whole new free fringe organisation that will blow the others out of the water. (Let's face it, who isn't hoping to spend the next 20 years watching venue operators PBH, Anthony Alderson, Tommy Sheppard and Bob Slayer alike, all rise and fall and rise again like Walmart at the end of that South Park episode?) Year on year we try and fail to hack out a piece for Chortle Correspondents that will say something almost worthwhile, whilst not seeming like too obvious a sales pitch.
But there's no system to game.
This will be my 20th Fringe (did I mention I used to be a street perf– Never mind) and in that time I've seen it spiral out of all proportion, or at least further out of whatever proportion it was out of last time. I've been up there with package shows, sketch shows, stand-up shows, and I'm still a fairly new bug compared to the Herrings, Smiths and Godleys. I've blagged my way into gigs, bars and competitions; I've locked poster-bikes to railings; I've flyered while gaffer-taped to a lamppost; I once helped quell a riot on the Royal Mile when Simon Munnery got arrested; I've answered the question, 'What are your Edinburgh survival tips?' about 180 times. All in the hope – not even hope; the belief, belief like the stuff that shines on the skin of a 19 year old drama student – the belief that something fundamental will happen. Someone will notice me or spot me or offer me work or put me on the telly. The proper telly; the one with no voting involving.
And what I've learnt is this: I'm lying to myself.
Even if those star-flecked things happen, they happen as a tiny part of a career, not as a touchpaper that sets it all aflame. No one turns up and smashes it on year one, apart from those people that turn up and smash it on year one, and they've got nowhere to go but up, the poor sods.
The real reason I go to the fringe is because it's nice; it's good, it's a fun thing to do! Less fun than before maybe, a bit more serious, a bit less recreational and a bit more worky. But I'm going to bang out a load of shows, get pissed with my friends, and for one month in the year feel like a normal person. The civilians are the weirdos in Edinburgh, with their office hours and their vegetables and their reasonable rent; it's you and me who get to be Joe Public.
Admittedly for something like 35 grand over the last six years, I could probably have paid a team of the aforementioned drama students to pretend to be comics and hang around me throughout the year, but then I'd never have got my balls out at Late N Live.
So my unsolicited game-plan, my brave girls and boys, my warriors, my ducklings, is this: stop living in what might be and start swaggering around in what is. Take some risks, do some shows, tit about! Go before you're ready, go after you're ready, go when it's clear you're wasting everyone's time and haven't got five minutes to rub together, go when you're rudely hoovering up everyone else's audience for your DVD recording, and go when it's your tenth year and no-one could care less what you think about Tinder. It's there for you.
Maybe a draw is the best you can hope for, but the only winning move is to play.
• Stuart Goldsmith is shucking open comics' minds like a baleful oysterman with The Comedian's Comedian Podcast Live at Heroes @ Bob & Miss Behave's Bookshop, and revelling in a stand-up show that excites the tits off him, Extra Life, at the Pleasance Attic.
Published: 28 Jul 2014
What do you think?