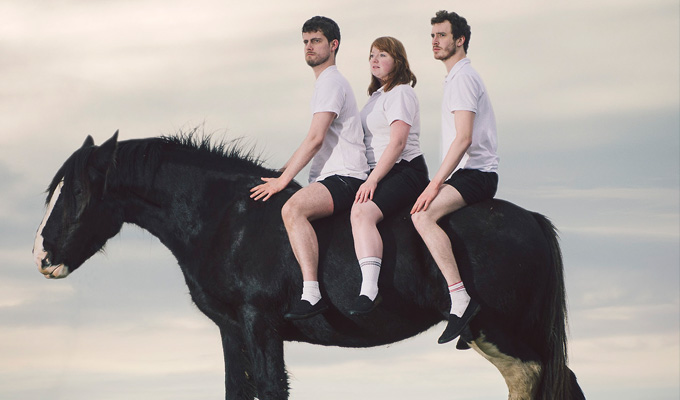 13 ways to get the most out of the Fringe
We're very excited to be heading for the Edinburgh Fringe next week.Being old stalwarts of the festival (we performed a 40 minute show in a free venue last year) we thought it pertinent to teach you new dogs a few old tricks, so here is our survival guide for the festival we call Fringe.
1. Live how you would normally live while not in Scotland
Wake up, call your parents, weep, talk to strangers, have a falafel wrap, walk, always walk, forever walk, drink in the day, scream in to a pillow, drink at night, untangle your headphones and hate your friends.
2. Don't trip up on the cobbles
It will make you look like a bit of a dick if you do, and people will talk, we've not been allowed into a show before because the Doorman saw our grazed knees while eating a pork barm and he said it made him feel awful.
3. Fibre
Both moral and for roughage.
4. See every show
It'll be a full month, but there are over four venues with shows on throughout the day, go through them alphabetically or, if you're feeling brave, chronologically.
5. Keep your fingernails trim and have a haircut halfway through
This goes without saying, you don't want to be the one everyone's talking about before bed.
6.1 Heroes
Always meet your heroes, they'll never let you down, they are your heroes after all.
6.2 The Nod
If you do see a hero, shout out a catchphrase of theirs so they know you're a true fan. When we saw Matthew Kelly last year in Educating Claire Sweeney we kept yelling, 'Matthew, has your dad been here?' We all had a great time, 5*.
7. Flyering
Flyering is the safest form of transport and probably the best way to travel to Edinburgh to avoid all those motorways, and you get to see the famous Edinburgh International Airport taxi rank.
8. N/A
9. The Gein's Secret
This is probably our best tip, during the weekend the city gets very busy.
10. Focus
Convince yourself that what you are doing is better than what everyone else is doing and completely disappear up your own hoops, it's something we excel at so if you need any help, drop us an email, we'll reply if we're not too busy being brilliant (which we will be).
11. Promotion Maybe get some advertising leaflets to promote your show if you're doing one, but don't worry too much, it's a month long, there's plenty of time for everyone to see your show.
12. Planning
If you're planning on heading down for a few days don't forget to book a hotel room at least three days in advance to avoid disappointment, you don't want to have to stay in a hostel!
13. See our fucking show
For real.
It's that easy! Get out there and have a bloody fucking well mint time.
Love, GFG.
• Gein's Family Gift Shop is on at the Pleasance Courtyard at 22:45
Published: 23 Jul 2014
What do you think?