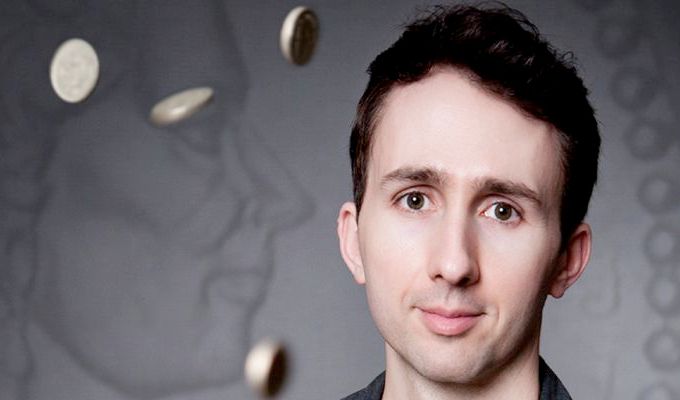 Goals; they're so hack...
It's the age-old debate isn't it? Is the biggest Festival in the world a good thing for comedy or the death of the clubs? With everyone, comedians and audiences focussed on one Festival, the rest of the world seems to stop, the clubs are empty and if you're not at the Festival you're no-one. Well I was at the Festival, and I'm someone, someone who will now look back over the Festival and rate the key performers between 1 and 5 stars, then mention someone you may not have heard of, to prove I care about the small man.
But let's start with the big men shall we? And unless you've been on a different planet for the last month you will know that the big winners of the Festival were the Germans. It's hard to pick out one or indeed any Germans but let's name-check the man that has been credited with rejuvenating Germanic fortunes over the last few years, Joachim Loew. And it's no wonder that he pronounces his surname Love. Because for one month only, we Loewed the Germans. Gone were the stereotypes and the bad jokes of the past – they invaded and they won. Not a sour kraut in the house.
My only criticisms of German performances in the past have been they sometimes seemed a little obvious. Do we really need the German national anthem at the start of a show? Probably not. Wearing the German national strip, German flags, German names, the German accent making the simplest of things seem more special – we get it, you're German. In Joachim Loew though we had something different, a suave, dare I say it sexual predator. A matador, but German. No stars in the team, but **** 4 stars from me.
And from the biggest to the smallest of men. Lionel Messi. Headlining the Festival for the first time and delivering a workmanlike set in the final gala show. Here's the thing with Messi, and whisper it quietly, is he over-rated? I've read other recent reviews of Messi and they have read like he is super-human, that he transcends all other performers. But to be honest, can anyone really be that good? Or is his reputation built on a few brilliant moments and a mystique he has developed through a lack of interviews and refusing to appear on panel shows?
Well on the night I saw him, the answer is I don't know. I mean sure, he delivered the odd flash of genius that has got him those accolades of the past, but the majority of the time he was plodding, stuttering and perhaps the worst criticism I can level at anyone, human. His despondent, human face at the end of the show spoke volumes.
If you really are meant to be the best in the world, then please just be brilliant every single second otherwise what alternative do I have but to mark you down? In short, very good, probably better than everyone on the planet, but not better than the best I can expect a human to possibly be. *** 3 stars.
At the other end of the fame spectrum, I give you Tim Krul. You may not have heard of Krul, playing mainly in the smallest of small clubs and only making the occasional visit to London where any measure of success counts double. But Krul, not even listed to play at the Festival, was for me its big surprise. Sure Krul only performed for ten minutes, but that ten-minute set proved to be more heart-stoppingly brilliant than any of the bigger names that performed for twenty times as long. What is this trend for needing to do ever-longer shows? First it was 90 minutes, then 120 minutes. When will it end?
Krul showed everyone that it only takes seconds to come first. He filled the stage in his brief cameo performance with such cocky swagger that he was never going to fail. Fielding everything that was thrown at him, he more than anyone will feel that the Festival was a stand-out success. A career defining performance and one that should quickly take him out of the small Northern clubs and on to much, much bigger stages where he will inevitable fail. ***** 5 stars.
So what about the so-called big-hitters? Well many failed to land a punch, just the odd knee in the back and chomp of a shoulder. What of the much-lauded Luis Suarez? Touted as the one to watch after storming the clubs this year, he delivered a performance that started well but petered out into farce.
Delivering a set piece that presumably we are meant to find shocking but in truth is just plain childish. And we have seen him deliver pretty much exactly the same twice before. It's no surprise to me that he didn't turn up to his final scheduled performance. And for a no-show, I don't care what your reasons are, I will give you No stars and hope that if you see this, Luis, your complex psychological issue I have no wish to understand is made just that tiny bit worse.
And finally, and very briefly, a word on the English contingent. And it's not a good word. Shit. It seems cruel to pick out anyone individually from a lamentable bunch, but that is what I will do now. Phil Jagielka. Phil Jagielka is shit. And at 31, he's an old shit. Totally out of his depth. It's hard to understand how he got here on the world's biggest stage, almost like he's Quantum Leaped into the team with absolutely no training. Well, oh boy, was he shit. I can't even remember why I thought he was shit, the whole crowd was laughing, but shit he undoubtedly was. And that's not my opinion, that, my friends, is fact. ** 2 stars. (it would have been less, but he's got a silly name, and that at least made me smirk)
So that's it. Your memory of the Festival is not your own now. Your memory is now this. My words are your mind. And as the best Festival in years draws to a close, what have you learned? It's a funny old game? It's a game of two halves? It's not a matter of life or death no it's far more important than that? No, you have learned nothing at all. Because this is football. It's a game. It isn't life or death or stand-up comedy. It's absolutely fucking meaningless.
• Nathan Cassidy's Edinburgh Fringe show Date of Death is at 5pm at the Counting House and he hosts the Rat Pack Stand-Up Comedy at 2.45pm at the Free Sisters.
Published: 14 Jul 2014
What do you think?