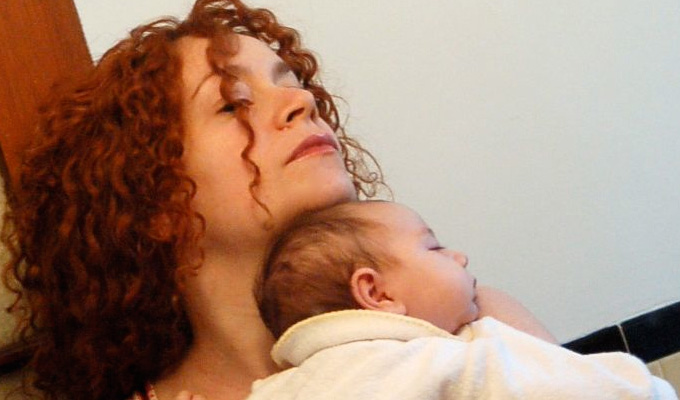 How comedy prepared me for motherhood
I have performed comedy - sketch, improv and stand-up - since about 1996.
For ten years I performed almost every night, often more than once a night. I hosted and produced my own comedy variety show in Manhattan for six years around the corner from the Ed Sullivan Theatre, and for some of those years, it was more than once a week. And I did all this while holding down full-time jobs, in TV, mostly.
But now I'm a mother; so until it's legal to leave kids home with a remote and a bag of Funyuns… or until Tina Fey starts a babysitting fund for 'mums who feel guilty about leaving, and besides can't afford it' — I'll do it only now and again.
When I was doing comedy before kids, it consumed me. And while I always liked kids, I had no experience with and no interest in babies. I'm glad I didn't know how much I liked them, because if I did, I would not have had the comedy years and me and my brood of 30 would now have our own reality show.
But the good thing is all those years on the comedy scene totally prepared me for motherhood. Here's how.
1. Late nights
Lack of sleep is the number one complaint of new parents. Get mums together for ten seconds and stories about how much the kid was up the night before and the night before that start flying. And they are wrecked. Not saying I never complain, but I do it far less because I had a decade of no-sleep under my belt before kids.
I'd do an 8pm show and a 10:30pm show and then I'd leave the stage at 1am and then hang out with comedians until 4am, get a bite to eat and then go to work the next day at 9am.
The only difference is that ever since kids, I'm tired, but I'm not also hungover.
2. Difficult audiences
Even though I thought I was awesome from day one, the truth is that learning to deal with hecklers didn't happen overnight. Drunk audiences in skeevy bars, squalid theatres and comedy clubs (really, same difference) feel like their yelling stuff at you makes the show better. It did make me a better comic with a thick skin and ability to verbally whack-a-mole while getting the rest of the audience on my side.
But drunk audiences really prepared me for toddlers. Because you're dealing with people who have no impulse control who you also have to be nice to.
Some of my worst hecklers were regulars who you couldn't and didn't want to shake because they were like family. Toddlers are exactly like crazy drunk people you need to appease — heck they also throw up on you — and like with crazy audience members, I don't get ruffled by it and I go the extra mile to make 'em laugh.
Added bonus: I've performed for hundreds in wild venues (like hosting at a women's rights rally in DC) so I'm the mum who thinks hosting a play date for 12 kids is easy peasy.
3. Other comedians
All comedians, including myself, are a bit damaged in some way. Producing a comedy show took a lot more work than just showing up for spots and was like running a foster home for clever stunted children, mostly boys, who didn't get enough love and attention at a formative period in their life. I was pouring my maternal urges into these bottomless pits of need for years — and they often don't appreciate what you do for them.
When you help a young comedian there are no raises, no awards. Motherhood? It ain't that different. Except with motherhood, you might at least get a crappy ceramic ashtray or two.
4. You do it for love
Comedy is something I do because I adore it. I don't do shows thinking it will propel me to fame. I sure as heck don't do it for the money. Heck, I even performed comedy at a laundromat, and more than once. Those moments that I did think something would/might happen because I was so good or I got a big show or I landed a great audition were always the times I was proved a fool.
It's a lot like bragging about how amazing your baby is at talking early or doing puzzles and thinking he's/she's bound for Harvard. Like motherhood, you just keep working hard and you align yourself with good people and don't compare your success with someone else — at least not every five minutes.
As a comedy show producer it was just fun watching people get better. And as a comedian I did so much work and took tons of crap just for a laugh — being a mum is easy after that — especially because audiences rarely hug you and tell you they love you to the universe and back. At least not when they're sober.
And now, as a total throwback, here's a reel of some of my work. It hasn't been updated in awhile because with the having kids and working thing, I've been busy. Anyway, it's always fun when someone from the PTA Googles and sees me being a hooker on Conan. Anyway — here's a peek into my super secret double life… enjoy!
• Susie Felber tweets at @susiefelber.
Published: 28 Apr 2014
What do you think?