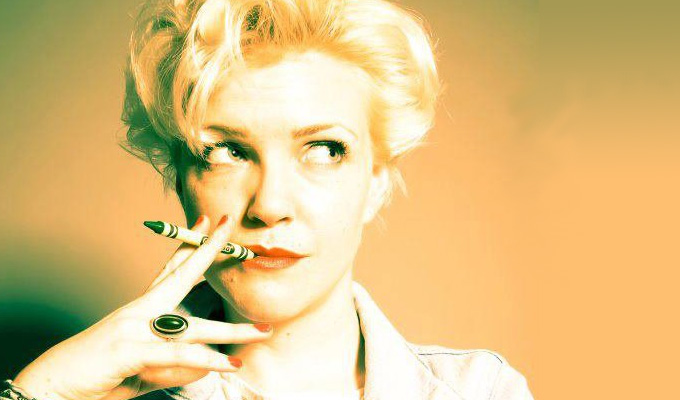 Comedy is art.. let's act like it
I have recently been scouring funding applications so that I can do a rural tour taking a couple of Edinburgh Fringe shows to small venues that would ordinarily never get a chance to see stand-up comedy in this way.
Rural venues tend to be subjected to shows like Granddads Flashback (genuine title). This show was meant to be a look through old-time music hall performances in a fun 'wartime' way. But I had visions of an old man rocking in the corner of a town hall while the audience sang 'It's along way to Tipperary'. I thought I'd give it a miss.
So I believe that small art centres and town halls could benefit from having small, low cost, high quality, stand up comedy shows, fresh from the Fringe. Arts Council, Creative Scotland, the Lottery Fund or other such funders could help this to happen. However, as soon as the word 'comedy' is mentioned on a funding form the door closes. Stand-up is a dirty word among other artists. So this got me thinking, what is art?
A joke in my mind is the purest form of art. It's delicate, fragile, and once it has been uttered it no longer exists. It has been experienced, enjoyed and then it's gone. People will watch Shakespeare, look at a Warhol, watch Swan Lake, listen to a Queen album over and over but once a joke has been told it has gone, and no matter how much you loved it, the second viewing is never the same. However this should not mean that the form is any less valid. Surely this should mean it is to be treasured.
Now I'm not saying that all comedy is art. And I'm not saying that every comic should get a grant. I think funding sometimes is a cop-out for art that doesn't have an audience. Or for people who are good at filling in forms. And if I know anything about comedians, form filling in and paperwork is not one of their strong points, hence their desire to go into a profession where all they have to do is talk. But it would be nice to think that comedy is recognised as an artform by its artistic peers. And not seen (as I've heard it described) as the 'main thing that's ruining the Edinburgh Fringe'.
Now, I believe that stand up comedy's closest artistic cousin would be dance. Just go with me on this one.
Dancers comes in many forms, from ballet, to pole dancing. People spend years honing their craft, learning what makes the audience tick. Spending thousands of pound learning to do so. But also sometimes people just walk off the street, wiggle their tits, take their clothes off and call it dancing. The same can be said of comedy.
Admittedly dancers hone their craft in large fancy buildings, with teachers and large fees. Where as comedians hone their skills in the corner of grubby pubs on rickety plinths and spend most of their spare cash on petrol to get to the arse end of Bumbly Crum Village because they were 'promised progression'. But my point is we all put in the hours.
And just like dancers we can sometimes finish a show feeling like you made the audiences lives better, and sometimes you can leave the stage feeling dirty and in need of a shower and a cry.
Like Demi Moore in Striptease, sometimes we try to put artistic flair into an otherwise bland set full of nob gags, whilst drunk men shout 'get on with it, just get your tits out'. I'm sure all comics have performed to people we hate saying words we don't believe in. But we have hopefully also had the experience of feeling like we've changed the audience's day, making the little bit of world around us a better place.
Growing up, stand-up comedy taught me so much about myself and the world around me. The first year my parents me to the Fringe I thought, 'This is amazing'. After that I was hooked. I spent all my time going to Fringe shows, buying audio tapes and VHS. Watching old comics and new. I couldn't get enough. Comedy made me feel like I wasn't alone, and surely that is what good art should do.
Comedy should be held up and revered not scorned at and called cheap. However, as comedians, we are responsible for stand-up's future place in the artistic world. When we hold a microphone in our hands we posses great power, and as Spiderman's uncle taught us 'with great power comes great responsibility'.
Now we all love a good nob gag and I'm not saying that should stop. Even Shakespeare loved a nob gag, but he wasn't judged on his love of smut and neither should comedy.
Stand-up comedy in its current form is a relatively new construct. But in 500 years people might be studying old films of Victoria Woods and Stewart Lee trying to understand what their ancestors were like. I wonder what they might say.
I think, what we laugh at says more about our true nature. A lot more than the things that we think we should like or what we pretend to like. So we must leave a legacy to be proud of.
So as we comedians furiously write our Edinburgh Fringe shows, we should remember this. What does your art say about you? What kind of person would laugh at this? And is that what you want? These are questions that all artists should ask.
Comedy is art and not the grubby cousin of storytelling that no one talks about and is locked in the basement. Unless it's in a Fringe venue like mine – in the basement...
Published: 7 Apr 2014
What do you think?