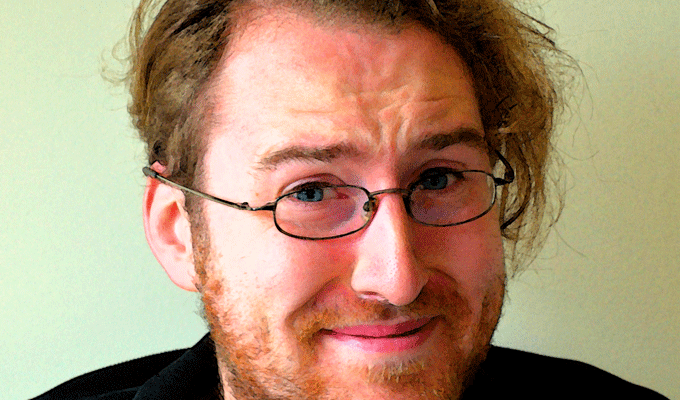 But what kind of comedy is it?
Like many, I am quick to analogise comedy to music. The parallels are evident: the relative tiers of success (now ranging from open mic to international tour), the concept of new talent being noticed by an agency or label, the heavy emphasis on touring and live performance.
With comedians slowly moving into the realm of festivals it seems the scope of comedy production has long been taking its cues from music, and why shouldn't it? Your basic comedy production requirements are the same but with extraneous instruments and cables removed: raised stage, variable lighting, microphone, audience. But there's one important aspect of music marketing that comedy has not been able to emulate: genres.
The idea of someone marketing a music night without appealing to a genre seems absurd. 'Come along to this, there'll be music, you'll like it'. It's an invitation that belongs only in generations passed. We can't just go to a 'music event', we have to know what sort of music it will be. There are few so eclectic that they could stroll into a paid-entry music event unsure of if its a sit-down-and-listen bossa nova performance, dub-step dance floor, cannibal corpse tribute act or audio-visual drone/noise exhibition confident in the knowledge that they'll have a great time.
Music is so ridiculously diverse and that is its strength; it is robust and variegated enough to cater for everyone. How many people do you know who have outright no interest in music?
Comedy has not reached this stage yet. To many, they feel they've ascertained the gist of what comedy is like from the margins of what is broadcast on television. Or if not there, they've been to a local club night. Maybe they enjoyed it, maybe they didn't. But people are capable of coming away from an event thinking, 'Oh well, I guess comedy isn't for me'. The event wasn't marketed as 'clever comedy', 'dumb comedy', 'worm comedy', 'space enterprise comedy', but just 'comedy'.
It is my belief that the circuit in its current conception needs to become more diverse in order to become more robust – that means more clubs and more options for the public.
The model of cities containing merely one or two major clubs is becoming less stable. As people find themselves with less disposable income, the big nights out are less affordable, and smaller clubs can offer a better, cheaper alternative. Also, the success of comedy is causing a wider disparity of tastes. In London, where the marketplace is most crammed there already exist niche and specific nights such as Lolitics, Lost Treasures of the Black Heart, Pun Run, Specialist Subject, Stand-Up Tragedy to name but a few that I'm aware of from my frosted Yorkshire moor. Oh, and let's not forget the Weirdos bunch.
As it is we're seeing a collection of new nights appear and gain followings alongside much older, established and more expensive nights in many major cities., offering both lower entry prices and a seemingly distinct stylistic aims than the longer-running established venues. Some of the nights are weirder, studentier, sketch/character based or just dedicate themselves to showcasing lesser-known names. In short, these nights are great examples of nights that are different and distinct products on the market place. Manchester's SOS Comedy, for example is just down the road from The Frog and Bucket but provides a very distinct experience eschewing straight stand-up in favour of character comedy, sketch and set-pieces. Last time I was there I watched Peter Brush perform a long presentation on a fictional jazz-uncle replete with slideshow. Then I performed in a double-act where we ate a baguette and fell over. I think it's uncontentious to say that the content provided at either venue varies quite significantly.
These nights provide a necessary diversity while encouraging greater engagement with live comedy, especially while more of them seem to be popping up. But there seems to be no adequate terminology to help market these nights as different or distinct from their competitors. I see no real issue with a hard rock night and a light jazz night existing in similar places at a similar times as their expected audience pull is so disparate and they have their genre descriptors to make their distinct stylistic content clear. I think comedy and comedy promoters need to adopt a similar approach and help this diversification take hold and give it meaning (and for a choice few to let go of their territorial attitude). Promoting 'comedy' as 'comedy' alone is becoming less informative as the medium becomes more stylistically diverse.
This problem is most apparent at the Fringe. How do you describe your show meaningfully before people come see it? Most of the time you find yourself wandering into a show only having a fleeting impression of what the actual content might be like. Even shows that are overtly experimental or odd can't seem to keep away the people who inevitably storm out baffled and outraged.
With music our genre descriptors all came from music journalism; magazines are dedicated to it, paragraphs on individual influences and styles. We have no such journalistic infrastructure in place. Not to mention, with the largest amount of coverage of arguably the most important comedy event in the country largely outsourced to undergraduate students we end up with issues of competency. Examples plucked from recent memory include Michael J Dolan being told he would have received a better rating if he'd performed his show in the style of Bill Hicks, or a reviewer deciding that other people were laughing at Neal Portenza for the wrong reasons or with Phil Ellis criticised for going on too many tandems [sic!], This decidedly unhelpful method of reviewing a vast majority of shows at the fringe is muddying the waters of comedy journalism.
Only as comedy - hopefully - increases in popularity, people's contextual knowledge of the craft will become more evident in how it is reported or reviewed by other publications.
But I don't believe we should be reliant on that. Some nights still use the 'alternative comedy' descriptor; although those nights are few, I myself am one of them, I want people to know what they're in for before George Cottier throws sweets at their face. Or Barnaby J Thompson cries onto them about something ambiguous. People should only be in that situation by choice, I feel, and I feel it's my duty to make that clear in whatever way I can.
In short, we all want there to be a healthy circuit that people can perform on either for personal fulfilment or some kind of mega-$$$£$£$£$£$(!!!!!) stipend. But I believe the comedy industry needs to be willing to diversify and it cannot do that if it cannot make distinctions effectively to the greater public.
Currently the lack of relevant terminology make it unnecessarily hard for the public to make an informed choice and maybe, I fear, choose simply not to take the risk. If you are a promoter try to make a coherent message about who you are and why that is special. Are there other promoters in your area? The best thing you could do would be to begin talking to them and working with them. If we can help everyone carve out their own niche then we can all have a great time. In short, let's help there be something for everyone.
• Sean Morley's Facebook page is here. He tweets here . His work in progress show Woe King Progress is at Leicester Comedy Festival at 4.30pm on Friday February 21, at Heroes@Hansom Hall.
Published: 9 Jan 2014
What do you think?