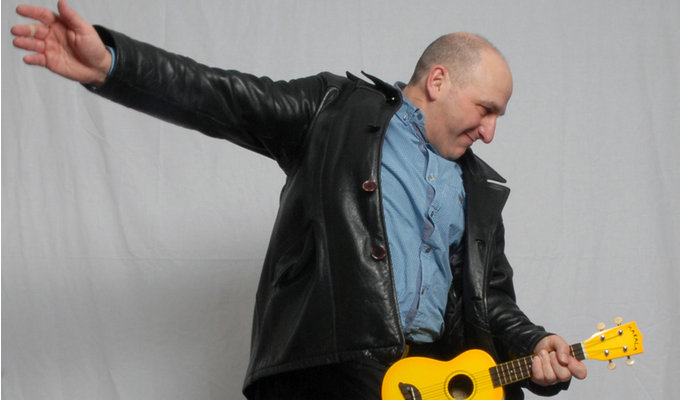 Why every comedian should just quit...
Everybody, well nearly everybody who does stand-up, should, at some point, give up.
I'd say 90 per cent of those who try it realise almost straight away, and quit before they're hooked or scarred. That leaves the thick-skinned ten per cent, those defined by stand-up and comedy tutor Logan Murray as driven enough to keep going regardless. And I'd say 90 per cent of them are deluded. If you are driven and have massive self-belief, without talent you'll still not get far.
Of the remaining one per cent, a fraction will go on to big success – sell out tours, TV series, and more tours to keep their profiles high. They should keep going. The rest, the dozens of comics who form the bulk of the national comedy circuit, people like I was, they carry on working because there is enough demand for them. Many enjoy it but a lot hate it, and they should probably give up too.
It's quite rare for a working comedian to suddenly give up performing. It's usually a gradual process, but always begins with a Moment Of Realisation. Mine came in Willesden, one early summer evening in 1993...
I've been an averagely successful stand-up for many years, but have recently been dying, horribly, on stage. Although I am a great self-analyser, perceptive of my shortcomings and self-aware, I am at a loss to understand why.
External factors have no bearing on my performance. Nice crowds, lively crowds, small crowds, drunk crowds, even after I walk on and deliver my opening lines I have no sense of how the gig will go. When I was starting out, this was what my first dozen or so gigs were like. Now, around 2,000 performances later, I should at the very least have an inkling of what to do. To complicate matters, when I'm not dying I am doing brilliantly. I am living my stage life at extremes, which is never a healthy place to be.
This new big problem in my life is starting to concern me. I read self-help books in the library, which is also not a healthy place to be (the self-help books, not the library). These books are written for people like Rod in accounts who has to make a big presentation to his boss, and they give him tips about how to approach speaking in public, how to relax.
But they're also for Charlene in Minneapolis who loves too much and has low self-esteem, and Brian in Vermont who wants to change but doesn't know how, and Dave in London who can't work out what's going wrong with his stand-up comedy career and is told to 'just relax', which if he could do that he wouldn't be reading a stupid self-help book trying to find out how to relax.
There are many gigs like this comedy club in Willesden in the early 1990s, they don't get huge crowds, but enough to make it financially worthwhile to perform at. It isn't a bill that would, of its own accord, attract an audience. People who go to these shows enjoy live comedy, they may love your act but it's unusual for them to remember your name.
A guy we shall call 'Rick' is on tonight. He is relatively new to stand-up. He arrived on the circuit, unlike anyone I've seen before or since, as a fully formed comedy creation. The look, the clothes, the crazy wordplay, the visual tics and callbacks, the quality gags, these are in place. All he lacks is experience.
I like Rick, I think of him as my friend. We have performed on the same bill many times. We share a common bond, which is that frequently, we go down badly with audiences. There is a crucial difference though, which I am yet to recognise. Rick's on-stage deaths come because his audience don't always 'get' him. Mine are coming because I've forgotten how to be funny on stage. The comics 'get' Rick. We all know he's funny. And we love him all the more because we see him die a lot, and comics always feel extra special love for their colleagues who die a lot. Right now I'm very popular among my fellow performers.
Rick is actually not my friend. This is a misconception on my part. He's good company when we're on bills together, and he's a good companion on long car journeys (another vital but often overlooked skill required in a stand-up comic), but we don't socialise. After I quit stand-up I'll see him maybe three or four times in 17 years.
What we comics don't realise is that Rick, unlike the rest of us, is completely unfazed by his onstage deaths. He's not going to change, he doesn't have to, he trusts that he's funny enough and that the audience will eventually catch up with him. And of course, they do.
When comics die we have sympathy, and empathy, because every working comic has at some stage in their career seen every other working comic die. We've all been there – yes, even Rick, though you wouldn't know it when you see what a huge star he is now. It's the magic bond, the great leveller which explains why, despite the fact that we are mostly self-obsessed, bitter, twisted, egocentric, competitive, socially inept oddballs, we're actually rather fond of each other.
I've seen some mighty feuds over petty professional jealousies, and in recent years an increase in comics slagging each other off in public, but remarkably little animosity considering we're professionally the cream of the nation's insult-throwers.
Comics who die are seen as no threat to your career. And if they die in a slot before you go on, your own chances of doing well that night improve greatly. Audiences will generally accept one death per show, but a vague collective guilt seems to take over and you only have to be competent enough following a comic who has just died, to win their gratitude for not being as shit, in their eyes, as the last bloke.
Rick is most definitely not a shit comic. We've seen people like him before, funny people who have learned everything except how to get the audience on their side. I still remember an open spot I saw at the Comedy Store in the late 1980s, his name was WJ Simpson, he had ten minutes of superb material but no delivery skills. He was booed off, and I never saw or heard of him again.
Tonight, in Willesden, I shall die. Rick will also do badly, there is no shame in gigs like tonight. They happen occasionally, either they're badly set up, or something happens early on that kills the atmosphere in the room for the rest of the night. Tonight there is an open spot, a young Jewish man playing a Jewish comedy character that plays up a little too much to the stereotype for my own tastes, but that's his choice. I sense the audience are with me on this, and are uncomfortable.
He's new and inexperienced, so his delivery is not great and the heckles begin. The heckles are, unequivocally, related to the quality of his act. He, however, has a rehearsed put down. 'The only reason you're heckling me,' he says, with utter earnestness, 'is because you're all anti-semites.'
Has anyone ever read the mood of a room so badly? Of all the reasons for heckling him, he has picked the only one that does not apply. Nobody likes to be called a racist, and tonight there has been no racism at all. Only now there is real anger, it's a midweek middle-class middle-range gig so no one is throwing things but the hecklers are furious, and even the people who didn't heckle are indignant. The performer walks off, oblivious to the mayhem he has just caused.
The compere does her best to revive the room but she's not the most experienced and the mood persists. At this stage in stand-up comedy's development there aren't enough comperes who are good enough to restore equanimity on a night like this and none of them is with us tonight (Nick Revell, Lee Cornes and Arthur Smith in case you're wondering).
Rick is on next. He says funny things. He gets the odd laugh. But this crowd is in no mood to put in the kind of effort still required to understand what a brilliant comedian he is. Tonight Rick gets a cool reception but it's the audience that will eventually change, not him.
What this room needs now is a thoroughly experienced comic to draw a line under the events of the first half and move the show on. I, Dave Cohen, the most thoroughly experienced comic on the bill, am next.
But first, the interval.
I have around 20 minutes to wait. I start to think about how to approach this. I shall be introduced by the compere as Dave Cohen, and look Jewish, so that will immediately set up a tension in the room. My tried and trusted opening minute of material is about being Jewish. Shall I abandon that tonight? Shall I act as though I've just turned up, oblivious to what's already happened? No, I've been watching the show from the front all night, they will all have seen me. Shall I wait until a couple of minutes of settling in, then make a jokey reference to the anti-semitism, or will that re-open the wounded anger of the crowd?
In more confident times I don't think like this, I trust myself to go on, settle down, get the audience on my side, sense the mood and think of something on the spot, or not refer to it. Instead this interminable interval is filling me with anxiety and indecision. Anxiety and indecision are not good states of mind before going on stage to perform stand-up comedy.
The Willesden death is not horrible, like the ones I have become used to. I am not booed off, nobody heckles, but there aren't many laughs. I don't put this down to their hatred of Jews, but I don't address it either. I walk off after 15 minutes, even though I am supposed to be on for twenty. I figure it's best for all of us.
The last act manages what the first act normally does at a gig, to warm the audience up and get them in the mood for laughter. Only right now he's the last act. No one asks for their money back, but tonight everyone has been short-changed.
Why is this happening to me, now? One explanation I didn't consider, because I was too close to it at the time, was that my life off-stage was changing fundamentally. In the previous couple of years my mum had died, I had moved flat, was living on my own for the first time, and had a new partner. My mother's death was a deeply traumatic experience that forced me to evaluate everything that had gone before, to move forward, and concentrate on the future. After a period of great disruption I was, in all areas of my life, finding real happiness.
All areas bar one. There has been no shortage of advice from fellow comics during this unpleasant phase of incomprehension. They are all sympathetic responses from colleagues who sense my pain. 'You need to believe in yourself,' says one. '"You're thinking too much,' says another. They're both right.
People who know nothing about comedy talk about comedians as 'sad clowns', unhappy folk who can only survive in the world by making others laugh. I can think of maybe one or two comics who are like that, but I'd say the word 'unhappy' is less applicable to a comedian than 'dysfunctional'. Maybe this transition from messed-up lonely weirdo to fully-functioning human being has made me lose touch with the hang-ups that drove me to perform in the first place.
As a rule, comics tend not to talk to each other after a death. A sympathetic shrug, a half-smile is usually enough. As I say, we've all seen each other die at some stage. You both know exactly how the other feels. The survivor understands your pain and humiliation, and will know exactly how much of the death was self-inflicted, and how much was down to the dynamics of the room. The dead guy understands that the survivor is ecstatic that he was spared this time.
But two comics dying on the same bill can exchange words – so I can talk to Rick about it. I'm not expecting any comment from him. Pompously, there is status involved. I am an experienced comic, the senior partner in this relationship, higher up the comedy ladder than he is. But I want him to know I feel sympathetic to his plight, my comrade in deaths.
But while Rick learns something new every time he goes on stage, I am learning nothing. I'm no longer emotionally equipped to deal with these deaths, each one is a personal humiliation, more ammunition for the morbid self-pity that this proves my worthlessness at my chosen vocation, another confirmation as if I needed it of my awful lack of confidence and self-esteem on stage.
Walking back to the tube station with Rick I think about how to approach the subject. Because I'm confused about what's going on, I'm not thinking straight, so I seek to engage him in a conversation which I think may appeal to him. I have seen him die on more than one occasion, and I want to talk to him as a fellow member of the club. I, with my self-confidence currently in shreds, imagine he is a soul-mate.
'Nights like tonight,'" I say, 'sometimes they just fill me with despair.'
He stops for a moment, looks at me and responds 'Don't you think that's a bit…' and he smiles, trying to be friendly, 'childish?'
Childish?
That was not the word I was expecting. Me, childish? Dave '2,000 Gigs And Counting' Cohen is called childish by a rookie upstart who's only been going for a couple of years?
But 'childish' is the perfect word to describe my situation. When a child does something wrong, the first thing he tries is to look for some factor other than his own wrongness for an explanation.
I am in a relationship with comedy that isn't working out, and everything I try, fails. In that moment, I have stamped my feet, turned in desperation for a reassuring answer to the question 'why me?', and been given the least comforting answer.
---
Some months later, I performed what would be my last gig as a professional stand-up. I didn't even know it at the time, and the gig went well. What I remember clearly was that as soon as I came off stage, I began worrying about how my next gig would go. That next gig, at the Banana Cabaret in Balham, was six days away. I had played the Banana Cabaret dozens of times, it was my favourite venue, I invariably did well there, and now I was living five minutes' walk away. Here I was, a whole six days before my favourite gig, feeling a knot of uncertainty in my stomach.
I got home, looked through my diary, rang a load of mates to check if they could cover for the dozen or so gigs I had booked over the next few weeks, and then rang all the promoters to pull out.
For the first time in ten years I had a diary with no gigs in it. The need to find something to replace my lost earnings felt less important than the overpowering urge to quit. I was absolutely terrified. But I knew I'd done the right thing.
• Dave Cohen: How To Be Averagely Successful At Comedy will be published at the end of the month. He will be appearing at Chortle Book Festival on Monday 25 November at 9.30pm at The Grange. Details.
Published: 12 Nov 2013
What do you think?