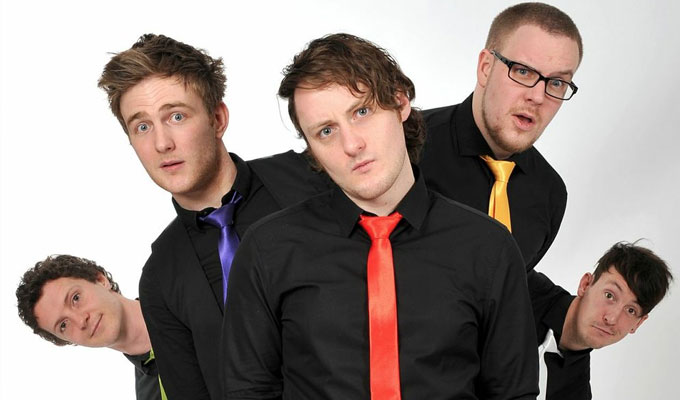 Why do the Edinburgh awards ban improv?
As the dust has finally settled after another Edinburgh Fringe, there's an issue we think needs to be addressed before the merry-go-round begins again in 2014. And it's that improvised comedy is not eligible for the Foster's Edinburgh Comedy Awards.
We are not trying to say that an improvised show necessarily deserves the award – ours included –  but we do believe they should at the very least be considered. It seems to us that every show listed in the comedy section of the Fringe brochure should be eligible for the comedy award. All other forms are eligible: stand-up, sketch, ventriloquism, musical comedy, character comedy, magic, cabaret, comedy double acts, comedy poetry and story-telling… every conceivable style other than improvisation.
Strangely enough the comedy award rules do not explicitly cite that improv is ineligible, however, Nica Burns, director and producer of the awards, told us that 'successive judging panels found it impossible to compare performances seen on different nights with the amount of dependency on the audience'.
While the content of an improvised show clearly differs from night to night depending on the audience, with the best performers, the quality does not. The 'successive judging panels' may well have noticed a fluctuating quality in the improvised shows of their era, but to stick by this observation today ignores the growth and development of a rich, vibrant and talented crop of artists that have emerged in recent years.
The days of Whose Line Is It Anyway? rips-offs are fast disappearing, with various troupes and performers pushing the boundaries of improv and taking it to new levels. We headline comedy clubs up and down the country; Showstoppers have had sell out West End runs, Abandoman played to stadiums as tour support for Ed Sheeran; Austentatious have had queues of hundreds of people waiting for hours to get in to their Free Fringe show for the last two years.
To suggest that these successful shows are 'incomparably different' from night to night is nonsense. They are in fact, 'comparably different.' The topics for improvised comedy do depend on the audience – but the quality of the comedy is down to the performers and that quality is entirely comparable.
Many acts previously nominated for the Comedy Awards have had a very high dependency on their audience. 2012 winner Doctor Brown [aka Phil Burgers] relied on his audience to provide sound effects and props; 2011 winner Adam Riches continually utilised audience members to play vital characters and roles; 2010 best newcomer nominee and eventual Panel Prize winner The Boy With Tape On His Face [Sam Wills] required the use of at least one audience member for every single sketch.
This dependency on their audience in no way distracted from the fantastic quality of their work. As professional and talented performers, they had structures in place to ensure that regardless of how an audience member chose to react to their involvement, it would always be funny, and this is exactly how the best improvisers work.
So what then, makes these shows eligible for the Comedy Award where improvised comedy shows are not? Does the way in which Burgers, Riches and Wills use their audience fall into a different percentile on the 'total-audience-input-ometer' to how improvisers use theirs? Where do you draw the line? And more importantly, why draw the line at all?
Almost every comedy act in the world includes some level of audience interaction as they deal with the live circumstances of each show and perform accordingly. Isn't this the reason the festival exists in the first place? If audiences had no interest in acts dealing with the now they'd just stay at home and watch a DVD. Do we not watch live comedy to be a part of it, to share an intimate and unique experience?
Most comedy shows are different every night for that is the very nature of live performance. With other forms of comedy, dealing with the audience and reacting to the here and now is seen as a positive, a must even, yet it seems to count against an improvised comedy show in the context of the awards.
Perhaps the panel deem the way in which improvisers use audience participation to encroach more heavily upon the writing of the show. Nica Burns tells us: 'Assessment [for the awards] involves the two skills of writing and performance.'
This suggests that the lack of writing is a predominant reason for the elimination of improv within the awards. As improvisers, we still have to write an Edinburgh show. There are structures, original music, created set characters who weave in and out of the performance, plot components... these elements are complex and intricate and, just as with a stand-up, they are created with thought and intent to provide an audience not just with the blanket response of laughter, but with ups and downs and shadings to illicit multiple emotions.
Most improvised comedy shows these days are sketch shows where some, or indeed much, of the content is suggested by the audience. In no way does this mean they are not written. These written structures are in place to incorporate audience interaction, just as with the aforementioned acts.
We mean no disrespect to the incredible winners of the Edinburgh Comedy Award over the years. The list of past winners and nominees is a legitimate who's who of the history of comedy. We're not saying that the list would have been peppered with improv shows had the rules been different, or should the rules be changed for next year that a troupe of improvisers would march home with the trophy.
What we are saying, and indeed asking, is that improv be given a chance.
Published: 18 Sep 2013
What do you think?