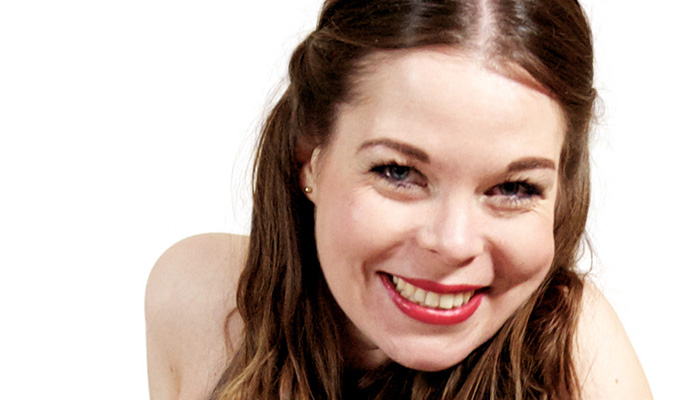 There's nothing funny about weight jokes
I wrote a joke recently (yeah! I know! A joke!) and I wrestled with whether it was funny or not. I showed it to two fellow professional comedians who I rate and they both said it was funny and should go in my set. But the joke made fun of a famous woman for being thin. And I felt uncomfortable about that…
Like lots of people working in comedy I have some dark stuff in my past. I was sectioned in 2002 for anorexia and I've struggled with eating disorders for most of my life. I was bullied for being a fat child, was an anorexic teenager and when I had compulsive eating disorder I went from a size 4 to a size 20 in less than 6 months. I know the pain of being mentally trapped in the obsession with size, shape, weight, eating, not eating, food - So how can I comfortably say on stage: 'I come from Cambridgeshire – a county so flat it makes Keira Knightley look womanly?'
In today's enlightened and politically correct world, I thought a joke about illness, gender, race, disability, anything really, was only acceptable and funny if it comes from someone who's been through it. So, can I make fun of my own size, appearance, my own disability (mental health problems are now defined as a disability) but not other people's?
Take physical disabilities: comedian Francesca Martinez makes great fun of her cerebral palsy. Jack Carroll the 14-year-old Britain's Got Talent participant who also has cerebral palsy earlier this year walked on stage with the aid of a walking frame and cracked his first joke. When asked to say more about his act, he replied 'I'm a professional gymnast!'. That's clever. And it's funny. Martinez and Carroll can make fun of their disabilities because it eases the tension. No one is forcing them to be the victim of the joke. They are clearly comfortable making fun of their situation.
It's trickier when the joke is directed at other people… even if it's sensitively done. It'd be very different if David Walliams had said 'I can see you're a professional gymnast' to young Carroll. It's the same concept but it wouldn't be funny. It'd be cruel.
There are loads of non-PC jokes made about mental health problems and many are considered absolutely socially acceptable. Take alcoholism for example - even though it is recognised as a mental health problem – an addiction – it is still the subject of many, many jokes. Politician Charles Kennedy was the focus of many stand up sets when he publicly declared himself as alcoholic. Why was that OK? Is it because he's in the public eye and therefore fair game? Would it be comparable to make fun of skinny models or film stars? I mean, who wouldn't laugh at: 'Breaking news! Victoria Beckham is expecting her fourth baby! Oh, no, wait, she'd just eaten an apple'?!
This might be controversial but I wouldn't laugh at that. I don't find those jokes funny. I have struggled with eating disorders all my life and I find jokes mocking all eating problems inherently unfunny, whoever they are made about. I'm pretty sure Victoria Beckham, like lots of famous women, does struggle with eating disorders. I don't know but I suspect. Lots of women I've met have struggled at one point or another.
There are already lots of anorexia jokes out there. I don't want to add fuel to the flame but the website Sickipedia lists quite a few. 'I gave an anorexic a kite: she was blown away.' 'What do you call an anorexic that gets under your skin? A splinter.' 'How do you find a lost anorexic? Tell your dog to go fetch.'
Now, I will agree that some of those jokes are clever but there were probably lots of clever jokes about black people made by the KKK. I'm sure lots of people would argue that making fun of someone's size or shape is not be the same as making fun of their colour…but it's still belittling someone about something which they may not have control of.
Some people are the F word. They are FAT. 'Yo' mamma's so fat – when she sits around the house, she sits AROUND the house!' It's funny! 'Yo' mamma's so fat – she has compulsive eating disorder and is suicidal because of it!'… What? I'm just taking the fun out of it. Aren't I?
I don't want to take the joy away from poking fun at things that deserve to be made fun of but if it's no longer OK for white people to tell racist jokes then why is it still OK to make jokes about alcoholism or eating disorders? Maybe my passion stems from my fat ten-year-old self that's still angry at the 12-year-old boy who thought it was funny to say, 'The bus driver is fat – maybe he is married to Juliette!' Now – that's not clever. But his friends did laugh. And if the definition of whether something is funny is whether people laugh at it ... by definition, maybe it must've been funny?
Where does political correctness stop and prudishness begin? I guess when it gets in the way of something the majority of people find funny. Racism stopped being funny in the last 30 years because the majority of people stopped finding it funny. Perhaps public perception of alcoholism, eating disorders and many other mental health problems hasn't changed enough to make these jokes unfunny yet. The jokes will stop when the laughter dies down.
%bull: Juliette Burton: When I Grow Up is on at Gilded Balloon Teviot at 13:15 throughout the Fringe (not 13th).
Published: 16 Jul 2013
What do you think?