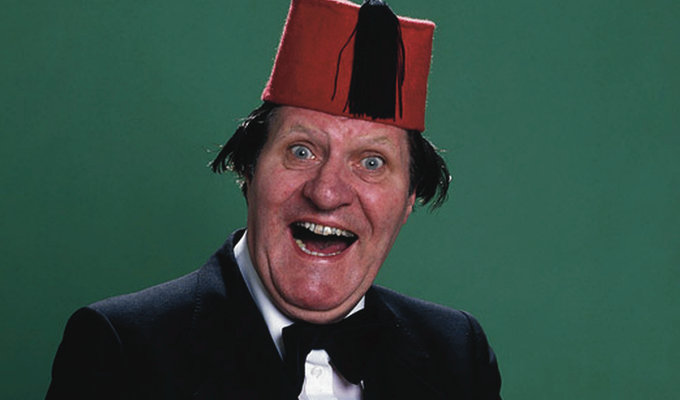 Tommy Cooper
Date of birth:
19-03-1921
Date of death:
15-04-1984
Tommy Cooper was a true original - the trademark Fez, that distinctive laugh, the clumsy, bewildered delivery, and, of course, the catchphrases make him one of the most instantly recognisable of all comedy icons. He didn't have to say anything to make his audience laugh, his appearance alone was enough.
Like many others, Cooper's first foray into showbusiness was with the forces. After serving as an apprentice shipmaker he joined Horse Guards, from where he became part of the entertainments unit.
It was while entertaining the troops, at a Naafi show in Egypt, that the fez became part of his look. Legend has it that he simply lost the pith helmet he had intended to wear, and grabbed the waiter's hat instead.
The tale of how he adopted his maladroit stage act is equally apocryphal . He supposedly botched an audition as a serious magician so badly that everyone thought it was deliberately hilarious.
If the persona came about by accident, Cooper was meticulous in honing it for every last laugh. A notoriously demanding perfectionist, he would be the bane of those working alongside him.
He was a hard worker, too. On demob in 1947 he joined London's Windmill Theatre - the devilishly hard venue where so many comics learned their craft, performing to uninterested punters between the strip shows. Cooper reputedly performed up to 52 shows a week there.
Tours, TV and a role in Eric Syke's film The Plank followed as, throughout the Sixties and Seventies, he cemented his place in the public's affections. In 1969 he was voted ITV's Personality of the Year.
His appetite for work was so voracious that few were surprised that his death came on stage, doing what he loved. And such was his reputation as a relentless joker that when he collapsed during that televised show, most of the audience thought it was just another of his gags.
Read More