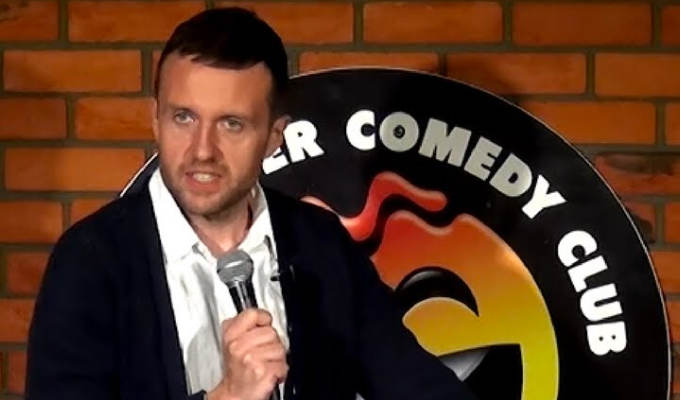 Tom Ham
Finalist in the 2016 NATY new act competition under the name Thomas Rackham
Read More
How to run a successful comedy competition
We all know that the British public loves a competition!
X Factor, Bake Off, 24 Hours in A&E, every week millions of us gather around the telly box to see who will survive and thank Satan the world of stand-up comedy is not different.
Whether it's 'Lord Of The Mega Lolz', 'The A4053 Coventry Ring Road New Comedian of the Year Award (sponsored by Autoglass)' or 'Musical or Non-Musical Music Act of the North East #MONMMAOTNEYS2015', each of these hotly contested contests are steamy hot breeding grounds for the future comedic talent of the UK (and Scotland).
If you run a failing suburban pub, work in marketing for a brewery or own the region's most successful used car dealership, you too can establish a kKing (or Queen, you know what they're like these days, ey lads!) making comedy competition of your own.
However, not all competitions are created equal (some of them take place in Northampton) so to help you leverage some cold hard coin from the hopes and dreams of young people across the country I have come up with a few easy to follow steps that can help YOU set up YOUR very OWN 'Successful Comedy Competition'
(© Thomas Rackham 2015)
1: THE VENUE. The foundation to success for the entire competition. Be sure to choose a venue that has never hosted comedy before (people love something new), is generally poorly attended (they will be chuffed you have increased trade) and is entirely unaware of the date, time and nature of your event (SURPRISE!).
2: THE ROOM. : High stage. Higher ceiling. Round tables. Keep the first two to three rows in front of the stage entirely empty to avoid unsettling the comedians. They are new after all. Bless 'em.
3: ENTRY REQUIREMENTS. These should be the first challenge of the competition. Make them as complicated to comprehend and difficult to adhere to as humanly possible. Request acts provide a reference from a former lover, hold a recent CRB check and are available on every single day the competition is running including the first two weeks of the next month should they make it through to the final (Date TBC).
4: AUDIENCE VOTE. Remember to allow the audience to vote on who goes through to the next stage - otherwise why would they come! Just because they love comedy! Haha!
Good voters will be the type of people who will gladly leave their warm house and loves ones to travel through the rain on a Tuesday night and sit in the cold darkness to judge complete strangers on something they have no understanding of and will never attempt even once themselves (also known as 'critics' - industry term)
Note: I would suggest restricting this to the preliminary stages, but not the quarter finals, semi-quarters, semi-semis, semi-finals, first final, final final, actual final or runners-up showcase.
5: MC / HOST. Needless expense. Just get someone who works in the venue to shout people's names out from the back of the room in a random order. Better still allow him to go on stage and explain that he's not an MC and 'doesn't really get why anyone would do this'
6: ACTS, ACTS, ACTS. Book as many comedians as you can find. Minimum of 45. Run for at least seven to eight hours. Without a break. People demand value for their free ticket.
Don't bother with a running order, everyone loves a surprise! Get the hopefuls to loiter in a sweaty clump a few feet away from the stage in full view of the audience and call their names out in no particular order to create an air of suspense (a good tip is to find out who is in the toilet and announce them next).
Note: If you MUST have a running order, e.g. for religious reasons, then make sure you produce several different copies all of which show a different list, preferably from last week's heat, and distribute them to everyone who works in the venue who is NOT involved in the show. The acts should never get to see this document until after they have been on stage.
7: THE SHOW. Minor one this, but allow each act the same amount of time to shine. Remember to be specific - comedians love rules! Request each comic perform for at least 3 mins and 30 secs, but NO longer than 3 mins and 35 secs. Anything below or beyond these times will result in disqualification and negative feedback on The Facebook Discussion Group for Open Spot Car Shares within the M25 Corridor.
8: MATERIAL. Tell each act what type of material you don't like. If possible just before they go on stage. Stolen material, racism, homophobia, ukuleles, peado jokes, joke peados, inflatables, life drawing and sexism should not be tolerated under any circumstances (unless their friends and family make up the majority of the audience or you are outside smoking during their set).
9: SILENCE. What is loud and distracting? That's right - laughter! Make sure the audience is as quiet and still as possible during the show. If they are constantly cheering and applauding how will they be able to pass judgement on who is the best at doing a comedy.
10: IS A NICE ROUND NUMBER.
So there you have it, everything you need to get started in the lucrative world of Stand Up Comedy Competition Contests.
Remember - comedy is a meritocracy based on your ability to pull favours, repeatedly pester contacts and draw an audience of friends and family to London on a Sunday night.
With your help these ugly ducklings of stand-up will learn this early on in their 'careers'!
Any questions please email unpaid@comedycomedy.co.uk.site.wordpress.com
Read More
Published: 5 Nov 2015
Agent
We do not currently hold contact details for Tom Ham's agent. If you are a comic or agent wanting your details to appear on Chortle, click here.