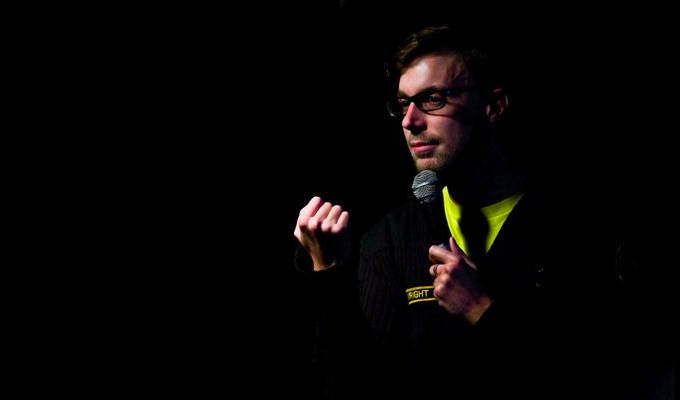 Terry Saunders
Nominated for the Chortle awards for breakthrough act and best show (for Missed Connections) in 2008.
Read More
It's Going To Be An Awkward Christmas, Darling
Though the music is warm, and comedian Helen Arney's voice soulful, this collection of Christmas ditties is a dispiriting affair, with its relentless references to family arguments, miserable presents and dull food. Perhaps she's witnessed too many tough Christmas stand-up gigs, but she has a bleak view of the festivities.
Individually, the tracks have quirk and wit, but taken in one sitting it's an overindulgent feast of joylessness, hardly in the spirit of the season – even though a last-minute rally, with the two closing tracks, puts a small glint of hope and even jollity into the mix.
The lyrics – which Arney co-wrote with drummer Paul Richards – are as reliant on stereotypes as any overplayed sleigh-bells and tinsel Yuletide hit – though this time the clichés are about short-tempers, Christmas starting early, relatives overstaying their welcome, terrible knitwear…
There's a reason such things are clichéd, so the unsentimental honesty will certainly strike a chord with many. But those who enjoy Christmas despite its flaws surely won't want to hear such humbug, even if set to a cheery melody, while those who hate the season will presumably not want a musical reminder of their misery.
Christmas songs certainly don't have to be festive – Fairytale Of New York, for instance, is anything but – yet overall this collection didn't quite cut the cranberry. Give me White Wine In The Sun any day…
Track by track
Christmas 1994: A rich, tango-infused cabaret song with rather workaday lyrics about a family fighting over what to watch in days when there were only four channels and one TV.
Never Built A Snowman: Melancholic ballad that's a flipside to the Aled Jones film, in which a boy is traumatised for life after being attacked by a frosty thug
It's Going To Be An Awkward Christmas, Part 1: Jaunty number about a couple pretending to be together for the sake of the relatives, that can be summed up with the lovely line: 'Life's not always Gavin and Stacey'. The first of four tracks here in which fellow musical comedian Tom McDonnell provides male vocals
Another Mince Pie? A spoken word piece over a church organ, cataloguing some of the irritations of Christmas, with a nice payoff, but rather downbeat
Christmas Dinner Microwave Meal For One: A recently divorced man spends a miserable December 25
Only Monopoly: After the family row over TV, here's the cabaret two-hander about board games; compellingly performed and charmingly written, but rather a familiar idea
It's Going To Be An Awkward Christmas, Part 2: Tension breaks in the continuing story when the pair come clean, and he's confined to the doghouse
The Only Way To Spend Christmas: A catalogue of tired jokes about budget airlines – airports in the middle of nowhere; extra charges for everything; lost luggage, etc etc . A jolly little tune, but fatally unimaginative lyrics.
Office Party: Comedian Terry Saunders makes an appearance here, and his distinctive deadpan makes the track sound more like one of his romantic lo-fi stories – as, indeed, does the content, which revolves around two unrequited office romances – an ordinary story of admiration from afar, set over the network printer and boozy nights out in Wetherspoon's made delicately tender and poignant. A highlight.
Traditional Family Christmas: The chorus ends with the line: 'The real meaning of Christmas is the family argument.' Yes, it's that topic again, although this is probably the best track on the subject on the album – musically aping jolly Yuletide hits, with catchy tune and a jolly tone, despite the sentiment
It's Going To Be An Awkward Christmas, Part 3: A glimmer of hope in the ongoing saga… but is it enough for a merry Christmas?
It's Going to Be an Awkward Christmas, Darling by Helen Arney and Paul Richards has been independently released. Click here to buy from iTunes for £6.99 – of which £1 will be donated to Shelter and Cancer Research UK if bought by December 26.
Read More
Published: 20 Dec 2010
Past Shows
Agent
We do not currently hold contact details for Terry Saunders's agent. If you are a comic or agent wanting your details to appear on Chortle, click here.