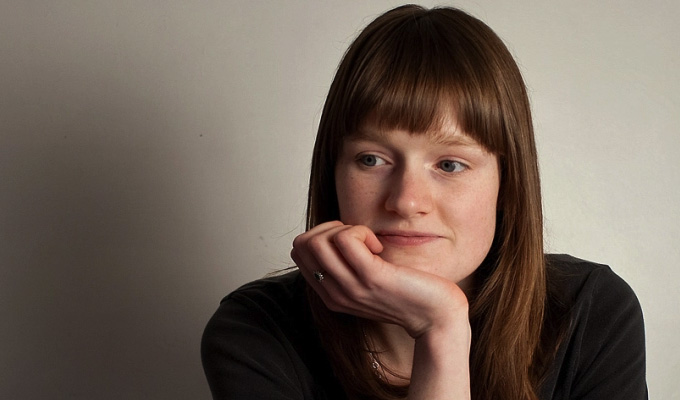 Stephanie Laing
Stephanie Laing started performing in April 2007 on the Scottish comedy circuit.
Read More
Stephanie Laing: Nincompoop
There's honest, and there's eye-wateringly honest. In this cheap and cheerful Free Fringe show, called Nincompoop, Stephanie Laing reveals the sort of dark thoughts, explicit stories and sick dreams that most people would keep to themselves. I'm hardly surprised some clubs find her too extreme to book.
The counterpoint to this is that Laing is a jovial, baby-faced performer who comes across as utterly unencumbered, so it doesn't especially feel like adult humour when it plainly is. She looks thoroughly happy to be speaking to us and the atmosphere is relaxed. It's quite a devastating technique. And thanks to her having natural comic timing and delivery, it's funny, too.
And I don't think it's a shtick designed to shock us. It certainly doesn't come across as anything but the real thing, which, at least for the purposes of a comedy show, is a good thing. She also moulds her stories into actual, funny comedy routines rather than letting them sit, heavy and gag-less.
Away from the confessionals, Laing has a whimsical streak, too. Whimsy isn't very fashionable at the moment, but Laing can be funny with it, like her song about Jim the newt, which is then recreated on the flute (surely the Fringe's only joke to hat-tip Blind Roland Kirk). Her poem written using an online rhyming generator doesn't work, however; half the suggestions aren't that ridiculous and scan perfectly, which strips most of the comedic value out of it. Laing is also good when chatting to the audience, and has the wit to make it sing a little.
Personally I'd love to know which of her fellow comics was trying to persuade her into having a '3sum', but on this one matter she is discreet. No such luck for Don Ward, impresario of the Comedy Store, who she outs as telling her she's 'too slaggy' a comic, before getting even more personal with his criticism.
Ward is right though in that Laing has a Sarah Millican-esque appeal (though not for the reasons he thinks), and while Laing is still very raw, there's a helluva lot of promise, and already a good amount of final product. I dare say once she moves beyond this early-stages 'I'm just an idiot' material and rounds off a few of those extreme edges, she could really build a following. Don Ward might regret being so dismissive.
Read More
Published: 13 Aug 2015
Her and Her is a straightforward double-bill from…
10/02/2015
Past Shows
Agent
We do not currently hold contact details for Stephanie Laing's agent. If you are a comic or agent wanting your details to appear on Chortle, click here.