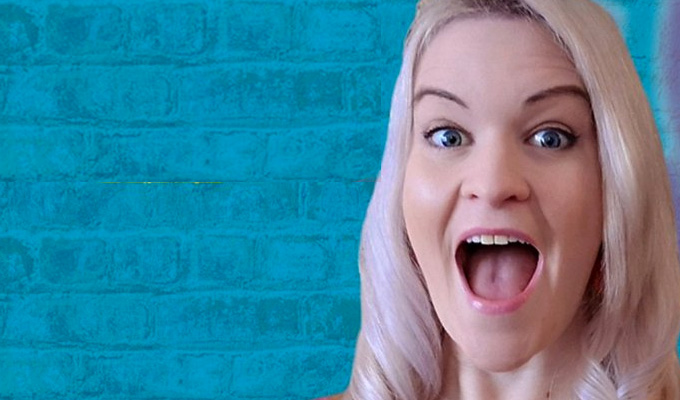 Samantha Hannah
Samantha Hannah: How To Find Happiness (In A Year)
Samantha Hannah's self-explanatory hour contains mostly mild comedy, lit by beacons of sudden, honest, edgy, dark, rude or revealing material. These moments display a more intense attitude and voice, with real promise.
Just like last year's show How To Find A Husband In A Year (partly successful - she's not married but has found a happy relationship), this show's premise is simple, satisfying and accessible.
Hannah, reporting her findings, offers genuinely good advice on happiness among the jokes. Perhaps what many came for, given the title. The reasonably sized room is almost full on a weekday lunchtime.
Her attempts to find happiness have included Instagram motivational quotes (which didn't work, she says, because they're just not true), yoga, self-help books and brutal honesty. Anything but therapy, basically, and she's the first to admit it.
She demonstrates all the speed, rhythm, topics and timing of an expert stand-up throughout, and does very well to keep her engaging persona consistent across an hour with a pre-lunchtime crowd greater in number than energy.
Hannah is evidently a thoroughly warm, genuine and likeable person. But this can sometimes bleed into slightly tame material lacking edge, just about rescued by the aforementioned periodic spikes when routines about rejection, sex toys and funerals leap away from the norm.
Building on this could unlock a more exciting act. However, it's partially the fact these gags are so unexpected and in contrast to Hannah's generalised persona of soft innocence that makes them standout moments.
Hannah tells a tragic story towards the end but doesn't allow it to hijack the show as such moments do in many others. Instead, it's used as fuel for the fire of the show's overall theme - finding happiness. She concludes that ups and downs will happen and that raising the level of the neutral baseline to which we spring back is the key to being happier overall.
She is an undoubtedly talented act presenting a mostly light-hearted hour, in which sporadic edgy moments hint at her true potential.
Read More
Published: 19 Aug 2019
The Comedy Cafe's new act night has long been one…
1/12/2011
Agent
We do not currently hold contact details for Samantha Hannah's agent. If you are a comic or agent wanting your details to appear on Chortle, click here.