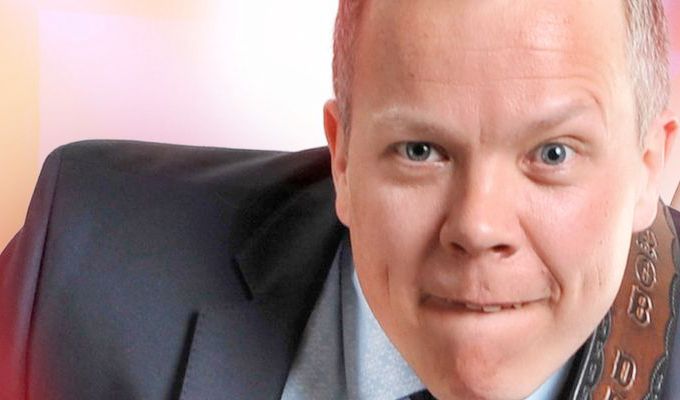 Rob Deering
Charity, comedy and the Big Society
Like many a comedian, I sometimes do gigs for charity; they'll be for good causes, but the decision to do them is not altogether altruistic – often they're on in lovely venues to play, like the Bloomsbury Theatre or the Comedy Store, you'll often be on a bill with top acts you might not necessarily gig with otherwise, and, if you're like me, and I suspect many of you are, you'd just rather be doing a gig than not on a Monday/Tuesday/Wednesday night.
Even the charitable part of the decision to perform is to some extent to make you feel good about yourself – atonement for making a life doing something you love that is, let's face it, ridiculous, rather than getting a proper job. Then you meet people who've really given their time to the issue at hand – professionals, volunteers, people personally affected – and spending a few minutes telling jokes doesn't seem like much of a contribution at all.
But it's got to be done.
These days it seems like there are a lot of charity gigs – maybe it was ever thus and I'm just noticing them now, but I don't think so; I think they're a product of the internet age and comedy's resurgence in popularity. Either way you sometimes hear people talk about small audiences, the sector reaching saturation point – like the bubble's going to burst. I understand. Everyone's always going to be disappointed when that lovely venue doesn't sell out, and the night everyone's been planning for months is a damp squib.
But, comedians and comedy fans, I think we should stay with it – and here's why. Firstly, it's the (brace yourself, it pains me as much to write this as it does for you to read it) Big Society thing; society needs charity, now more than ever, and though I really despise this government's community-dismantling ways, right now this is a really good way to give something back – and keep some things going.
Comedy is a great way to raise funds for, and awareness of serious issues, because it's about joy – and joy in the face of adversity makes everyone feel good. Everyone's aware of how endurance events like the Moonwalk and the London Marathon work for charity. They're euphoric experiences for participants and their sponsors, in spite of – because of? – the events being shot through with pain and tragedy. Comedy nights that address tragic realities offer that same joyous payoff, without any of the blisters or bleeding nipples.
And these gigs often have great bills – diverse, because they're as much about who wants to do them as the promoter's taste, and full of quality acts you might otherwise only see on tour, or headlining. They're comparable with Edinburgh Festival package shows for the egalitarian richness of their line-ups – and if you go, and you disagree, never mind – you did a good thing.
I don't need to lecture comedians to do these gigs – I think we always will, whether our reasons are selfish or not – but I hope comedy fans recognise the subculture and embrace it. Like Secret Cinema or Pop-up Shops, make charity gigs – whatever they're for, wherever they're on – your regular comedy club.
That way you could see a load of great comedy, and all the charities get supported equally – the way they might be under a good socialist government. Yes, you might see some of the same comics popping up more than once – but always good, kind ones rather than evil, cynical ones, which can't be bad, particularly as some good, kind comics sound enjoyably evil and cynical once they're on stage.
What's that? Oh – yes I have got a charity gig coming up, thank you for asking. It's Parkinson's UK's Shake With Laughter at the Bloomsbury on October 30, featuring, Nathan Caton, Elis James, Tiffany Stevenson and some other comedy marvels. Parkinson's UK is a charity I do work for whenever I can – my Dad has Parkinson's – so I hope to see you there.
But after that, maybe I'll see you again, at an event for Shelter, Mind, Scope, Macmillan, the NSPCC, the Alzheimer's Society, Great Ormond Street, Help for Heroes, Sue Ryder, Save the Children, RNIB…
Read More
Published: 5 Oct 2012
Stand-ups Rob Deering, below right, and Russell Howard,…
13/03/2006
One of comedy's biggest agents, Avalon, has…
20/04/2005
Fears that the Sminoff Underbelly was too unsafe to…
20/05/2004
Former Perrier-winner Daniel Kitson is shunning the…
14/05/2004
Former Rainbow presenter Geoffrey Hayes is to stage…
27/05/2002
Two London comedy clubs have announced details of…
20/11/2001
Accounts manager Alan Carr has won this year's BBC…
13/08/2001
New Zealander Jarred Christmas has won the final semi-final…
10/07/2001
Past Shows
Agent
We do not currently hold contact details for Rob Deering's agent. If you are a comic or agent wanting your details to appear on Chortle, click here.