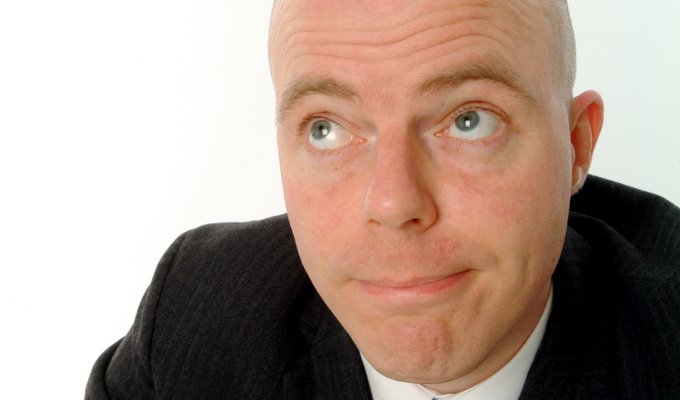 Roger Monkhouse
In 2014, fellow comedians voted
Roger Monkhouse
MC of the year in an online poll.
Read More
Rich Hall etc at Ealing Comedy Festival
Note: This review is from 2012
It's often asked why London doesn't have a comedy festival. The truth is; it does. It has loads.
Just this week there are two giant marquees packed full of comedy at either end of the east-west axis: Greenwich at one extremity, Ealing at the other – not to mention the Priceless Wonderland for cabaret on the Southbank.
If only we had the weather for it. Ealing was so sodden last night that a whole section of seats had to be taken out for fear of the audience slowly descending into the quagmire.
But with a top-flight line-up, there was no chance of the comedians sinking without trace, if you'll excuse such a contrived link. Phil Nichol, Milton Jones and Rich Hall are almost The Unreviewables – all so firmly established in what they do and able to deliver so consistently that the audience knows what to expect; and gets it.
Compere Roger Monkhouse is less well known that the acts he introduced, but no less experienced, being a long-term stalwart of the circuit. When he starts, you might be forgiven for not realise that, as he mutters along in relentless monotone about what's going on as the tent continues to fill up.
Some chat with some audience members falters along, with questions about where they come from getting close to uncomfortable for the resolutely middle-class audience, who are unsure of discussions of ethnicity. Even from a comedian who uses the word 'diaspora' in his banter.
But Monkhouse uses that tension to his advantage, and playfully builds up a real head of steam as he draws focus to the stage. On the face of it, he's employing such tried-and-tested techniques: exploiting the north-south divide, teasing the Scots and affectionately mocking the audience for being no spring chickens. It's all pantomime boos and cheers, but Monkhouse conducts it like an maestro, making it all seem fresh and spontaneous, even when weaving in some prepared material that strikes a similarly cheeky note.
His sterling work set up the room for Phil Nichol. At Latitude this past weekend we made reference to how his sets can become familiar – after all, he's one of the most hard-working comics in the country when it comes to gigging, but not one of the circuit's most prolific writers.
But that isn't to diminished the fact that his set is devastatingly effective and Nichol a performance powerhouse that lights up the room with unpredictable excitement like a crateful of fireworks accidentally going off. Add to the fact that Only Gay Eskimo is probably the best closing song in the land, especially with the enthusiastic Canadian trying to mock-seduce some willing victim he'd had his eye on all night, and it's 20 minutes of uncomplicated fun.
While Nichol is all manic likeability, Milton Jones is always going to be the weirdest man in the room. In fact when he tries a universal 'eh, lads' gambit to open a joke, it's funny in itself given he's so disconnected from that ordinariness.
Much of this set was new, or newish, but you still know exactly what you're going to get with Jones – a spectrum of oddball one-liners running from the wincingly terrible to the beautifully sublime. And sometimes both at once.
His best gags are as perfectly engineered as a Swiss watch, and even those that do venture into 'dad joke' territory are delivered with such bewildered innocence, it's impossible not to be charmed.
Headlining over Jones is tricky, but Rich Hall is more than up to the task, with his gruff 'for Chrissakes, people' demolition of all that defies common sense in this pretentious world.
As a transatlantic messenger, he can deliver us in the UK some home truths from an outsider's perspective, while he's no less harsh on his compatriots – thus exploiting two of a British person's most favourite pastimes: whinging about all that's wrong with this country and laughing at the dumb redneck Yanks.
There's a political edge to what he does, trying to figure out the workings of a coalition government or mocking the religious right back home, guided by the voices of God in their head. And should anyone get swept up in the Olympic hoopla, Hall has another tale to bring you back down to earth.
He is a human reality check, with all his cynical – or realistic – opinions expressed with an efficiency that tells you he suffers no bullshit, and an incisive way of drawing allusions to make sure his point is clear and unarguable.
Read More
Published: 19 Jul 2012
Roger Monkhouse works the room like the pro that he…
1/10/2008
Agent
We do not currently hold contact details for Roger Monkhouse's agent. If you are a comic or agent wanting your details to appear on Chortle, click here.