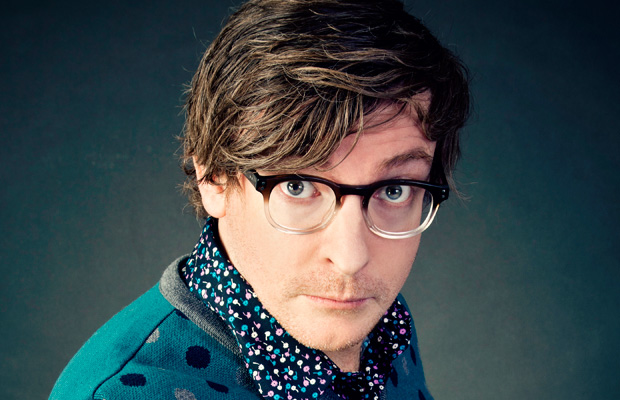 Rhys Darby
Rhys Darby: Mr Adventure
Note: This review is from 2014
Mr Adventure is the closest Rhys Darby has come to straight stand-up for some time, putting his overt physicality and silly sound effects to the background in favour of a handful of stories from real life, even if they are given a fantastical spin for good, comic measure.
We start with his time in the New Zealand army, so strapped for cash not a cent could be 'wasted' on using previous ammunition for training, leaving the poor cadets to shout 'Bullets! Bullets! Bullets!' in the face of the enemy. It has the ring of a ridiculous-but-true story, whatever entertaining embellishments he's added. As such, he can use his peculiar talents to a purpose – witty storytelling –  rather than for random set-pieces.
His epic adventures also take us to a treetop tiki bar, where a psychotropic drink takes its inevitable effect; to the Rwandan jungle where he communes with gorillas, and to the banks of Loch Ness, where he shares an Air B&B with a couple of particularly faraway hippies. These yarns are skilfully interwoven with more domestic routines, from the daily realities of marriage to youthful nostalgia for Choose Your Own Adventure novels or cheap theme parks. Callbacks and common threads help unite these into satisfyingly coherent whole, tied together neatly in a very effective climax.
Darby's style is forever playful, and he brings an air of childish cheekiness to routines designed to appear as if he's getting carried away with the moment. This is less the dry wit of Flight Of The Conchords, and closer to the bolder, more enthusiastic character he played in Modern Family. In his stories, he might always come across as the schmutz... but always a naively cheerful one, an endearing position to hold.
There are a couple of scenes when he adopts a different persona: a bizarre video message from Atlantis that inexplicably starts the second half; and the earnestly mundane park-ranger alter-ego Bill Napier, from Darby's Netflix series Short Poppies, who starts the first. These aren't particularly strong, and serve more as inconsequential amuse-bouches for the main stand-up.
Napier also has the role of introducing support act, Hedluv and Passman, as Darby switches from working with a Kiwi folk duo to a couple of West Side rappers. The West side of Cornwall, that is. They're high energy, quirky and proud of their geographic roots, which puts them in the same space as Rubberbandits. They even have their own distinctive look as Hedluv performs pretty much in his vest and pants. Their awkward, pause-laden chatter seems at odds with the spirited music between it – perhaps Darby has been showing them some Conchords videos –  but they're a good choice to get the party started.
Darby uses the duo in his own half, too, to provide an atmospheric aural backdrop to his more exotic tales – and for a little well-judged backchat when they fail to know their place. Along with the well-considered structure and judicious staging, this adds a satisfying touch of class to Darby's arsing-around, escapist storytelling. Mr Adventure won't blow your mind, but this savvy-yet-stupid show will keep it merrily entertained for a while.
Read More
Published: 12 Jul 2014
If only Rhys Darby's school career adviser could…
23/08/2012
Seems like the Just For Laughs Festival is closing…
28/07/2011
Fame buys you latitude. Had any Fringe unknown opened…
11/08/2009
Most Australians, if very few Brits, will already know…
1/01/2007
This energetic Kiwi is a compelling performer; an accomplished…
1/06/2006
Kiwi Rhys Darby has worked the stand-up circuit well…
1/01/2006
Don't be alarmed, but New Zealander Rhys Darby is…
1/01/2004
This bouncy, Rod Hull-haired Kiwi has more than a…
1/01/2003
This young New Zealander is a powerhouse of energy…
1/01/2002
There's really only one reason to see this collection…
1/01/2001
Past Shows
Agent
We do not currently hold contact details for Rhys Darby's agent. If you are a comic or agent wanting your details to appear on Chortle, click here.