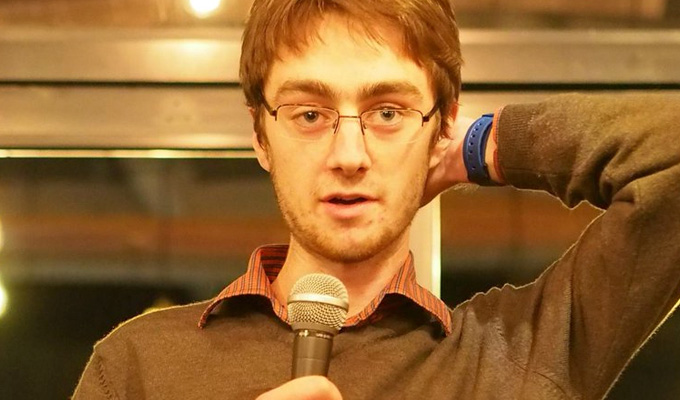 Riordan DJ
Winner of the 2017 Chortle Student Comedy Award,
Read More
Chortle Student Comedy Award Final 2017
Even before he'd taken the title, Riordan DJ declared the Chortle Student Comedy Award Final the best gig of his life.
Was it the sold-out, up-for-it audience? The sheer sense of occasion? The wonderful, slightly mocking, compering of Mark Watson? No, it was a set-up for a callback… sincerity be damned!
But then that is typical of his tight set, in which not a word is wasted. You can't fail to notice similarities with James Acaster, even down to the geeky dress sense, but DJ matches the perennial award nominee for his dry, droll and offbeat writing.
He takes the low status, with stories about being bullied at school – with a to-die-for payoff about his teacher's alleged reaction – and an unlikely anecdote about his nightclubbing prowess. His peculiar takes on the world distil into great one-liners, and his taut, creative writing will surely propel him to great things – especially if he can evolve his style a little bit to lose the obvious comparisons.
DJ won the judges' approval despite going on first, which is often seen a kiss of death. But set a high bar for his fellow contestants to aspire to – and they all came close in a final that showcased a wide variety of comedy styles.
Dillon Mapletoft, the outgoing president of the Cambridge Footlights, set the tone by performing in the guise of intense arthouse film-maker Alexander Feisteisterberg, complete with black turtle-neck, dodgy Danish accent and barely-suppressed emotional issues – which he makes clear with his explosive entrance. The authoritarian character is based on amusingly pretentious pronouncements about his art, a mix of the surreal and the satirical, which he barks out arrogantly. He seems to have artificially grafted a few jokes on to the creation – comments that could be delivered by any observational comic not just one pretending to be a bad-tempered Danish auteur – but again his writing packed in the punchlines.
Dapper in champagne-pink suit and waistcoat, Tony Wright's measured delivery is as elegant as his dress sense. He gets some mileage from his name not matching his appearance as half-Somalian and half-white – a topic, combined with his upbringing in a white working-class area that's rife with potential. But the central anecdote of his set was bizarre encounter in a public toilet that makes the best of his quiet deadpan and control of the room. Though his gag rate is slower than some of his fellow contestants, he draws the room into his descriptive storytelling.
As gear changes go, shifting from Wright to Harrison Charles is like going from idling in neutral straight into overdrive. He's a maelstrom of energy, playing up the old-school entertainer shtick with heavy irony but no compromise in the performance. Charles struts around the stage with an hilarious commitment to his awkward physicality as he tells us of life on the pro darts circuit. The fact the boasts seem so empty – like a David Brent on coke – add to the enjoyment, and we also see a glimpse of vulnerability that could probably be exploited more. Charles may be a triumph of passion over content… but it's quite the triumph.
Haydn Jenkins was the most traditional stand-up on the bill, even starting with the obligatory gag about how he looks – but it is a fantastic line. He's playful and geeky, suggesting a raft of pranks you're sure he never does, but rely on imaginative twists of the imagination. There are some inconsistencies in his persona, which can shift just to fit the gag, such as saying 'I hate old people…' when he's essentially a nice-guy comic. Similarly he has a nice bit of business about splitting the room in two, but no set-piece that requires such a division, so the exercise fizzled out. But even without getting these kinks smoothed over, you could slot him on to a professional bill and he'd be right at home with his gag-filled set.
Absurdist Frank Foucault would be a more challenging booking for a Friday night at Jongleurs, but his level of invention with what you can do in comedy is what sets him apart. He spends the first minute or two just showing off his suit and shouting: 'Smart!' Probably too long, to be honest, but you have to admire his commitment. The idea of cheesy 1970s comics singing snippets of songs after dubious jokes isn't wholly original, but Foucault (the stage name of Luke Smith) puts his own spin on it – while his surreal take on burlesque with which he closes is stupidly funny, though you'd be hard pressed to put your finger on exactly why.
Sam Knights opens with a serious statement of intent, before turning a little more camp. It's symptomatic of a set that tries to mix big points with more trivial notions to mixed success. But you have to admire his ambition to frame the whole set around a single intellectual idea, the constant search for the 'authentic', even if it's usually fake, as a reassurance in this time of slippery truth. That interesting and wide-ranging thesis takes him from vintage shops – where he shows a talent for characterisation via his portrayal of the creepy owner – to voters' demands that their politicians be down to earth and know the price of a pint of milk.
Finally Jack Gleadow, a cheery Hullensian who's expert at audience banter. The way he recruits a couple of punters to help him create a scene is reminiscent of TapeFace in the way the penny drops when a backing track kicks in. But good luck in trying to keep this motormouth quiet. Gleadow has a touch of the old-school entertainer about him, in the best possible way, thanks to his pacy, gaggy patter – which he combines with a frisky physicality. He's absolute natural on stage, proved when he ad-libbed around the cord falling out of the mic, and took home the £250 runners-up place. He – and many others tonight – will go far.
Read More
Published: 15 Aug 2017
Agent
We do not currently hold contact details for Riordan DJ's agent. If you are a comic or agent wanting your details to appear on Chortle, click here.