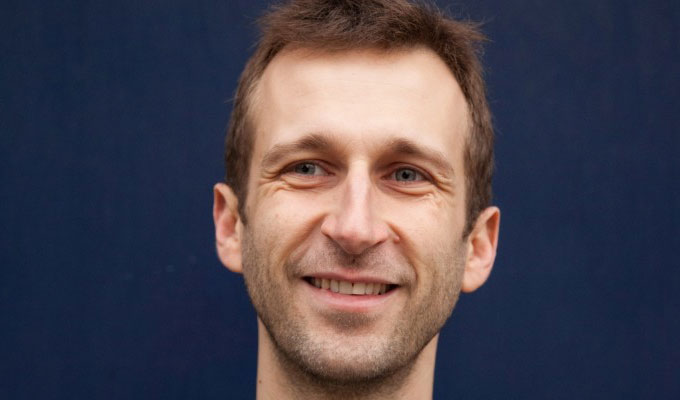 Radu Isac
A professional stand-up in Romania,
Radu Isac
is now making his way in the English speaking comedy world
Read More
Radu Isac: Good Excuses For Sociopaths
Many comedians this Fringe are banging the drum for their identities; to be recognised and accepted for who they are. Romanian Radu Isac is fighting for his right to be who he is, too. The right to be an asshole.
Standing his ground when it comes to sick and dark jokes, he wants to be inappropriate more than he wants to be liked. Thus he complains about the 'fake outrage' surrounding controversial jokes, asking why comedians – whose very job it is not to tell the truth – are now held to higher moral standards than politicians and journalists.
Certainly, with his nihilist viewpoint and bleak thoughts, no one should be looking to Isac for moral guidance. He urges the audience to embrace depression, not fight it; he cheerleads for suicide; and comes up with suggestions for dealing with drug addiction you won't find by talking to Frank. He also defends jokes about minority groups by arguing mockery means acceptance: 'You can't be in the group without being made fun of'.
Not that he's an attack comic, but he likes to dwell in grim scenarios, acknowledging that a lot of characters in his gags are going to die. And gags they often are, especially at the start, as he deals in the hypothetical, fudging the line between what's true and what's not. But the thing about untrue jokes in which horrible things always happen is that they make it hard to build any rapport: since nothing seems to matter in his stories, why invest in it?
However, most of the gags are sharp in their brutal way, and there is a bit of an 'only joking' twinkle at even the most depressive or cynical material.
And he does eventually get around to talking about real things, such as the fact that he's always after sex but never a relationship, even if he doesn't look the part of the typical 'fuckboy', and wanting to have a Perv Pride event to celebrate kinkier fetishes.
And in a story that might explain some of his grim world view, he recalls seeing TV coverage of deposed dictator Nicolae Ceaușescu being executed on Christmas Day when he was four.
His hour isn't light nor especially tight, and a few of the ideas – such as abortion limits being extended to long after birth – are not original. But it goes down well. For material that could easily split a room, he gets regular laughs, possibly of relief, to puncture the pall his grim point of view casts over the show.
Read More
Published: 20 Aug 2019
As temperatures turn decidedly Baltic, what better…
26/02/2018
If the final of the English Comedian Of The Year implies…
6/09/2017
A perfectly splendid night of comedy, this competition…
29/11/2016
The bland function room of a Holiday Inn isn't the…
9/11/2016
The Backyard's weekly new act and new material night…
6/06/2016
The Hippodrome Casino in Leicester Square was the venue…
12/05/2016