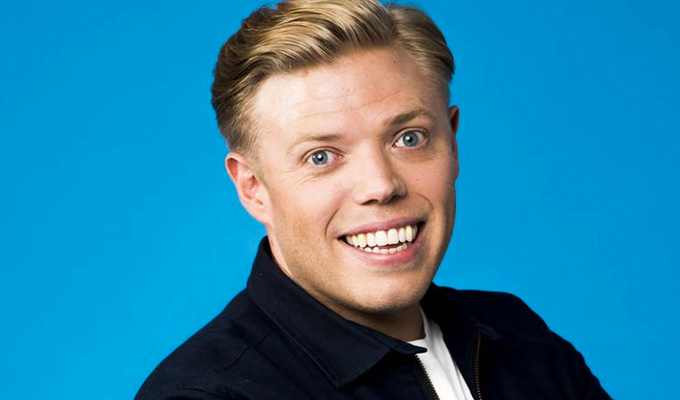 Rob Beckett
Hypothetical
The Dave channel has its biggest hit with Taskmaster, with comedians challenged to figure their way around bizarre challenges.
If the Greg Davis/Alex Horne show is the practical, Hypothetical is the theory, with a panel asked to work out how they would achieve a series of imaginary goals. That three out of the four people taking part in episode one have already been Taskmaster contestants just shows what a small pool TV panel shows draw from.
When this show was first announced, the twittersphere was quick to draw comparisons with Danielle Ward's ace podcast Do The Right Thing. However things plays out rather differently here, which is all about improvising an extended scenario rather than grappling to get what might be a passable right answer.
On Hypothetical, for example, the first challenge for Tom Allen is to stage a 'fun-filled and romantic date' without spending any money, requiring him to eat, do two activities, offer a gift and get the lucky gentleman home, without revealing he hasn't got two shillings to rub together.
As he talks us through how he'd achieve this, hosts Josh Widdicombe and James Acaster and the rest of the team, not least former schoolmate Rob Beckett, gently rib him. Everyone does genuinely seem to be having fun with the format, rather than it being too competitive.
Indeed. the players are not necessarily great improvisers - witness Jessica Knappett's awkward sermon as she tries to recruit people to her cult or Liza Tarbuck's stream-of-consciousness in the same round. But they all muck in and give it a go in the spirit of party games.
The masterstroke of Hypothetical, though, is in casting Acaster as Widdicombe's sidekick. They have been friends for yonks, which adds to the chummy atmosphere, but crucially Acaster adds a dash of peculiarity to everything he touches.
It's him who lays down the parameters for each mental challenge, and marks the responses – 'from one, the lowest of all the numbers, to five, the fifth lowest of all the numbers' – as well as playing along with the contestants' act-outs.
Widdicombe makes a decent go of being the host, too. Often a little of his eager shtick goes a long way, but he dials it back here, and when he does slip into exaggerated high-pitched incredulity, it's both appropriate and reined in by Acaster's wry surrealism.
This probably won't be such a mega-hit as Taskmaster, but everything Acaster touches tends to turn to gold, so it's easy to see this becoming an audience favourite. The dilemma of whether you'd rather wear a big hat or a small hat for the rest of your days – a staple of the show – will surely divide the nation more than Brexit.
• Hypothetical is on Dave at 10pm tonight, and episode one is already available on UKTV Play here. The list of future guests is here.
Read More
Published: 6 Feb 2019
Comics have to play some dives in their line of work...…
24/05/2013
It was a line-up many big charity benefits would envy…
30/04/2013
Another rising star in the world of stand-up, Rob Beckett…
22/08/2012
The Bounty in Cock Marsh, Buckinghamshire, is not…
3/07/2012
Timing is the secret of comedy. Even those who know…
27/08/2010
Past Shows
Agent
We do not currently hold contact details for Rob Beckett's agent. If you are a comic or agent wanting your details to appear on Chortle, click here.