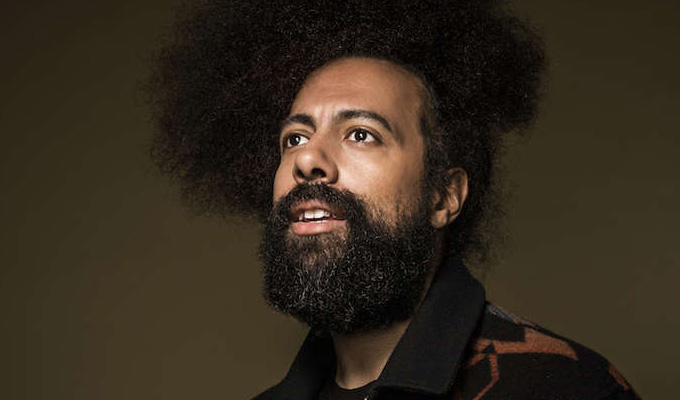 Reggie Watts
Reggie Watts at the Shepherds Bush Empire
For originality and talent, Reggie Watts is in a league of his own. His improvised stream-of-consciousness numbers are unique, while he has the virtuoso musicianship – and an incredible soul voice of impressive range – to execute them.
His trademark technique is to riff a song using convincing sounds in place of actual lyrics, producing a catchy number, heavy on heartfelt emotion but absolutely meaningless. The closest analogy might be with the way bygone star 'Professor' Stanley Unwin used to sound authoritative on academic matters without uttering a coherent word. But Unwin never beatboxed his own backing track with the help of sample and loop technology, building up rhythms from what might initially sound like unpleasant bodily emissions.
Watts's act takes heavily from the ideas of jazz, free-forming conversational and musical riffs around some core ideas. Yet it is also an act that revels in self-indulgence, which might challenge non-believers over a 90-plus-minute show, especially when he abandons himself to lengthy segments rooted in absolutely nothing.
I'll confess to finding my patience tested during patches of long-windedness between the brilliance, though I was certainly in a minority in the packed Shepherd's Bush Empire. The room erupts when he ends the musical riffs and he secured a rousing standing ovation at the show's end.
In the spoken sections, Watts's mellifluous voice produces a free-flowing stream of non-sequiturs, sometimes based on a germ of an idea, but sometimes not. Again, I found some of this loose surrealism too random to hook onto. Again I was in the minority.
There's a fine line between entertainingly digressive and just waffle, and – with his bone-dry humour and British-inspired sense of sarcasm – Watts spends time on both sides of the divide.
An apparently earnest speech about magic tricks – the seriousness of the delivery juxtaposes with the frivolity of the subject – segues into academic advice on oral sex; he sings a ballad about the joys of putting Marmite on toast, then later praises the fight dynamics of the Captain America movie. Some of this is brilliantly funny, some just too meandering.
He hits hardest when he has a point; his mocking thoughts about the belittling use of 'girl' in song lyrics, for instance. Yet sometimes Watts gets downright sincere, such as apologising for Donald Trump or reassuring us that despite the fears spread by the media, we live in an historically safe time. No joke here.
It's not always clear whether he's ribbing us or not. When he praises every region of the UK he can think of, from Croydon to Wales, the gag is his cack-handed attempt to ingratiate, but ultimately it remains an over-long catalogue of vacuous comments on places he's been.
For one chunk, the show moves almost entirely away from comedy for a jam with the gifted guitarist Thundercat. To me, this seemed like those moments when a beloved band insert an extended instrumental middle section into a hit for their own amusement and showboating, when all you really want is the catchy chorus. It's a test of the limits of the mantra that comedian should only ever do what personally entertains and amuses them.
Yet then he closes with a brilliant improvised number, an absolute gem with its South African rhythms and super-topical 'hung Parliament' refrain that shows his creativity and talent in perfect concert. There are many such moments in the show, but much slackness too.
Read More
Published: 10 Jun 2017
During one of his tracks, Reggie Watts stops singing…
18/07/2016
Pity any poor bug that scuttled into the Bronx backyard…
11/07/2012
The first thing you notice is the hair; a huge fuzzy…
24/01/2012
He looks like something out of Michael Bentine's…
30/07/2009
Musical showcase Amp'd was one of the best shows…
22/07/2009
I tried to describe this act to someone after seeing…
1/01/2006
Past Shows
Edinburgh Fringe 2006
Agent
We do not currently hold contact details for Reggie Watts's agent. If you are a comic or agent wanting your details to appear on Chortle, click here.