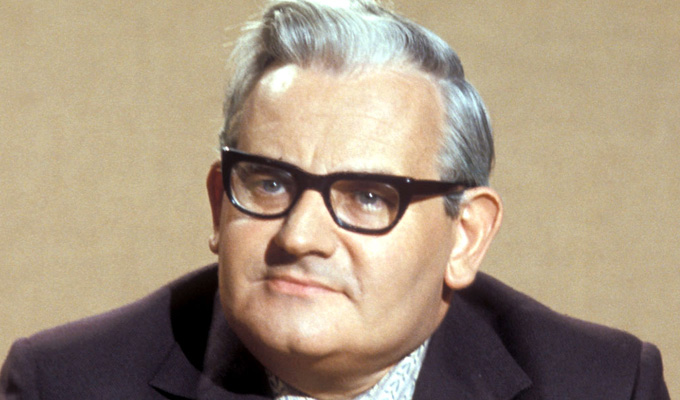 Ronnie Barker
Date of birth:
25-09-1929
Date of death:
03-10-2005
Ronnie Barker had the sort of solid middle-class upbringing he would come to parody throughout his career – at least until taking the role of Fletcher in Porridge.
Born in Bedford, the son of an oil clerk and a housewife, Ronald Barker was schooled in Oxford, studied as an architect then took a job in the local bank. But he also joined the local amateur dramatics society.
He auditioned for the Young Vic at 17, but failed, and joined the Manchester Repertory Company a year later.
He spent several years treading the boards and helping backstage for various companies until in 1955, Peter Hall asked him to appear in a production of Eugene O'Neill's Mourning Becomes Electra he was directing at the Arts Theatre. He quickly became a familiar face in many West End shows.
A year after moving to London, he became a regular supporting actor on the radio show The Floggits – and when, thanks to his producer, his name appeared in the Radio Times as Ronnie rather than Ronald, the 'chummier' version stuck.
He was quickly sacked – apparently for getting too many laughs – and became a regular on Variety Playhouse. In 1959, he was signed up for Jon Pertwee's new radio sitcom The Navy Lark – a show that was to run for more than 17 years and more than 300 episodes, although Barker left in 1967.
Barker's first screen role was a minor role in a show called Sailor Of Fortune, starring Bonanza's Lorne Green, but more crucial was working with his friend Glenn Melvyn on I'm Not Bothered – because it marked the first time he was to write scripts, albeit anonymously.
A number of supporting roles across TV, film and theatre followed; until his next big break in The Frost Report, the satirical show set up by David Frost. Barker worked alongside John Cleese and Ronnie Corbett, marking the start of their enduring comedy relationship – the duo drawn together as they did not share the university background of Frost and Cleese.
Its follow-up, Frost On Sunday, struggled to find enough material to fill its 26-week series, so Barker started contributing scripts under the pseudonym Gerald Wiley – keeping his anonymity so the work would be judged on its own merit. Although he eventually had to own up when speculation about this talented but mysterious writer grew.
His own TV series followed, The Ronnie Barker Playhouse, Hark At Barker and Six Dates With Barker. Then, in 1971, he teamed up with Corbett again for the first of many Two Ronnies, with their punny news headlines, suggestive musical parodies and – Barker's forte – the hugely inventive wordplay coming from some official-looking spokesman or other. Many of the best-known sketches were written by one Gerald Wiley, although the show accepted scripts from a huge range of writers. At its peak, the show attracted 17 million viewers, and a total of 97 shows were made.
Barker kept on taking other roles – though he turned down the leads in Some Mothers Do Ave Em and The Fall And Rise Of Reginald Perrin – and in 1973 made a series of seven potential pilot comedies called Seven Of One. The first episode was called Open All Hours and was about Yorkshire shopkeeper Akwright; the second was called Prisoner And Escort about inmate Norman Stanley Fletcher.
Although Barker wanted to see another of the pilots go into series, about a family of Welsh gamblers, the BBC insisted on the prison series, written by Dick Clement and Ian La Frenais and renamed Porridge. Barker always considered this his best role.
However, after the first series, he decided that Open All Hours should also be made into a series, and the BBC agreed. It ran for four series, spread out until 1984.
The 1978 follow-up to Porridge, Going Straight, about Fletcher's life on the outside, failed to capture the public imagination in quite the same way. But there was some better news that same year, as Barker and Corbett were both awarded their OBEs.
Barker's biggest disappointment, though, was in 1984, when his prime-time show The Magnificent Evans, again written by Open All Hours creator Roy Clarke, was a ratings flop, with its slow pace taking the blame.
Then, suddenly, on the last day of 1987, Ronnie made the shock announcement that he was quitting showbusiness to run an antiques shop in Chipping Norton, saying he had no more comedy ambitions left to achieve. Corbett had been told 18 months earlier, while they were touring Australia together, but otherwise it was a complete surprise.
Part of the reason was a heart condition, although he kept that secret from the Press, who took the official line. In 1996, he underwent surgery.
That year, he received a lifetime achievement in comedy award at one of his rare public appearances, as part of a BBC celebration.
He was coaxed out of retirement in 2002, appearing as Winston Churchill's manservant in the TV film The Gathering Storm, then later alongside Maggie Smith in My House In Umbria.
In 2004, Bafta honoured him with a special award show, which flattered him enough to record some new links for some repackaged Two Ronnies shows for the BBC.
They were to be his last work before his death on October 3, 2005.
Read More