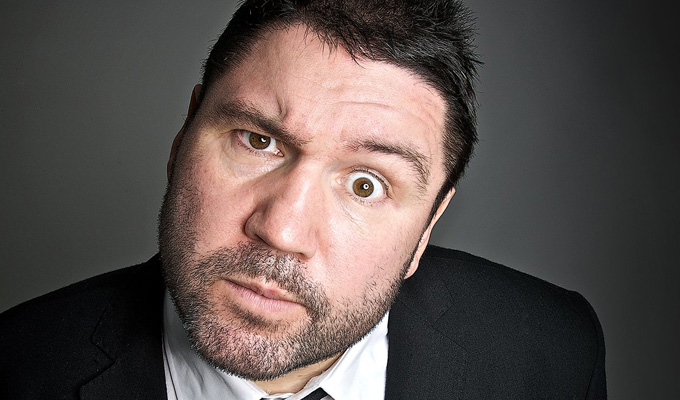 Ricky Grover
Comics star in Vegas's Billy Bragg video
Johnny Vegas has directed a host of well-known comedians in the new video for Billy Bragg's single Handyman Blues.
Stewart Lee, Ross Noble, Phill Jupitus, Kevin Eldon and Ricky Grover, as well as actors Neil Morrissey and Sam West, join Vegas and Bragg in a support group for cack-handed, 'middle-aged blokes' incapable of performing DIY in the video released online today.
'I wrote the song about our crisis of masculinity' says Bragg, 'at least that's what I'm saying now. I really wrote it as a way of explaining to my missus why I'm not much good at putting stuff up or taking stuff down. I just about manage mowing the lawn and changing the lightbulbs. Catching spiders as well. If anyone else in my house learns to do that, I'm out probably.
'I guess that connected with Johnny. The self-help group was his idea.'
Vegas, who has a third-class degree in art and ceramics at Middlesex University, ruefully mimes the song's line 'I'm not any good at pottery'.
The collaboration came about after Bragg gave Vegas permission to use his music in Ragged, the comedian's film starring Ricky Tomlinson and based on the ex-builder and Royle Family star's fight to overturn his conviction for 'conspiracy to intimidate' on picket lines in the Seventies.
Tomlinson began a two-year jail term in 1973, which included a 31-day hunger strike as he sought reclassification as a political prisoner. While he was incarcerated, he was encouraged by the prison governor to read Robert Tressell's book The Ragged-Trousered Philanthropists – which changed his life. Vegas, who co-wrote and directed the 30-minute film, which airs on Sky Arts this Thursday, previously starred in a 2008 Radio 4 adaptation of the classic book.
'[Johnny] sent me the Ragged script over and it looked really good,' says Bragg. 'So I said he could use this old song, I did him a little bit of instrumental music to go with it and sent him a copy of the new album. He said he loved it and we got talking.
'I told him I was thinking of shooting a little video for Handyman Blues and he said he had some great ideas. He more or less came up with the whole thing.'
Bragg added: 'There's always been a bit of Max Miller in what I do, in the pantheon of the British stage I'm closer to him than say, Cliff Richard, and I always pay my respects to his statue when I'm at the Brighton Dome.
And he said that shooting the video was 'a great laugh, they were constantly taking the mick'.
If was filmed in the branch of Wickes in Uxbridge, West London, while the public continued to shop, and 'people would occasionally ask us if we had something in a different colour'.
'[Ragged] is a really powerful piece of political theatre' Bragg adds, 'very clever, especially in the way that Ricky's involved with it. I'd love to work with Johnny again, whether it's on something coming from his end or mine'.
Next year marks The Ragged-Trousered Philanthropists' centenary. Speaking to Mark Radcliffe and Stuart Marconie on their BBC 6 Music show on Friday, Vegas maintained that the book is ' so relevant to here and now. And I think that's the most shocking fact when people read it, how little has changed or how we've gone full circle back to this way of living of day to day with no jobs for life, so many people hand to mouth … it should be on the national reading list and should be taken to a wider audience.'
He suggested that he would consider adapting the film for the stage: 'There's a much bigger story here and it was a shame that we had to compress it into 22 minutes, so that's something I would definitely give thought to because there's so much more story that we had to lose in telling what we could.'
Tomlinson added: 'This couldn't happen anywhere else, what happened to us. If this happened in the Eastern bloc or a banana republic, we'd all be out on the street with placards. But it happened to us. We're still now getting difficulty having the papers released because I'm classed as a threat to national security.'
The hunger strike 'was dreadful, that was the worst part. I was bleeding when I was going to the toilet. I ended up in hospital'. Tomlinson also shared his frustration that the fight to clear his name and that of the late Des Warren, 'is still going on now after 40 years.
'The papers should have been released after 30 years under the Freedom of Information Act. They refused. So we asked now because its 40 years and we were told that unknown to us without any consultation, [Justice Secretary] Kenneth Clarke has put another 10 years on them so they're not even going to be looked at again until the year 2021.'
Vegas, who has previously directed episodes of Sky's Little Crackers and Common Ground shorts, said that directing is 'a perfect fit for me … it's the closest thing to stand-up because you're there at the conception of it and there when it's ready to broadcast'.
And he revealed that he has almost finished his autobiography, about how, after being born Michael Pennington, the 'alter-ego' of Johnny Vegas 'took over'
'Some people would say booze. I say alter-ego.'
– by Jay Richardson
Read More
Published: 4 Jun 2013
BILL BAILEY is to headline a charity gig at the Comedy…
13/12/2006
Take 18 comics, give them carte blanche to write a…
22/09/2006
Malcolm Hardee's final send-off was completed…
21/02/2005
Tickets for the first of the major comedy benefits…
10/01/2005
Nineteen stand-ups - including Ed Byrne, Jenny Eclair,…
16/06/2003
Johnny Vaughan's sitcom 'Orrible has been unveiled…
21/08/2001
Past Shows
Misc live shows
Agent
We do not currently hold contact details for Ricky Grover's agent. If you are a comic or agent wanting your details to appear on Chortle, click here.