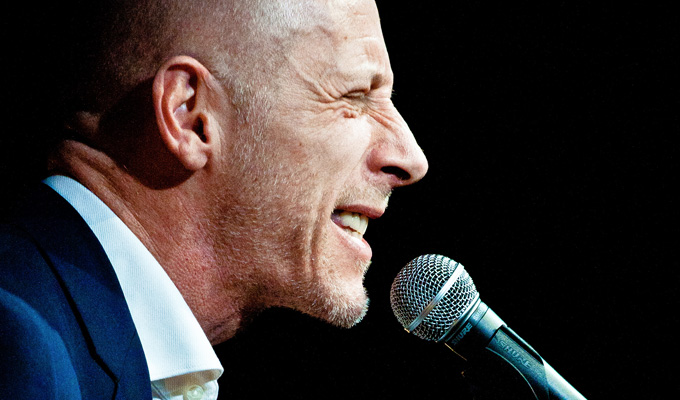 Pierre Hollins
Pierre Hollins: White Man Blues
Note: This review is from 2013
Pierre Hollins has all the bases covered – sex, religion, drugs – and the sort of admirable commitment to the punchline demanded by the New Mainstream circuit on which he's a stalwart.
Rejecting, or mocking, religion is the backbone of his set, and while it's a staple of a lot of stand-up, he has the gags to back it up – including a neat set piece that makes easy but effective fun of the Bible. One gag about crucifixes around the neck is a little close to one of Bill Hicks's better-known offerings, but that's by-the-by.
Material about sex involves gags about how its frequency decreases with familiarity, which the audience enjoy acknowledging as a truth of their own lives, while sections about dope-smoking are, he tells us, entirely historic, since he's sworn off it now.
Nestling amid this wll-honed, tried-and-tested club material, Hollins tries to explore something that's more interesting to him... an idea which – even if he no longer indulges in the weed – sounds very much like a stoner's late-night conversation. Evoking quantum fields, biophotons, the theories of Werner Heisenberg and the principles of holography, he suggests human consciousness is some sort of electromagnetic projection that could endure past death.
The science is not entirely convincing, and it does seem as if he's simply replaced a God to explain of the unknown with something requiring a similar leap of faith, but that might be because this section is rushed through. He doesn't have the confidence that the audience will stick with the explanation, and admits he hasn't yet found the funny path through it – today being the first outing of this material. But interest is infectious, and we bear with him since he's clearly fascinated by this odd topic, which he has spent three years researching for a planned book.
Hollins is an old pro, and guides the gig back to solid jokes, bookending the hour with proven hits. There's a strong rhythm to his delivery, and he even ends in the traditional way, with a couple of songs, including a particularly funny take on the blues, as if sung by a British misery.
But if a job's worth doing, he's ultimately going to have to bite the bullet and fully commit to exploring his esoteric theories. It's surely too early to say in which direction this material will go and whether he can find the funny to match the fascination, but with command of comedy techniques, the affable Hollins certainly has the tools with which to do it.
Read More
Published: 19 Feb 2013
The hugely experienced Pierre Hollins adopts an amiable…
15/06/2009
Though very slow to start, and a little too willing…
1/05/2001
Agent
We do not currently hold contact details for Pierre Hollins's agent. If you are a comic or agent wanting your details to appear on Chortle, click here.